With a warm welcome, convenient travel, endless dining delights, amazing visitor experiences and Christmas shopping in a friendly, festive atmosphere — all within easy walking distance — Exeter provides the perfect day out this winter.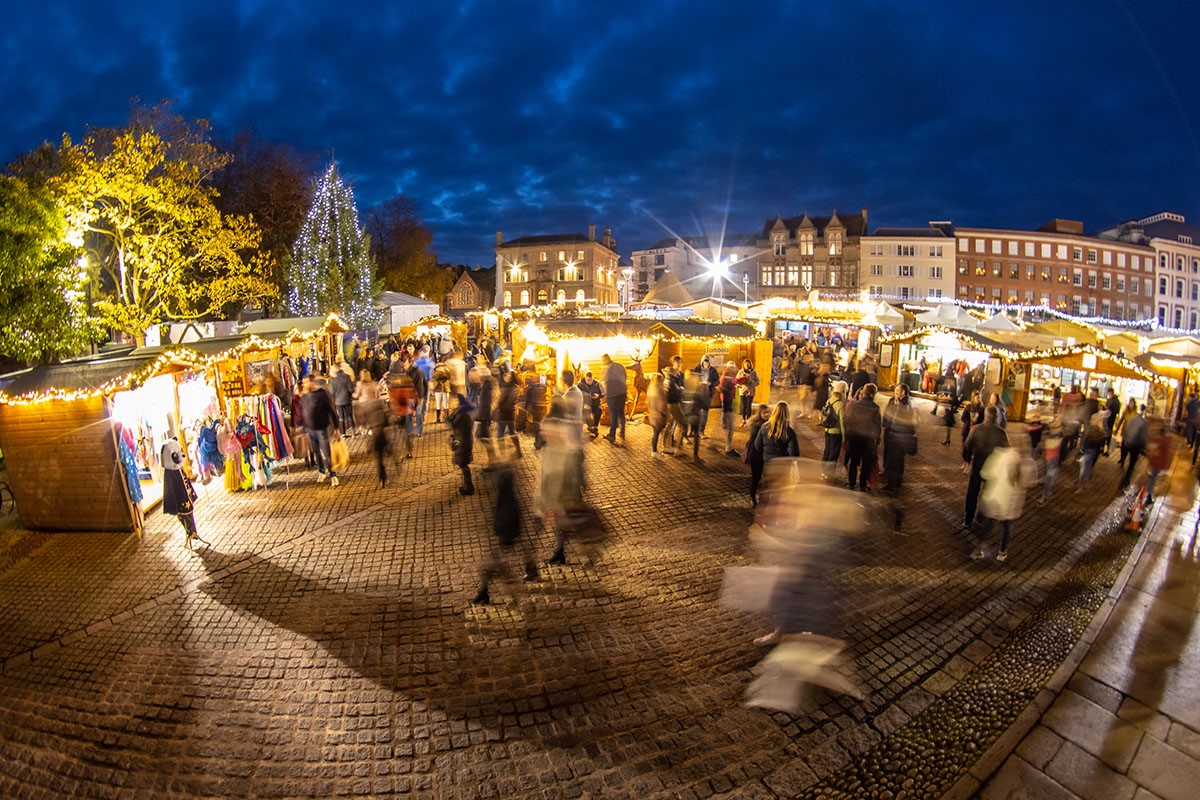 Getting to Exeter could not be easier, with train routes into Exeter Central and Exeter St Davids stations from around the country. If you're travelling from further afield, Exeter Airport serves both national and international flights and is situated only 10 miles from the city centre. And if you're driving into the city there's a choice of three major park & ride car parks, served by buses every 15 minutes, as well as city centre parking.
However you get here, be sure to arrive early and begin the day in style with a fine breakfast. Lloyd's Kitchen (lloydskitchen.co.uk) in Catherine Street serves a tempting range of seven different breakfasts, from a warming porridge with dates, toasted walnuts and honey, to the ultimate cooked breakfast of thick-cut bacon, sausages, free range eggs and all the trimmings. If you're itching to see the Cathedral and Christmas Market already, head over to Tea on the Green (teaonthegreen.com) between 8am and 12 noon, where they will be serving a huge range of traditional, veggie and vegan full breakfasts, as well as American Pancakes, a choice of five different egg dishes, plus smaller breakfast options of granola, porridge or a selection of freshly baked pastries.
Unique perspectives
After breakfast on the edge of Cathedral Green, you can take a short wander through the Christmas Market as it begins to come to life for another day of festive trading. While you're there, get a real feel for the city with a spectacular aerial view from the top of Exeter Cathedral. The fascinating 'roof tours', which take place on Mondays, Tuesdays, Thursdays and Saturdays, take you into the Cathedral's roof void, high above the Nave, into the south tower, the Lead Room and the Ringing Chamber and then through the spaces in the north tower. We recommend roof tours are booked in advance — see https://www.exeter-cathedral.org.uk/visit-us/special-tours for more details.
If heights are not for you, then there's plenty see in the Cathedral at ground level, and this winter is a particularly good time to visit, as entrance fees have been suspended until January 5th 2020! The Cathedral is an awe inspiring feat of engineering, design and craftsmanship, going back over 900 years. Marvel at the longest stretch of unbroken Gothic vaulting in the world, stunning stained glass windows and an amazing intricately carved image screen on the West Front.
If you have seen the aerial view of Exeter, why not take in the underground view too? Exeter Underground Passages is a unique mediaeval network of subterranean passages which can be explored on a guided tour. Originally designed to enable repairs to the lead pipes that brought clean drinking water from natural springs outside the walled city, they are now the only passages of this kind open to the public in Britain. Booking is essential during school holidays, so visit https://exeter.gov.uk/leisure-and-culture/our-attractions/underground-passages/ to find out more.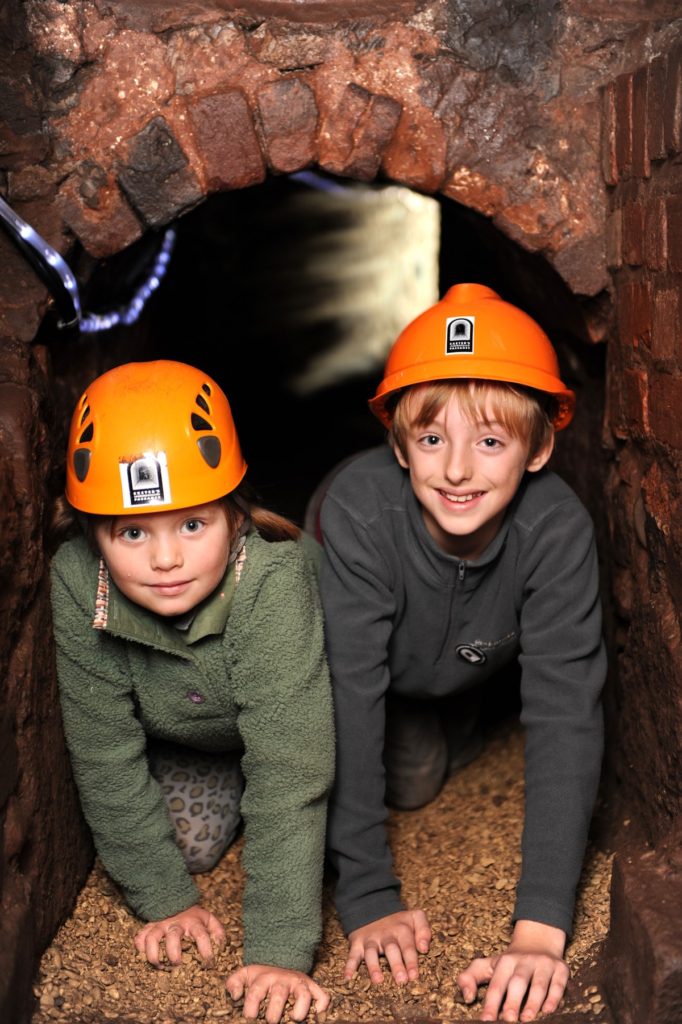 Regardless of the level at which you've chosen to survey Exeter, there is still much to discover about this fascinating city. RAMM (https://www.rammuseum.org.uk) is just a couple of minutes walk down Queen Street from the Exeter Central train station. Explore a vast, wide-ranging and beautifully-presented world of stunning displays, galleries and exhibitions. Film buffs should visit the Bill Douglas Cinema Museum (https://www.bdcmuseum.org.uk/). Set within the University of Exeter campus, the museum is home to one of the largest collections of material on the moving image in Britain.
Authentic dishes from around the world
At lunchtime, soak up the festive atmosphere in Gandy Street and drop by Red Panda for authentic and inexpensive Asian street food, currently rated #1 on Trip Advisor for fast food in Exeter (https://www.tripadvisor.co.uk/Restaurant_Review-g186254-d13855882-Reviews-Red_Panda_Exeter-Exeter_Devon_England.html). Or if you are in need of rest and relaxation, dine at a slower pace in The Conservatory (theconservatoryrestaurant.co.uk), one of the city's best-loved and long-established restaurants, serving a consistently high quality of French, Mediterranean and English cuisine. For sheer variety you can also try the Food Village at Exeter Cathedral Christmas Market. There are 17 street food chalets there serving delicious, authentic and freshly cooked dishes from around the world, including French, German, Greek, Mexican, Moroccan, Nepali, Spanish and Thai cuisine!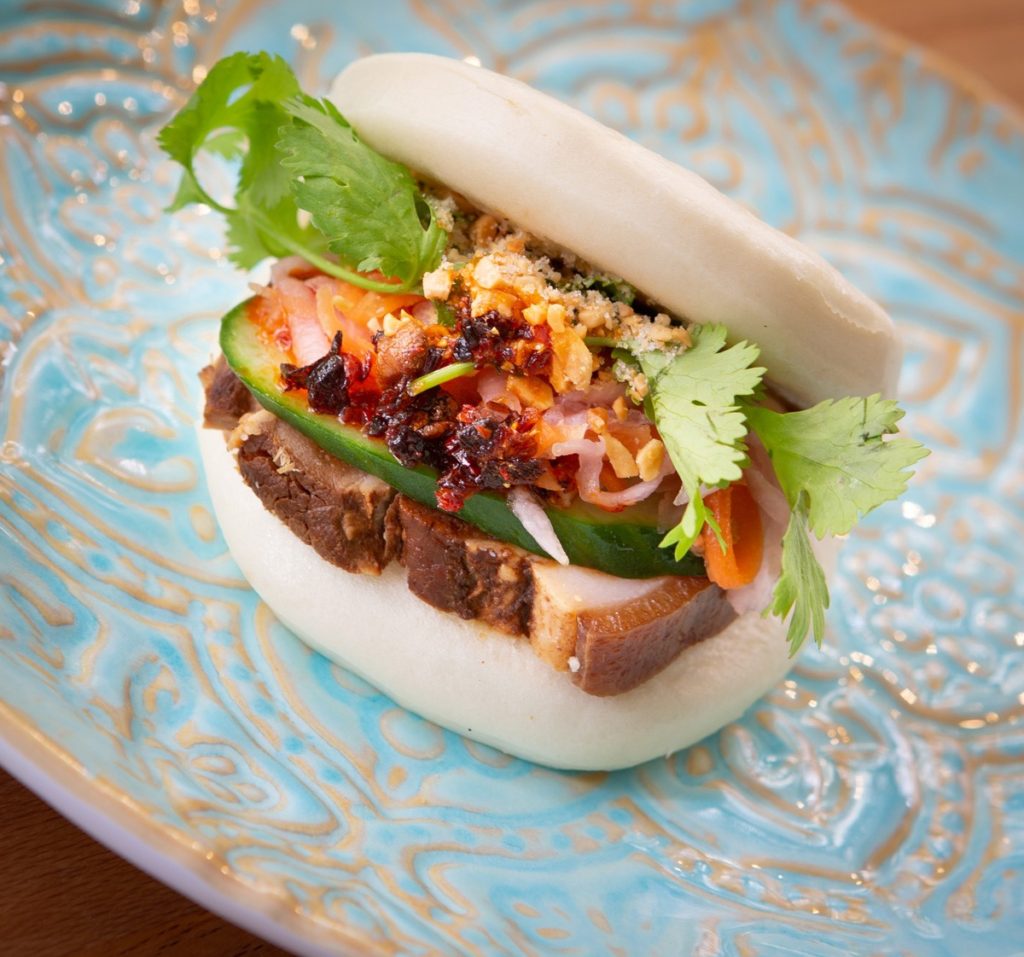 When refreshed and refuelled, get ready for a spot of afternoon Christmas shopping. The Exeter Cathedral Christmas Market offers the ultimate selection of unique, local and handcrafted gifts. Gin and liqueur connoisseurs will be delighted by the selections by Exeter Gin, Salcombe Distilling Company, Monarch and O'Donnells Moonshine. Foodies will love to sample the Cornish Blue by the Cornish Cheese Company, the jams, curds and chutneys by Cherry Tree, and Salcombe Dairy's bean-to-bar chocolate.
Also at the Market, you'll discover an impressive range of locally inspired and crafted jewellery, including handcrafted macramé and wire wrapped pieces by Naked Calcium Jewellery, gemstone, freshwater pearl and sea glass creations by Monty's Beads, woollen throws, scarves and socks by Wild Wool, and handmade, gift wrapped silk scarves by Millie and Boo, plus much, much more. For the full list of Christmas gift ideas from Exeter Cathedral Christmas Market, visit https://www.exeter-cathedral.org.uk/news-events/latest-news/the-ultimate-exeter-cathedral-christmas-market-gift-guide/
As the sun goes down, and the lights of the Christmas Market start to glow, warm up around the cosy open fire in the giant tepee with a gin or mulled wine, or for a more lively atmosphere try the glass roofed Cathedral Tavern bar.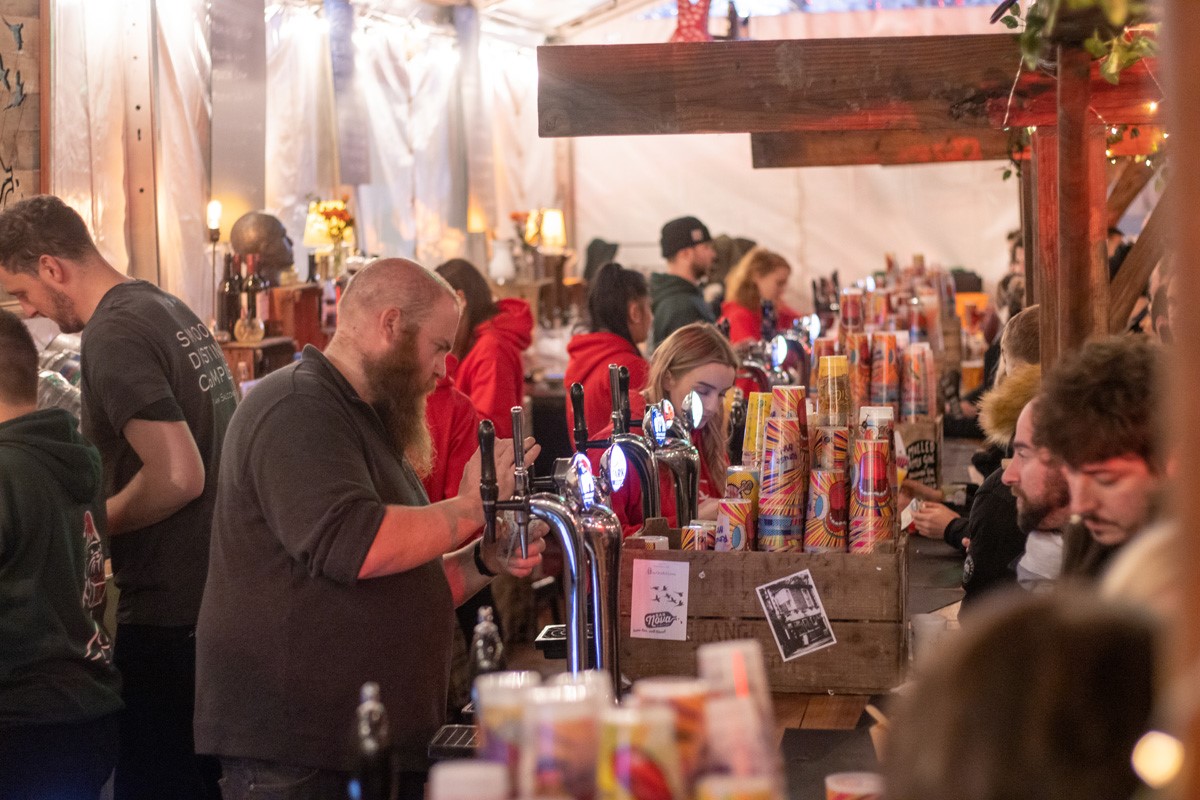 From board games to cocktails
After the Market, there is an endless choice of bars and entertainment, from the classic to the quirky. If you're in a cosy board game mood, check out Board (https://www.boardexeter.co.uk) on South Street, where you can choose from over 350 board games while food and drinks are brought to your table. For an unforgettable cocktail treat, be sure to pay a visit to the award winning Doctor Ink's Curiosities (https://doctorinks.com) on The Quay, or the Speak Easy Cocktail Bar, which is just upstairs from The Oddfellows independent gastro bar (https://theoddfellowsbar.co.uk) on New North Road and is owned by the same people who run the bars at the Christmas Market.
Christmas would not be Christmas without a pantomime, and in Exeter this year you can head to the the Exeter Northcott theatre (https://exeternorthcott.co.uk) to see Beauty & the Beast, from 30 November to 5 January, or visit the Exeter Corn Exchange (https://www.exetercornexchange.co.uk) for a performance of Snow White & the Seven Dwarfs, running from 7th December to 1st January.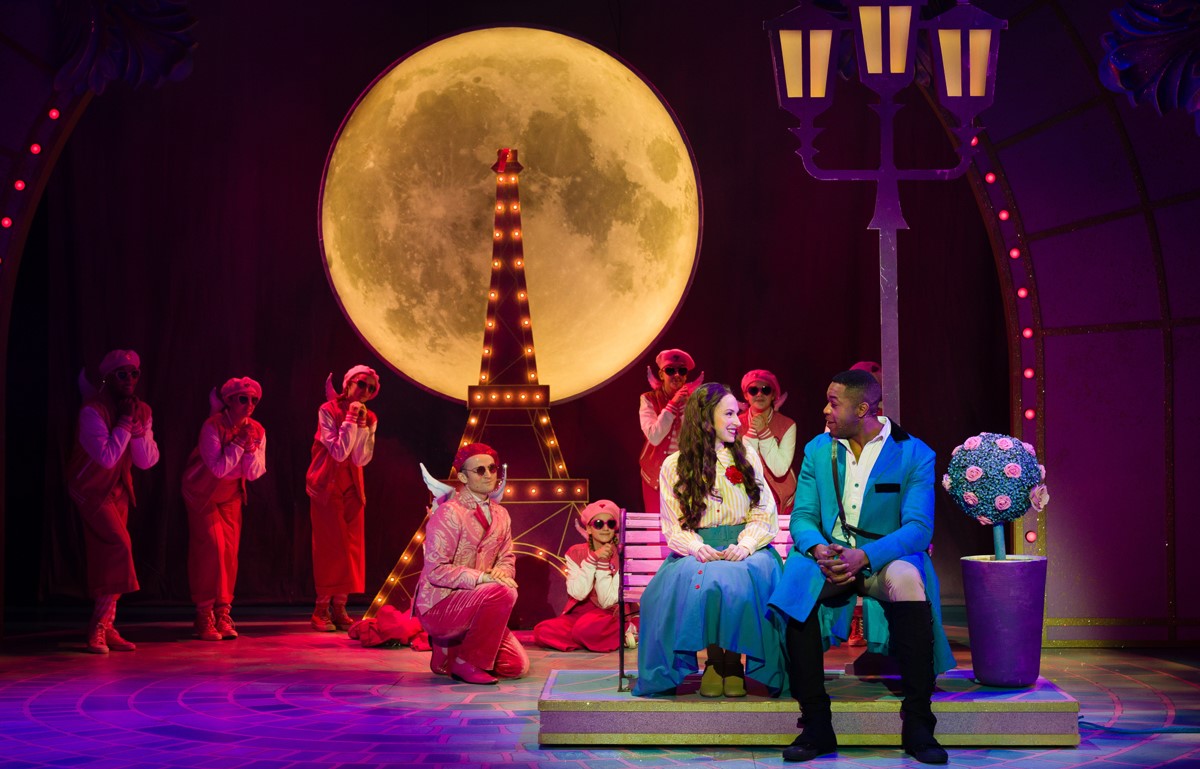 Finally, if you're planning to stay the night, there is a fine choice of city centre hotels and bed and breakfast options. Check out the Hotel du Vin (https://www.hotelduvin.com/locations/exeter/) or Southernhay House Hotel (https://southernhayhouse.com), both an easy walk from the Cathedral and Christmas Market. For smaller bed and breakfast options with plenty of character, try Townhouse Exeter (http://www.townhouseexeter.co.uk) on St. David's Hill, or Raffles Hotel (http://www.raffles-exeter.co.uk).