Invited back to Exeter Cathedral Christmas Market due to popular demand, for the seventh year running, the award winning Bush Farm Catering is the chalet to visit if you're seeking the finest gourmet burgers, with a twist…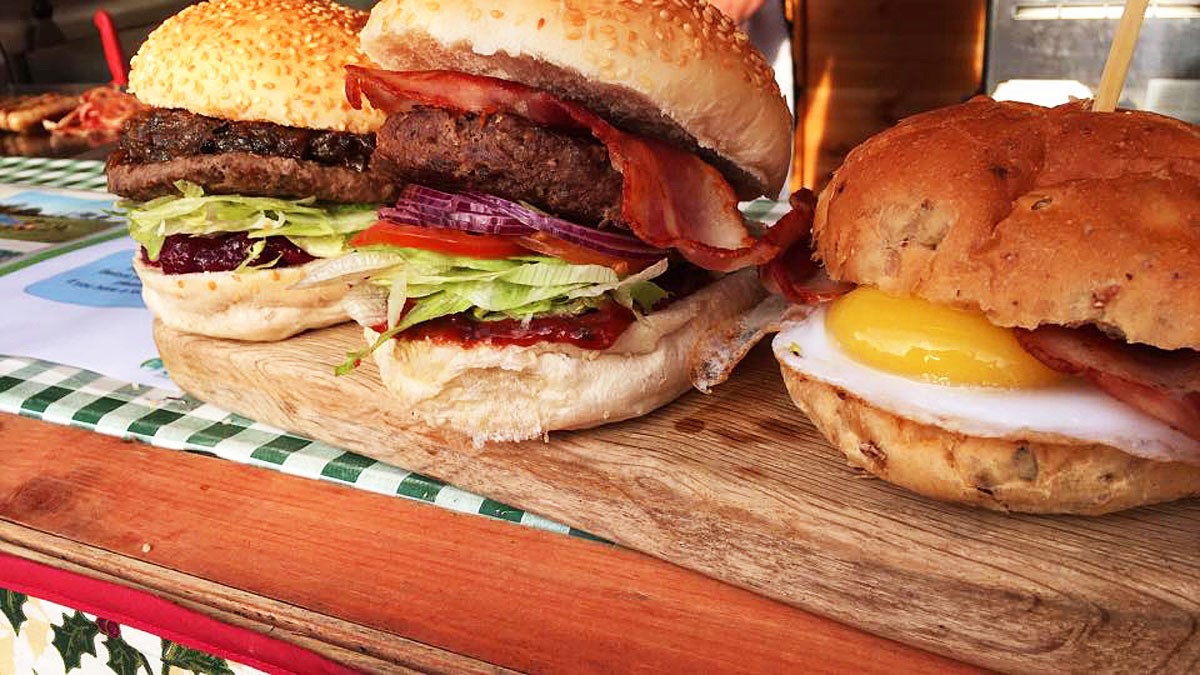 Bush Farm Catering specialise in locally farmed and naturally reared bison and elk venison street food. There's a mouthwatering selection of takeaway dishes on the menu this year, including the classic Bush Farm bison and elk venison burgers, as well as beef burgers, and bacon breakfast rolls. Vegetarians are also catered for with a three bean chilli served on chips with cheese. However, co-founder Rosie Robertson has a soft spot for one dish in particular:
'My personal favourite is our elk venison burger, with our signature onions which we slow-cooked in red wine, juniper berries, bay leaves and thyme, also served with cranberry sauce and lettuce."
Locally sourced
All of the ingredients for Bush Farm Catering's dishes are sourced from a handful of carefully selected local suppliers. Their beef burgers only use beef from one particular farm near Exeter, bread rolls are handmade at a bakery in the city, and duck eggs are sourced from a farm, also near Exeter.
However, their closest partnership is with Bush Farm Bison Centre. Set in the beautiful countryside of the Wiltshire/Somerset border, the farm, run by Lord Seaford and his wife Pepe, is now in its 34th year. Bush Farm Bison Centre is well known as the leading bison centre in the UK and has often been featured in the media, including TV programmes such as BBC's Countryfile.
Both bison and elk are raised there, as naturally as possible—grass reared and free to roam the farm.
Careful, local sourcing from the very best suppliers is an approach that seems to be paying off, with Bush Farm Catering picking up both Taste of Somerset and Taste of the West awards in recent years.
Flavoursome and nutritious
If you haven't tried bison meat or elk venison before, perhaps the best reason to give it a go at Exeter Cathedral Christmas Market this year is the amazing taste. However both also offer significant nutritional benefits over more mainstream meats. Bison meat is low in fat, high in protein and rich in flavour. One serving of bison meat provides 34% of the daily recommended amounts of protein, plus 32% of zinc, 33% of iron, 10% of niacin, 20% of phosphorous, 14% of vitamin B6 and 42% of antioxidant selenium. It is also non-allergenic, making it easier to digest for those with red meat intolerances.
Elk (also called 'wapiti,' a Native American word that means 'light-coloured deer') venison is higher in protein and leaner than beef. Elk has a less gamey flavour than other venison which makes it a great burger to try if you're new to venison.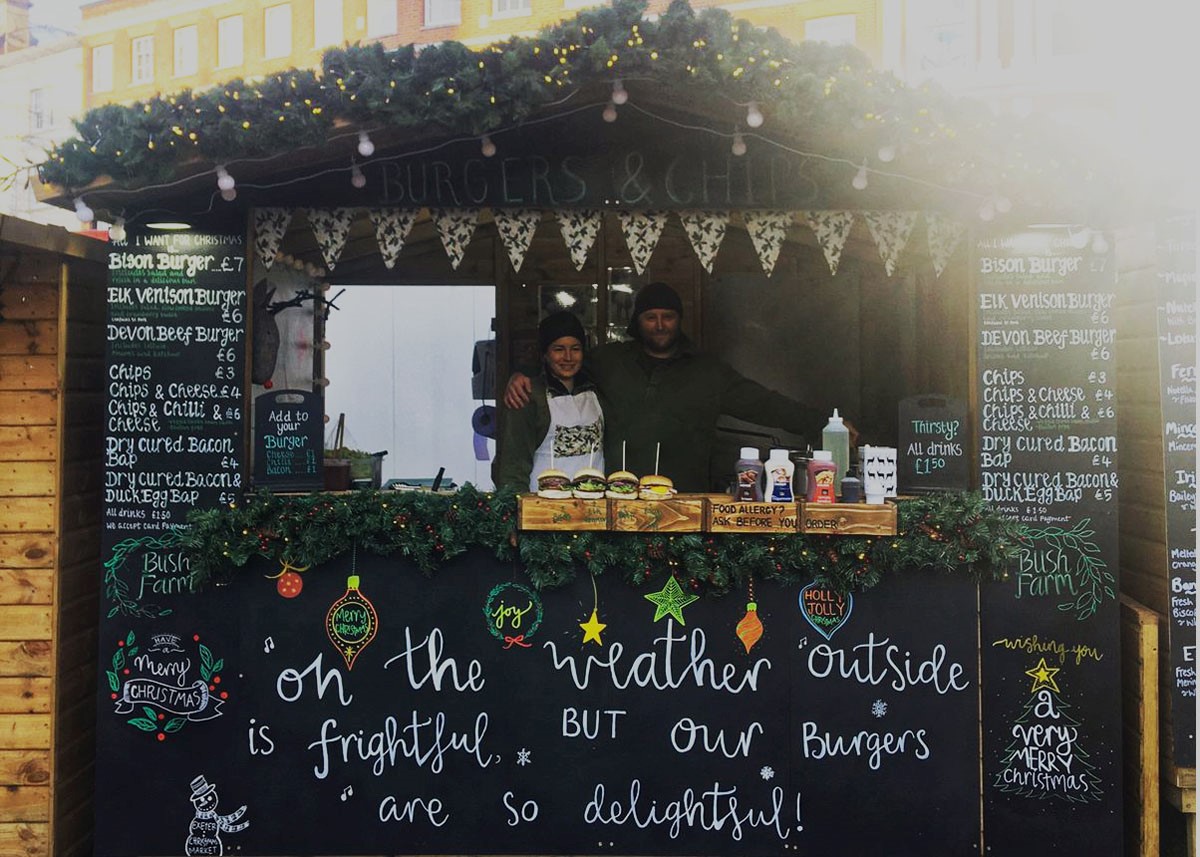 A winning start
Bush Farm Catering is run by Rosie Robertson and her husband, Angus. The company began seven years ago when they won a university business competition. Rosie explains:
"We put together a business plan and I entered a university business competition. Amazingly, our plan won and we were awarded a start-up grant!"
Equipped with this win, plus an agreement to represent Bush Farm Bison Centre, Rosie and Angus began trading. Since then Bush Farm Catering has gone from strength to strength, at county shows, food festivals and music events, whilst always staying true to their mission to provide healthy, delicious and locally-farmed food. Exeter Cathedral Christmas Market has remained a regular feature in the calendar throughout, as Rosie concludes:
"We love being part of such a great, local event. It's the highlight of our event calendar, and it's been wonderful seeing the market grow bigger and better each year."
Both Rosie and Angus are at the chalet every day throughout this year's Christmas Market — occasionally helped by friends and family too! Why not pay them a visit at the Food Village, and try their delicious, award-winning dishes for yourself?