The Riddler in Residence project works with a range of local community groups, including families, young people and formal education settings, with the aim of inspiring them to creatively connect with their heritage. The Riddler in Residence project is supported by The National Lottery Heritage Fund.
August – November 2023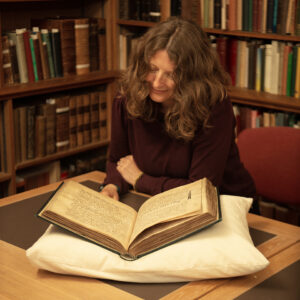 Our second Riddler of 2023 is Aly Stoneman. Aly made her debut as Riddler in Residence at our BioBlitz event on Cathedral Green where she hosted an activity where visitors were able to create their own nature-themed postcards.
In August Aly hosted her Wondering Words workshops with St Petrock's; a charity that support the homeless in Exeter. During these workshops, participants were able to tell their stories through poetry, storytelling, spoken word, fiction, digital/recording and doodling.
Aly is currently working with the local community in her Green Words Poetry Workshops where participants gain inspiration from the Cathedral's green spaces, including Cathedral Green and the Bishop's Palace Garden, to create their own nature-themed poetry.
Alongside her workshops, Aly also held a drop-in and booked session at Exeter Science Centre's Climate Exhibition where visitors created climate themed poetry and discussed their views on change to help the environment.
Aly also presented an opportunity for people to submit their own poems inspired by the green spaces around Exeter Cathedral and Exeter. This was to be included for the new Green Words Poetry Map and Digital Anthology.
Upcoming event: Green Words Poetry evening.
May – July 2023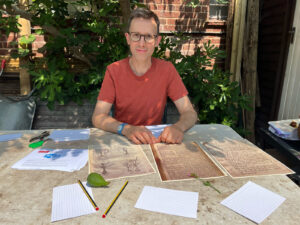 Our first Riddler of 2023 was James Wilkes. Taking inspiration from the topics of nature inside the Exeter Book, James held work workshops with various groups around Exeter. In June, he delivered workshops with students from Exeter College, Exeter Cathedral volunteers and ESOL learners from St Sidwell's Community Centre.
James also held public poetry sessions at Exeter Library with the local community. These sessions were held across four weeks and participants took inspiration from Exeter Cathedral's medieval charms, fantastical carvings, and old English poems to create their own poems and creative writing.
To close his residency,  we had an evening of poetry inside the Lady Chapel. James read poems written during his workshops and presented audio recordings of poems written by the local community inspired by the Cathedral and it's ancient collections. 
Exeter Cathedral's 2023 Riddler in Residence Project was supported by The National Lottery Heritage Fund.
January – March 2022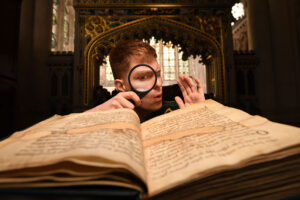 Our first Riddler in Residence, Chris White, worked to empower young co-creators to engage a reinterpretation of the Exeter Book, by drawing connections between 10th Century poetry and contemporary verse. 
Throughout the project, Chris hosted a variety of creative workshops with schools and youth groups from the surrounding area of Exeter, to expand their artistic vision through poetry and performance. During his residency, Chris also led I Wonder… a showcase of poetry, comedy and riddles which included a poetic performance by Chris, live music from Hal Kelly and raucous riddles by surrealist comedian Edward Tripp.
Chris White is a spoken-word artist based in Exeter, who often performs his silly & surreal work across the UK, from Tongue Fu to Latitude. He's created several theatre shows, including Moist, Moist, Moist which recently received a National Partnership Award from The Pleasance Theatre Trust. He's a former 'Bard of Exeter' and the founder and host of Spork! Poetry CIC.
Exeter Cathedral's 2022 Riddler in Residence Project was a collaboration with Literature Works and supported by Arts Council England.