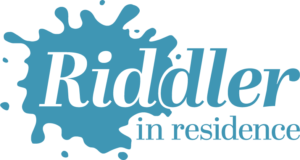 Uncover the Mysteries of the Exeter Book…
Introducing Exeter Cathedral's first literary residency, the Riddler in Residence!
Inspired by the Exeter Book, one of the world's oldest volumes of English Literature, Exeter Cathedral has commissioned a Riddler in Residence to empower young co-creators to engage a reinterpretation of the Exeter Book, by drawing connections between 10th Century poetry and contemporary verse.
Throughout the project, the Riddler will hosted a variety of creative workshops with schools and youth groups from the surrounding area of Exeter, to expand their artistic vision through poetry and performance.
Chris White is a spoken-word artist based in Exeter, who often performs his silly & surreal work across the UK, from Tongue Fu to Latitude. He's created several theatre shows, including Moist, Moist, Moist which recently received a National Partnership Award from The Pleasance Theatre Trust. He's a former 'Bard of Exeter' and the founder and host of Spork! Poetry CIC.
Led by poet Chris White in collaboration with Exeter Cathedral and Literature Works, this project is supported by Arts Council England.