If you're Christmas shopping, Exeter Cathedral Christmas Market has something for everyone this year. Whether it's fine foods, locally crafted wines and spirits, elegant fashion accessories or stylish features for the home, you'll find it all on Cathedral Green until 19th December.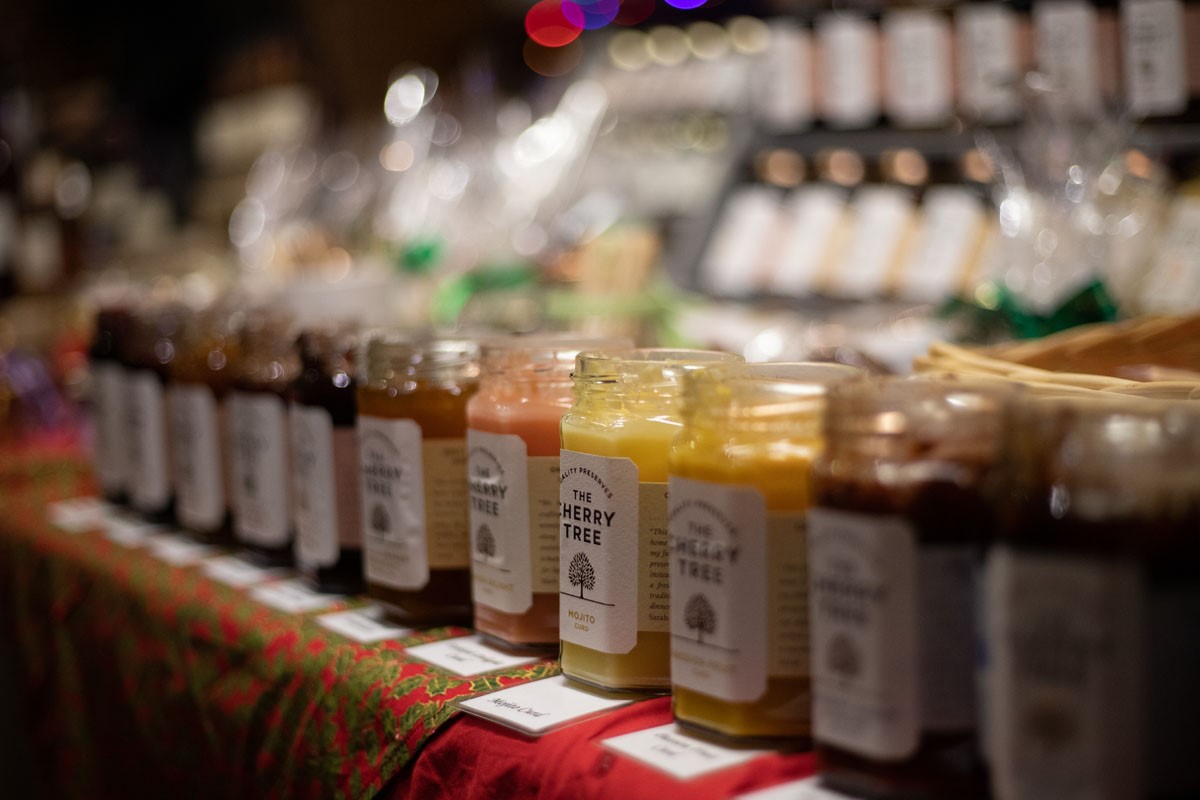 For the Christmas connoisseur:
Gin aficionados will love the local offerings from Exeter Gin, or alternatively choose from Salcombe Distilling Company's Start Point, Rosé Sainte Marie or Voyager varieties. There are some beautifully warming handcrafted liqueurs from Monarch and O'Donnells Moonshine, or if you're looking for something more exotic, try Chocolate Wine — a smooth blend of red wine mixed with cacao. For a real taste of the West Country, cider fans can't fail to be delighted with a gift of Norcotts Cider, from Honiton in Devon.
For the gastronome:
For cheese lovers, try the handmade Cornish Blue, available from the Cornish Cheese Company, or there's The Cheese Board's deliciously blended cheeses, ready packed with chutneys and curds for the perfect presentation gift. Award winning chutneys can be discovered at Cherry Tree, along with quality jams and curds. Other sweet treats this year include Salcombe Dairy Chocolate, traditional multi-award winning fudge from Ed's Fudge Kitchen and a colourful range of the world's best nut and liquorice treats at Nut Cracker & Liquorice.
For the home chef:
For those who love creating delicious dishes as much as eating them, there's high-end kitchenware from The Incredible Kit Company, ergonomically designed knives and accessories from Germany at Flint and Flame, and beautifully hand-made natural stone platters at Fancilflair.
For festive fashionistas:
The beautiful surroundings of Devon have inspired a community of independent jewellery designers and makers, and you'll find many of them at Exeter Cathedral Christmas Market. These include the stunning handcrafted macramé and wire wrapped pieces by Naked Calcium Jewellery; the gemstone, freshwater pearl and sea glass creations by Monty's Beads; or Roger Stuart Hill's sculptured pewter and silver designs at Premier Craft Design.
Floral fans will be thrilled with Silver Flowers' distinctive and elegant poppy, daisy, forget-me-not and mixed flower designs; or alternatively there's the classic, timeless beauty of Baltic amber at Amber Jewellery. If you're looking for something affordable yet truly personal, look no further than Charms 4 U who have a range of affordable charms which can be made into personalised keyrings, bracelets and necklaces.
If you want to give something a little warmer this Christmas, you'll find a range of jackets, scarves, ponchos, and of course, the perennial cosy socks. Me & You Gifts' collection is handmade, super-stylish, and colourful. Wild Wool have the ultimate 'cosy gift' offering, with woollen throws, scarves, recycled socks and, yes, even hot water bottles! Also, don't miss Miss Beaujangles for handmade jewellery, scarves and accessories, or Millie and Boo's silk handmade scarfs in gift packaging.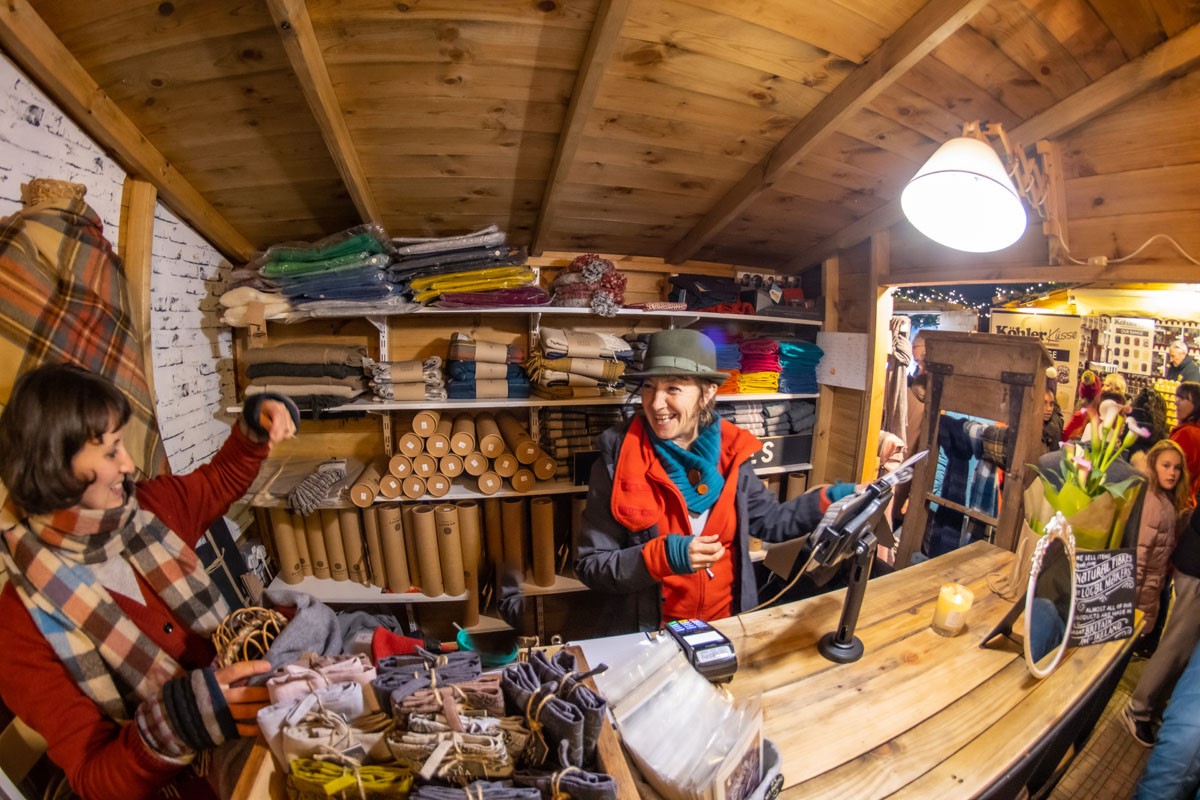 For the young and the playful:
If you're buying for the young, or the young at heart, they'll love the colourful and cute felt egg warmers at The Ark (possibly the market's most colourful chalet) or perhaps bring some extra magic and sparkle to their Christmas with Fairygoodies — specialists in all things fairy-themed! Everyone loves the classic beauty of the Russian dolls at Russian Woodcrafts, or if you're seeking a gift for the more curious mind, be sure to explore the uniquely entertaining range of maps at Marvellous Maps.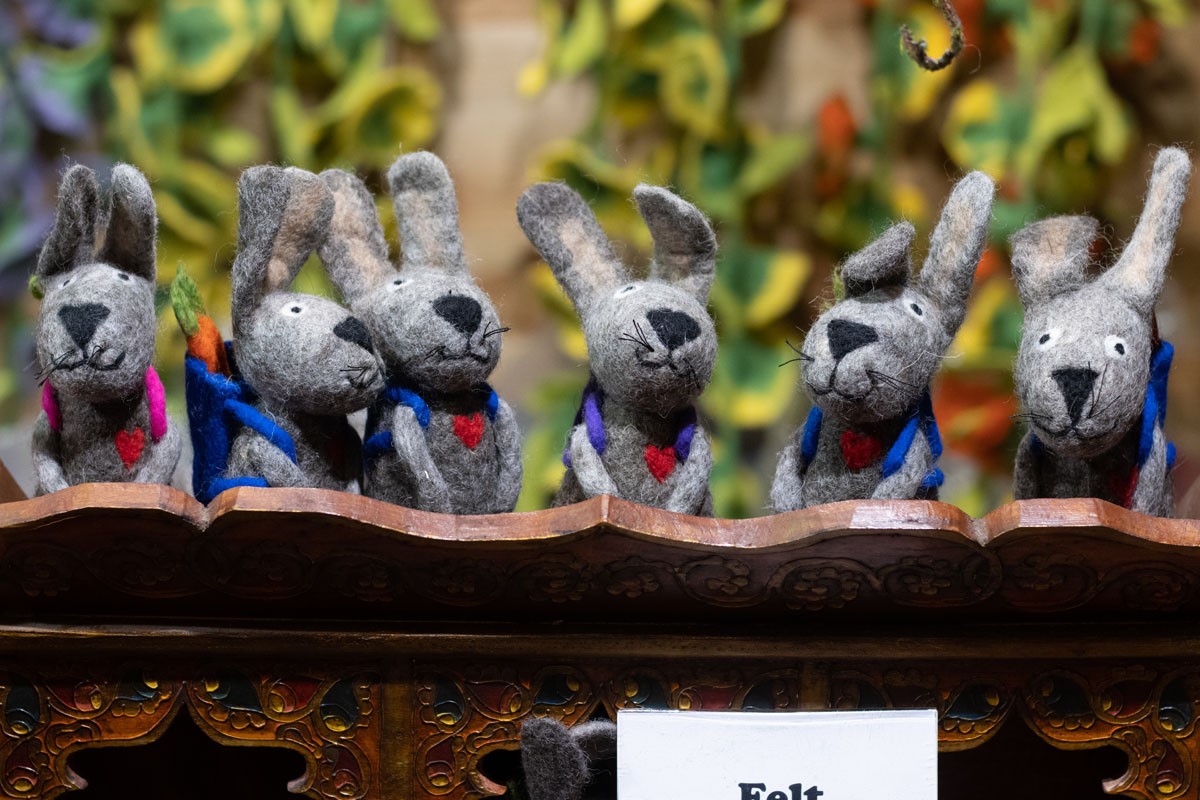 For the home style guru:
Browsing through Exeter Cathedral Christmas Market, you can't help but be inspired by the incredible of collections of beautifully designed, locally created gifts for the home.
For glassware, try Karen Kier Design's elegant strawsilk candle holders, vases and bowls, all handmade in Devon. There's Exeter's own Craft Exe, where you'll find fused glass creations including framed artwork, freestanding pieces and some very special decorations for the tree.
If you're thinking soft, it doesn't get any better than the beautiful Cornish designed blankets and throws by Atlantic Blankets.
There are plenty of woodwork creations to explore too, from the handmade signs at Dotty Heaven, to the rich lacquered wooden vases and bowls by Silkwood Traders, or the contemporary hand turned designs of Torneado and Wood's lighting.
For those finishing touches to a characterful home take a look at Wappa for door knobs, star lanterns and much more, or Stunning Stones for natural Himalayan salt products and incense. Beautiful, quirky and cute ceramics can be found at Nicola Mary Artisan's chalet, where everything has been designed, made and decorated on Exmoor. There are ingenious metal figurines and wall art at Roans Art, or for the ultimate in upcycled focal point, don't leave without taking a moment to marvel at Devon Reclaimed's beautifully polished nautical and industrial salvage.
If your loved one would rather turn their attention to the outdoors, then the Eden Garden Equipment chalet is the place to go. They have a whole range of brilliantly designed tools, dedicated to making gardening enjoyable for everyone, including those with rheumatism or arthritis.
For people to pamper:
For quality pampering presents, there's a gorgeous selection of ethically produced soaps on offer at the Market this year. Emma's Soap is handmade using ecological and natural oils—with nothing nasty added—all beautifully presented in organic Fairtrade cotton. There's also Soap Daze, with a unique and imaginative range of vegan soap and skincare product varieties, all handcrafted in Devon.
For the proud individual:
If you're buying for someone who doesn't quite fit into any of these categories, then help is still at hand! Exeter Cathedral Christmas Market is the ultimate place to find those one-of-a-kind treasures that will never fall victim to the dreaded duplicate gift on Christmas Day. Consider the amazing, painstakingly hand crafted kaleidoscopes by Eyelussion Eyewear; or ethically sourced Viking Drinking Horns; or handmade, fairly traded giftware from Bali, courtesy of Jonkers.
For the truly personal touch, it's worth a visit the Yesteryears chalet to find out about a personalised family coat of arms or fascinating surname history scrolls. And there are more personalised gift options at Devon's Made for you Gifts, or hand-painted wooden gifts by Individuals, personalised while you wait.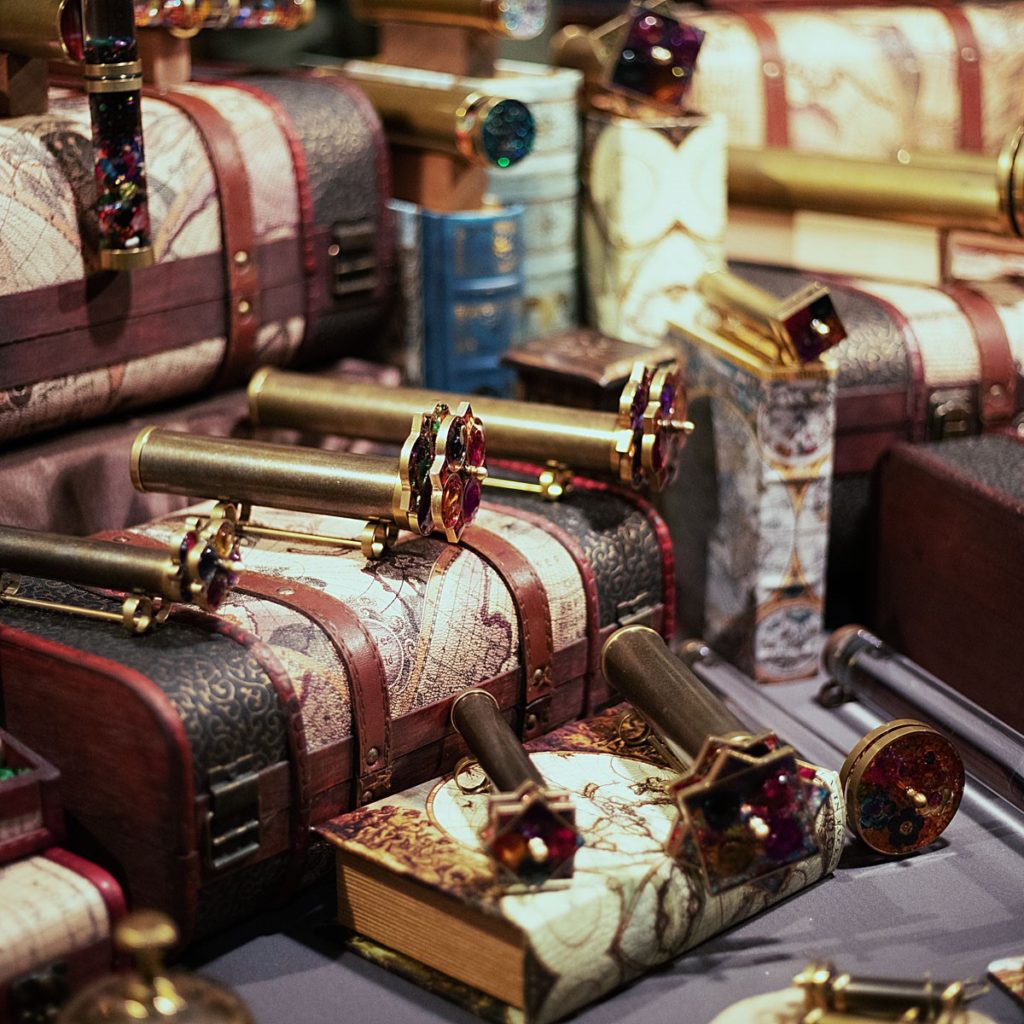 And if it all gets too much…
Don't forget yourself! There are plenty of opportunities for rest, refuge and refreshment, whether you're refuelling on artisan street food in the Food Village or relaxing with a mulled wine by our tepee fire. Alternatively, take time out to explore the wonders of Exeter Cathedral — we've suspended the admission fee until 5th January, so why not take a look inside?
Exeter Cathedral Christmas Market is open until 19th December. 10.00 to 19.00 Monday to Wednesday, 10.00 to 21.00 Thursday to Saturday, and 11.00 to 17.00 on Sundays.