The Development Appeal aims to raise £10 million in the coming five years. The aim for the period is to:
undertake the first major set of works to the Chapter House in 2020/1
undertake renovation and conservation to East End of the Cathedral in 2022-2025, and build the Cloister Gallery (about half the footprint of the Cathedral – see plan below).
raise funding for the music endowment, to be invested with the Exeter Cathedral Music Foundation Trust
undertake other works to the estate as needed eg. Church House, Cloister offices, Close Properties etc.
A further appeal, estimated at some £6 million, will follow in the next five years to 2030 to complete the works to the Cathedral nave and entrances at the West End, and to further improve our facilities, to deliver effective working, increased exhibition capacity and the long-term viability of our other key buildings.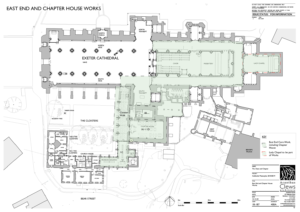 The Development Appeal aims to undertake renovation and conservation to the East End of the Cathedral and build the Cloister Gallery
We recognise that £10m is a large sum to raise, but are encouraged to think this is achievable even in the current uncertain times for a number of reasons:
The international significance of the building
The urgent need for conservation of the historic fabric
The quality and expertise of the Design Team
People's goodwill to the Cathedral across Devon
Our reputation in the past for successful appeals.
The Development Office is led by Jill Taylor, a highly experienced Director of Development, who has recently completed raising funds for a £19.5 million museum capital project in Bristol. Jill was previously Campaign Director of Exeter Cathedral's Third Millennium Campaign (TMC) between 2007 and 2013 which successfully raised in excess of £8 million, also under the Patronage of HRH The Prince of Wales. The TMC project provided our state of the art Library and Archives repository, created new Song Schools and a dedicated Education space, tackled major roof repairs and a much appreciated scheme to improve the North side of the Cathedral Green.