Most Devon schools begin their October break after school Friday 19th October, and already we're planning a packed week of half term activities for families.
Events for the kids in Exeter
Start the week with a drop-in craft session (Monday 22nd October). As well as creating magic 'shrinkie' Cathedral people, you make glass votive holders in vibrant colours and shapes, perfect for lighting a candle at home in the evening. Just turn up!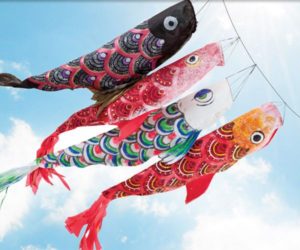 On Tuesday 23rd October we're going carp crazy, with another craft session. Find out more about 'koinobori' (carp kites) which are used to decorate houes in Japan. There's a chance to find some of the fish symbols inside the Cathedral, as well as making your own kite to take home. Just turn up!
If bright colours and fashion are more your thing, then why not come along to the Cathedral for a tie-dye t-shirt workshop (Wednesday 24th October, booking essential)
Do your own thing – it's FREE!
Did you know that entry to the Cathedral is free for children under 18? Bring your little ones into Exeter this half term, and discover Exeter's best-loved landmark and historical attraction.
As well as organised half term activities, there's also our popular activity trail around the Cathedral – perfect whilst mum and dad enjoy an audio tour of their own.
If you need to take a break then do head into the Cathedral Café. It's perfect for a light lunch, or why not treat yourself to a Devon Cream Tea?
Exeter residents (postcodes EX1-EX4) can enjoy free admission to the Cathedral when you register for your Residents Card. Alternatively adults can Gift Aid your admission (at no extra cost) and as a thank you we'll give you a pass for 12 months free admission.