This is a big year for Exeter's Anglo-Saxon manuscripts. Between October 2018 and February 2019, the British Library, London hosted the exhibition 'Anglo-Saxon Kingdoms: Art, Word, War.' This landmark event brought together almost 180 items gathered from across the world, including three from Exeter Cathedral Library & Archives.
In advance of a summer of events displaying Exeter's Anglo-Saxon manuscripts in their home city,  Dr Jennie England of the University of Exeter sat down with Ellie Jones, Cathedral Archivist, to find out how Exeter's documents came to be part of the internationally acclaimed exhibition.
England: Which items were lent to the British Library from the Cathedral's Library & Archives?
Jones: We were proud to lend three items to the British Library [BL]. These were: the Exeter Book, part of Exon Domesday, and a charter of King Æthelred of England, also known as the 'Golden Charter'.
Why were these documents selected by the exhibition's curators?
The BL exhibition wanted to put together a massive showcase of all the Anglo-Saxon treasures they could gather. There are only four surviving codices of Anglo-Saxon poetry, one of which is the Exeter Book. As the curators wanted to put all four manuscripts together, they came to us to ask about borrowing the Exeter Book.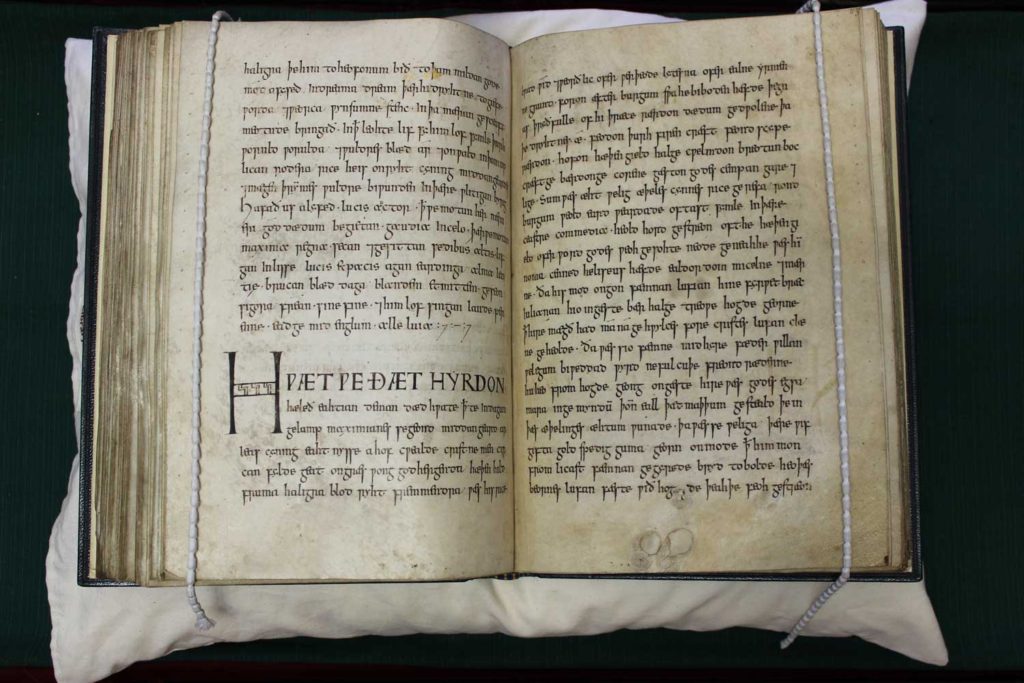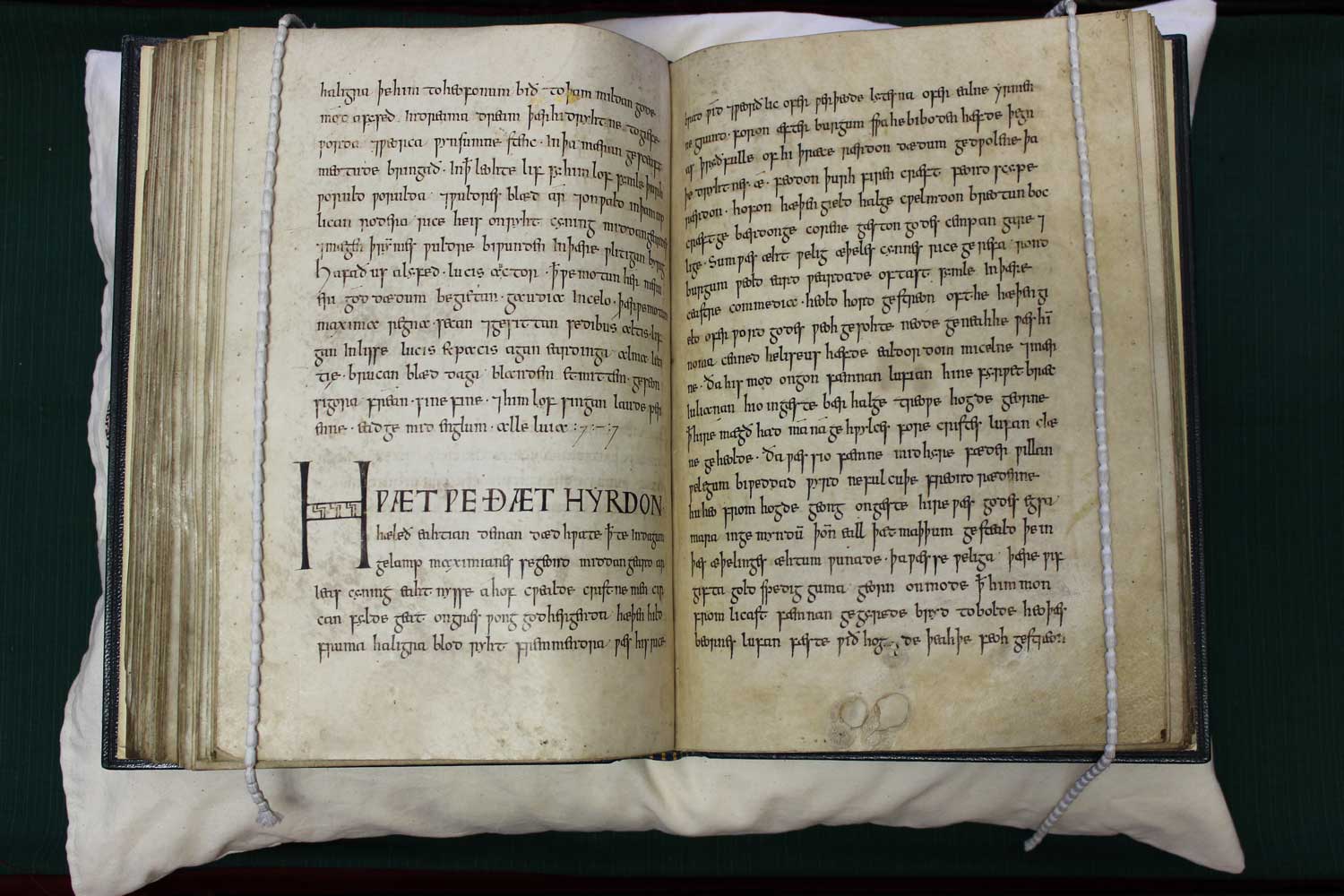 In terms of Exon Domesday [which is a partial draft of the Great Domesday Book], the connection came through one of the BL exhibition's advisors, Professor Julia Crick, who has been working on Exon Domesday for many years. The BL curators also wanted to round out the exhibition with documents which represented the transition in record-keeping that came following the Norman Conquest. Exon Domesday is a very fine example of this.
The Golden Charter was chosen because it is unique in being the only surviving gold leaf Anglo-Saxon charter, and thus fitted with the exhibition's ambitions to display unusual and unique documents surviving from pre-Conquest England.
How long did it take to organise these loans?
The BL curators started communicating with our Canon Librarian, Ann Barwood, in 2014, after which came four years of negotiating and planning. Fifty-percent of the exhibition's contents came from beyond the BL, and we are always reminded of the phenomenal amount of work that went into collecting items for this showcase event.
How did the documents get to London from Exeter, and what precautions were taken to make sure they arrived safely and securely?
There is a huge amount of paperwork for items as significant as these! Before even starting to think about the move, we had to organise insurance, and get permission to loan these documents from both the Dean and Chapter, and other Church of England permission granting bodies.
The logistics of the move itself is like something from a spy movie. We packaged up our items in special boxes to make sure that they were protected from any damage during transport. We then meet a special secure art courier organised by the BL. In advance we knew the names of the drivers and when they are arriving, but we don't tell anyone else when or where it was happening. A member of staff from the Library & Archives then accompanied the documents on their journey to London, where they were met by BL staff and escorted to the strong room where the items were stored prior to being displayed. At the end of the exhibition this was all done again in reverse. It was all very cloak and dagger!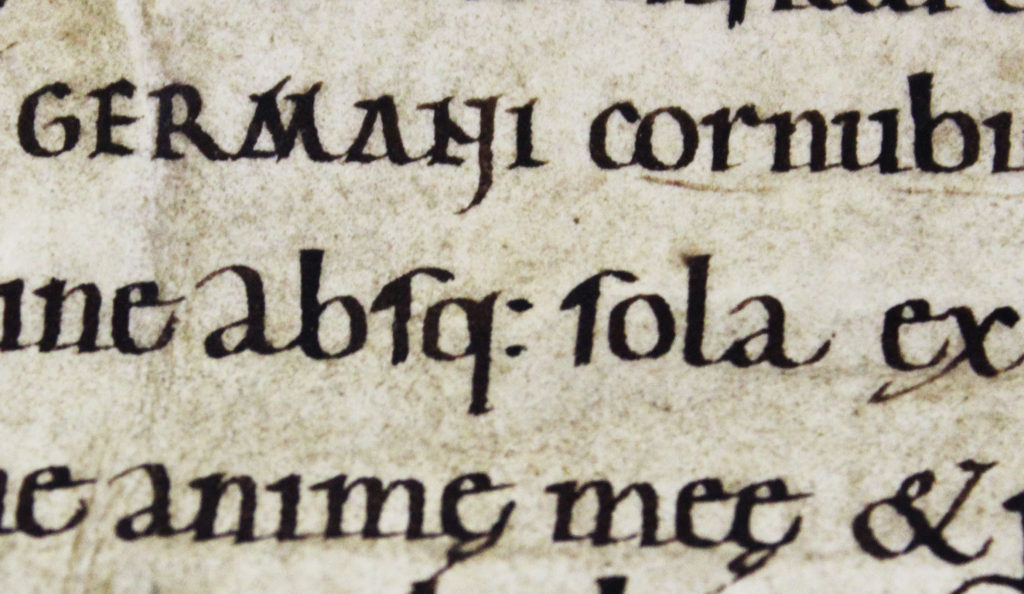 These documents were away for quite a long time, did you find this period stressful?
Yes and no. We know that they were as safe as they possibly could be at the BL, so we tried not to worry. But when these items are in Exeter we check in on them every day, so throughout the period they were away we were very aware of the gaps on the shelf. We miss them–I suppose–as much as being stressed! And then there is always a lot of excitement when items come back home.
Now that they're safely back in Exeter, what's next for the Exeter Book, Exon Domesday, and the Golden Charter?
The next thing is the big exhibition coming up in May called 'Forging the Past in Medieval Exeter', during which the Golden Charter will be exhibited for the first time in at least forty years. This item rarely comes out for such an extended period, and it is a fabulous opportunity to see such an important and special document on display. The exhibition is also a nice chance to view Exeter's other Anglo-Saxon documents, of which we have an unusually good collection for a regional archive.
The Exeter Book will have its first general public viewing at Exeter, in the Cathedral on Wednesday 29th May. There will then be further opportunities to see it throughout the summer.
Exon Domesday now has an online presence. Following the Arts and Humanities Research Council funded project 'The Conqueror's commissioners: unlocking the Domesday survey of south-western England', Exon Domesday has been fully digitised and translated so that both researchers and the public can have access to this hugely important record from Exeter's past.