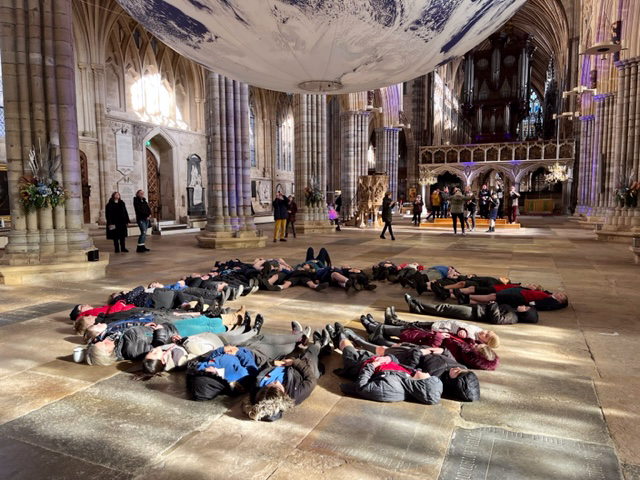 By Canon Cate Edmonds
Year 6 pupils from Fort Federation Schools enjoyed a fun day at Exeter Cathedral as part of the Scientists in Congregations initiative. The pupils had previously visited the Cathedral to learn about climate change and weather recording. They returned to the Cathedral with their results and had further discussion on how they were improving their carbon footprints both at home and at school. 
We were every fortunate to have a wonderful sunny day and the pupils were able to enjoy the space of the Green whilst they had their lunch. All ensured that wrappers etc were returned home to dispose of appropriately. Some of the wrappers were examined to highlight the difficulty in recycling certain products which also led to discussions on whether the products should then be used.
After lunch we returned to the Nave and the pupils experienced the Gaia exhibition. After standing and gazing at the revolving Earth for a while and discussing various points of interest, they made a circle and lay down for 5 minutes of thought and meditation. After this they took part in a worksheet which explored different facets of the Earth. During the day they were also able to experience the various Prayer Spaces which had been set up in the Cathedral chapels. The pupils explored issues ranging from endangered animals to the elements of the Earth and thanksgiving to God for the creation around us. Some very thoughtful comments were made. 
Sadly, the day was over too quickly and as the pupils left they were keen to return again with further results and debate on the environment. Certainly, there were thirty-one Environmental Pioneers in the making.