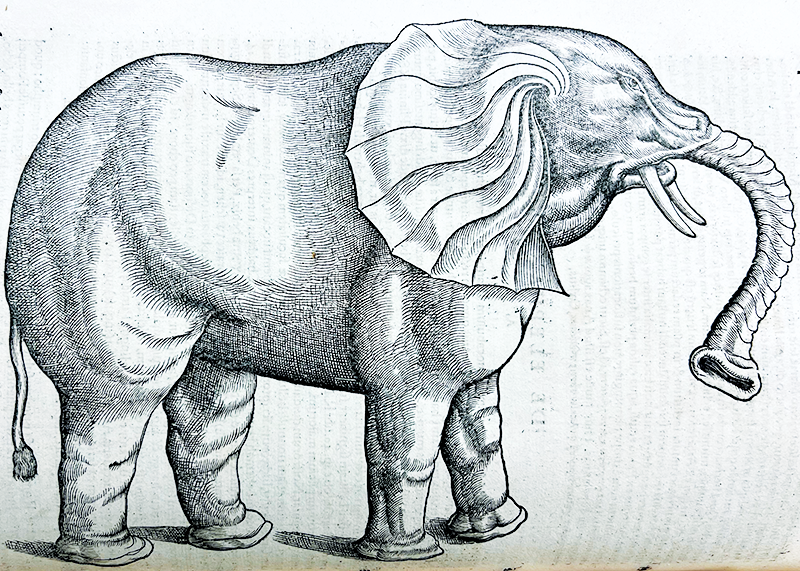 By Ellie Jones, Exeter Cathedral Archivist
This month's In Focus spotlight exhibition ties in with the Gaia installation and features the landmark natural histories of two of the greatest Renaissance naturalists: Historiae animalium by Conrad Gesner (1516-1565) and Opera Omnia by Ulysse Aldrovandi (1522–1605). 
These masterpieces were bold attempts to describe and categorise every known animal on Earth. To modern readers they are a wonderful mix of the fanciful and the scientific. Animals' physical appearance, habitat, diet, reproduction, behaviour, mythology, and uses by humans are described, complemented by fine woodcut illustrations which both impress and inform the reader. However, Gesner and Aldrovandi – despite their best efforts – could not see every animal for themselves and relied on the testimony of other people, ancient Biblical and Classical sources, folklore and medieval bestiaries in addition to their own observations of real specimens. Consequently mythical animals such as the unicorn are included by Gesner, and mistakes and misunderstandings were made, such as Aldrovandi's classification of bats with owls. These books are nonetheless part of a shift in thinking about the natural world. It is their greater emphasis on verifiable accounts from direct observation that make them stand out as pioneers of Renaissance natural science and zoology.
Conrad Gesner was a Swiss physician, naturalist, linguist, bibliographer and encyclopaedist. He was born in Zurich in 1516, and his academic talents were obvious from a young age. Financial hardship caused his father, a furrier, to send him to live with a great uncle – who cultivated medicinal herbs – to support his education. Gesner had studied Classics, languages, theology and medicine variously in Basel, Paris and Montpelier universities. Although he was a practising physician – and Zurich city physician from 1554 – natural history was his great passion, and he spent a great deal of time writing and travelling, accumulating a sizeable collection of books and botanical and zoological specimens. 
Gesner published more than 70 works during his lifetime, beginning with a Latin-Greek Dictionary when he was just 21, and Bibliotheca, an astonishing attempt to catalogue the works of every known writer. Then, in 1551, the first volume of his Historiae animalium was produced. This volume, detailing mammals, became the first book of its kind ever published. Three further volumes appeared during his lifetime: egg-laying reptiles and amphibians (1554), birds (1555), fish and aquatic animals (1558). Unfortunately Gesner succumbed to plague and died at the age of 49. His earlier works had been popular, and his incomplete volume on snakes and scorpions was published posthumously in 1587. Gesner's work later became even better known in Britain when Edward Topsell published his History of Four-Footed Beasts and Serpents (1658) re-using many of Gesner's illustrations and translations of some of his text.
Gesner's successor in the field was his close contemporary Ulysse Aldrovandi, an Italian notary, physician, natural historian and the first Professor of Natural Sciences at the University of Bologna. Born into a noble family in 1522, he ran away from home at 12, went on pilgrimage to Jerusalem at 16, and studied law, philosophy, and mathematics at the universities of Padua and Bologna. He was twice pardoned by the Pope, once after a year under house arrest for heresy in 1549 and, later, after a public dispute with fellow doctors and pharmacists in Bologna. He established one of Europe's first botanic gardens at the University of Bologna and together with his wife, Francesca Fontana, he worked on many books and built a country estate to house a famously enormous "cabinet of curiosities" containing thousands of natural history specimens. Although he wrote hundreds of books and essays, most of them were not published until after his death. Of all his works it is the incredible 13 volume Opera Omnia (general natural history) for which he is best remembered today. With volumes covering everything from insects, to birds, fish, quadrupeds, plants and monsters it was certainly a compendious attempt. 
Aldrovandi's stated goal was to build on and exceed the earlier work of Conrad Gesner – but did he succeed? 
Join us at this month's In Focus event in the Cathedral to see some works by Gesner and Aldrovandi and find out more (11am-1pm on Tuesday 21 February).