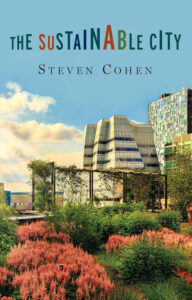 Steven Cohen
The Sustainable City
More than fifty percent of the world's population now live in cities. Economic, technological and cultural forces are moving people out of the countryside into urban sprawls. Cities are designed for humans and not the natural world. There is a growing problem unless cities and the way we live in them are designed to minimise the impact on the environment.
The transition to a sustainable way of life is at its most challenging in some of our major cities in the world. Steven Cohen, is a professor in the Practice of Public Affairs at Columbia University in New York. He tackles this wide ranging and complex set of issues by considering what sustainable lifestyles might look like, how urban systems need to be designed and then the role of politics and public policy in building sustainable cities. It is an American centric perspective. Cohen has lived in New York for over fifty years, but he does provide some case studies from around the world.
What a sustainable lifestyle or city looks like are contested concepts. This book sketches the opportunities of human settlements where economies of scale, closed systems of production, consumption and a 'sharing' economy become possible. Cars, bicycles, indoor and outdoor spaces can be more easily shared. Diverse communities create cultural, economic and educational chances not available in rural areas. Challenges to minimise the impact on the environment are multiple for civic leaders in creating the necessary infrastructure, laws and systems to support the population to live sustainably.
The infrastructure systems Cohen focuses on are the need for sustainable energy, water, waste management, sewage disposal, food supply, transport and public space. Each of these systems are dependent on the historical provision and the context within which any city is located. Rapid changes in population numbers pose significant problems if there has not been sufficient investment in modernising things like waste disposal or transport infrastructure.
The aim of having sustainable systems is to allow a lifestyle that reduces the impact on the environment. This raises questions about our values and current modes of consumption. New Yorkers produce more than three times the waste of those living in Beijing with a populations of less than half the size. Perhaps, suggests Cohen, "if we spend more time engaged in education, culture and entertainment, presumable we spend less time consuming, and possible, destroying nature." The circular economy, where goods are made with the ability, at the end of their use, to be recycled back into products, is fast becoming the way forward for sustainable organisations.
Organisations within which people work also need to transition towards sustainability. The competency of leaders should now include the ability to manage in a way that supports the transition. The VW emissions scandal is used as an example of short-term decision making seeking profits and not reducing the impact on air quality. The case studies cover waste management, transport, micro-grid energy, public space and the shared economy. These are brief but provide useful insights. The analysis at the end of each study is far too short and misses many key points that could be made in relation to values, politics, technology and public policy.
This a huge and important topic and this book gives a partial insight into the complexity. It highlights for me the need for great leadership teams in our cities to face up to the challenges that we have created by building cities that have run roughshod over, and often disregarded, the natural environment.
Review by Canon Mike D Williams