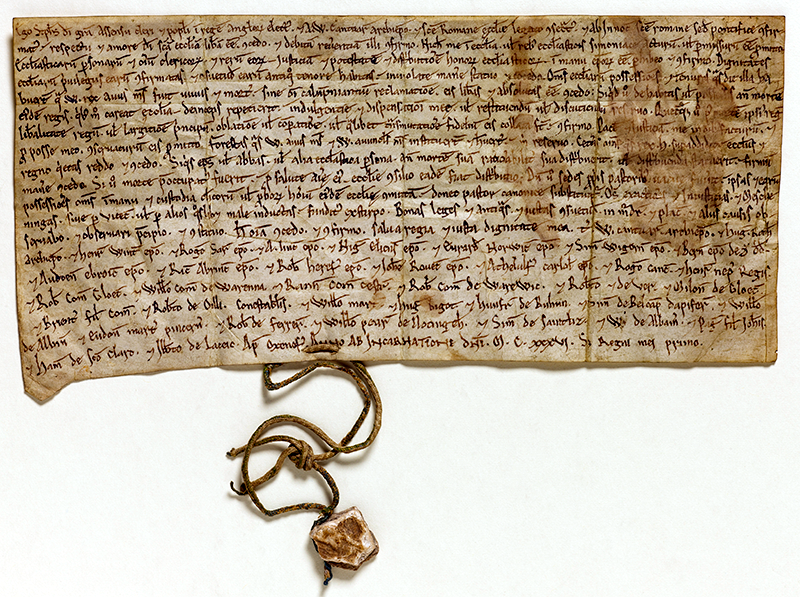 From the Archives…
This famous coronation charter of King Stephen – also known as his Charter of Liberties – confirms the rights of the Church and people of England. The document is small, and not especially finely written, but its content is highly significant. 
Prepared following Stephen's first royal court gathering at Easter 1136, it is usually seen as part of an effort by the king to boost ecclesiastical support which had been eroded under the rule of his predecessor, Henry I. It confirms the protection of church lands held "on the day when King William my Grandfather was alive and dead" [9 September 1087] and a review of ownership of church lands taken by the crown since then, as well as rights concerning forests and the observation of "good laws and ancient and lawful customs relating to murder fines, pleas and other suits". 
The issuing of a coronation charter of this type is believed to have Anglo Saxon origins, but the first surviving example is that of Henry I, in 1100. Coronation charters would later become influential in the drawing up of the Magna Carter in 1215.
The wax fragment, attached by green and yellow silk strings, is all that remains of the royal Great Seal. Two other copies of this charter survive, in the archives of Hereford and Salisbury Cathedrals.