Join the Abseil Adventure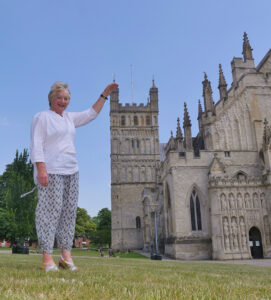 Join the abseil adventure and descend from the top of Exeter Cathedral's Norman North Tower.
We are looking for adventurous people to get involved in our sponsored abseiling event to help raise funds for the building of our new Cloister Gallery. The new structure will connect the Cathedral with the 13th century Chapter House and Pearson Building, making us a better place for community gatherings, events and much more.
The Exeter Cathedral abseil will take place on Saturday 4 May 2024. Participants aged 14-18 must have a parent present on
the day.
There is a fee of £20 to register and participants must be willing to raise a minimum of £500 towards Exeter Cathedral's 2020s Development Appeal via Just Giving.
This challenge is organised by Dave Talbot Adventures and  supported by Apex Scaffolding and Exeter College. 

Before you abseil, please complete the following steps:
1. Read the Participant Information Pack.
2. Complete the Registration Form and return to Anne Eyre via email.  
3. Submit your £20 registration fee via one of the methods below. 
4. Submit your medical and consent form.
5. Set up your Just Giving fundraising page by selecting the orange 'Start Fundraising' button on our dedicated Abseil Just Giving page.
Please also submit your £20 registration fee via one of the payment methods below. Please note that your entry will not be guaranteed until your registration fee has been paid. 
Pay by online banking:
Dean and Chapter of Exeter
Sort code 56-00-49
Account no. 00708526
Ref: AB1 and SURNAME
Pay by Cheque:
Please make your cheque payable to Dean and Chapter of Exeter and send to:
Jill Taylor,
Development Office,
Exeter Cathedral,
1 The Cloisters
Exeter
EX1 1HS