Image: Cloister Gallery concept by Acanthus Clews Architects
We are waiving the entrance fee on Friday 13 and Saturday 14 August. But we have a favour to ask while you're here. We'd like you to share your views about our plans for Exeter Cathedral.
Exeter Cathedral has been at the heart of our city and the local community for nearly a thousand years. It is a building that belongs to the people of Devon.
Have you ever sat on Cathedral Green and wondered what's inside the Cathedral? Ever been on a school trip but never returned for a second look; or ever felt the Cathedral really wasn't the place for you? Or perhaps you are a regular visitor. Maybe you pop in to pray – perhaps you attend weekly services, drop by for a coffee, or buy a gift from time to time.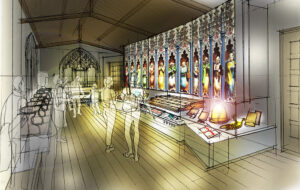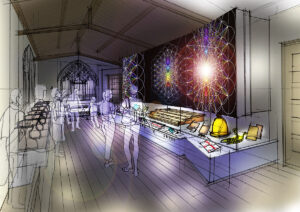 Pearson Gallery visitor experience concept by Studio MB
We really believe there is something for everyone here, but we want to improve what we can offer and how we tell you about it.
We also want to have a more positive impact across Exeter, support the local economy, and play our part in helping the city achieve its carbon neutral ambitions.
Thanks to the National Lottery Heritage Fund, we have big plans for the future. So we would really like to hear from you. We value your thoughts about what the Cathedral can do for you and your community, and we'd love to hear your ideas. Now is your chance to help us shape the Cathedral for everyone.
Please come along on Friday 13 or Saturday 14 August. See what we have in mind, tell us what you think, and be a part of our future.
If you prefer to complete the survey from the comfort of your own home, you can find it here.