Wooden chalets have started to appear on Cathedral Green, but it seems like only yesterday that we announced that this year's Christmas market would be run by the events team here at Exeter Cathedral.
After five successful years of being operated by Market Place Europe, Exeter's Christmas market has become a popular part of the region's Christmas celebrations. Thousands of people from across Devon and beyond have visited the event, which for some people has become as much a part of the Christmas experience as carols, trees or gifts.
Bringing the market 'in-house' provides us with the chance to build on all that success, and take the event in a different direction that we hope has given more opportunities to support local business and performers. Whilst there will still be a continental feel to the market, there are now businesses from the South West occupying over 60% of the chalets.
We want to use the market to bring visitors to our doors, and this year you'll see that the layout has changed to encourage people to the front of the Cathedral. That area also now includes a bandstand, built on the square outside the main entrance, to allow local musicians to play to the crowds visiting Cathedral Green. Using more of the hardstanding means less damage to the turfed areas of the Green, although localised repairs will still take place in the Spring.
Working in partnership with Exeter BID, we have introduced a number of stalls that will allow local businesses to trade at the market for a limited period. It can be tough for small businesses to commit their resources to the whole market, and this scheme (new for 2017) will see occupants of these stalls change throughout the trading period.
Local traders are also involved in some of the market's key infrastructure and features. All the chalets for this year's event have been purchased by the Cathedral from Sheds Direct Devon (based in Broadclyst, just outside Exeter). They will be stored locally and re-used in future years.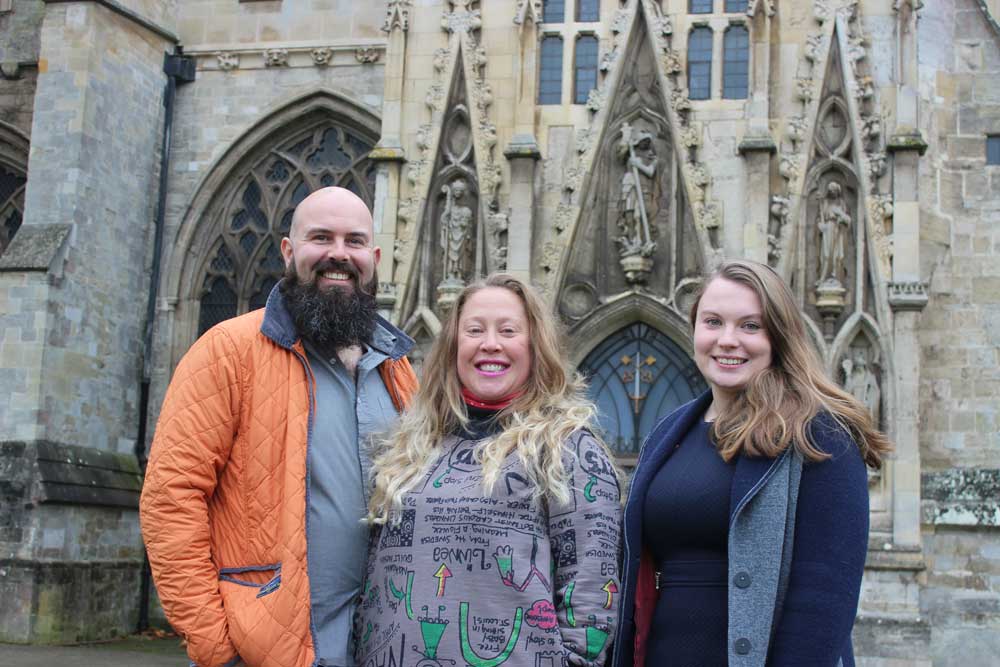 The structure for "The Cathedral Tavern" (this year's bar) may be coming to Devon from Glastonbury Festival (where it is known as the Avalon Inn) but it will be run by the team from Exeter gastropub The Oddfellows. Amongst the mulled wine and continental-style beers will be a wide selection of local drinks and a programme of pop-up events. Yvan and his team are used to working at the Cathedral, having provided the bar for the Great Big Cathedral Quiz.
The Exeter Cathedral Christmas Market also plays an important part in ensuring that we are able to continue to conserve and restore this medieval Cathedral for future generations. Thank you to everyone – our traders, partners, Exeter City Council, the Exeter BID – and you, our visitors, for helping us to meet that challenge.
Follow @ExeXmasMarket on Twitter and Instagram, or Like us on Facebook.
Laurence Blyth, Marketing Manager