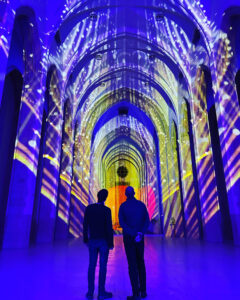 A touring light and sound show at Exeter Cathedral promises to take visitors on a 'journey through earth, sea and sky.'
The art installation, entitled Life, combines animated light projections with sound. It is designed to fill all areas of the cathedral's vast interior and will encourage visitors to discover different experiences throughout the building. 
The creation of Luxmuralis – an artistic collaboration between sculptor Peter Walker and composer David Harper – Life aims to celebrate the natural beauty of our planet, but also reflect on the fragility of nature and the impact of humanity. As Walker explains:
"We want to encourage people to explore and contemplate their own personal journeys, while reflecting on all the life that occurs on Earth within a single 24-hour period.
"Life takes you on a journey through Earth from sunrise to sunset, witnessing the sun, the oceans and the clouds. The outside world is reflected inside the majestic space of Exeter Cathedral, providing moments of awe and wonder." 
Life will be Luxmuralis' second installation at Exeter Cathedral. In February 2020, their Space son-et-lumiére drew thousands of visitors to see the medieval architecture in a new light. Organisers at the cathedral are hoping that Life will have a similar impact.
With the installation arriving just weeks after hosting Luke Jerram's Museum of the Moon, the Very Revd Jonathan Greener, Dean of Exeter, believes that art provides a much-needed opportunity for more people to spend time in reflection:
"When visitors come to Exeter Cathedral and reflect on the art here – whether Space, Museum of the Moon or Life – they reflect on the nature of creation and our impact on the world. And that's something people have been doing at Exeter Cathedral for nearly a thousand years.
"It is wonderful to see so many people, from all backgrounds, coming to this sacred space. Some are visiting for the first time; others know the building extremely well, but are seeing it afresh through the lens of artistic creations like Life." 
Catherine Escott, Exeter Cathedral's Chief Operating Officer, sees installations like Life as an opportunity for people of all ages to come together:
"We think Life will offer something for everyone – viewings start from 6:45pm each day, so it can be an evening out for the whole family."
Life is at Exeter Cathedral from Tuesday 22 to Saturday 26 March, advance booking is recommended, although tickets will also be available on the door, subject to availability.