Life: Light and Sound Experience
Let us take you on a journey through earth, sea and sky.
Tuesday 22 March – Saturday 26 March from 6:45pm each day
Following the sellout success of their 'Space' light and sound show in 2020, artistic collaboration Luxmuralis are returning with Life – another spectacular son-et-lumiere promising to transform the majestic interior space of Exeter Cathedral.
Life will take you on a walking journey through earth, sea and sky. Installations of light and sound art celebrate the beauty of the earth – from the majesty of a vast ocean to the glory in a butterfly's wing – reflecting on the fragility of nature and the impact of humanity.
Luxmuralis is a collaboration between artist Peter Walker and composer David Harper. Through son-et-lumiere installation and sound art pieces they transform and reinterpret the sense of place and space, creatively helping you to take a physical and emotional journey to identify with the subject and message of the artwork.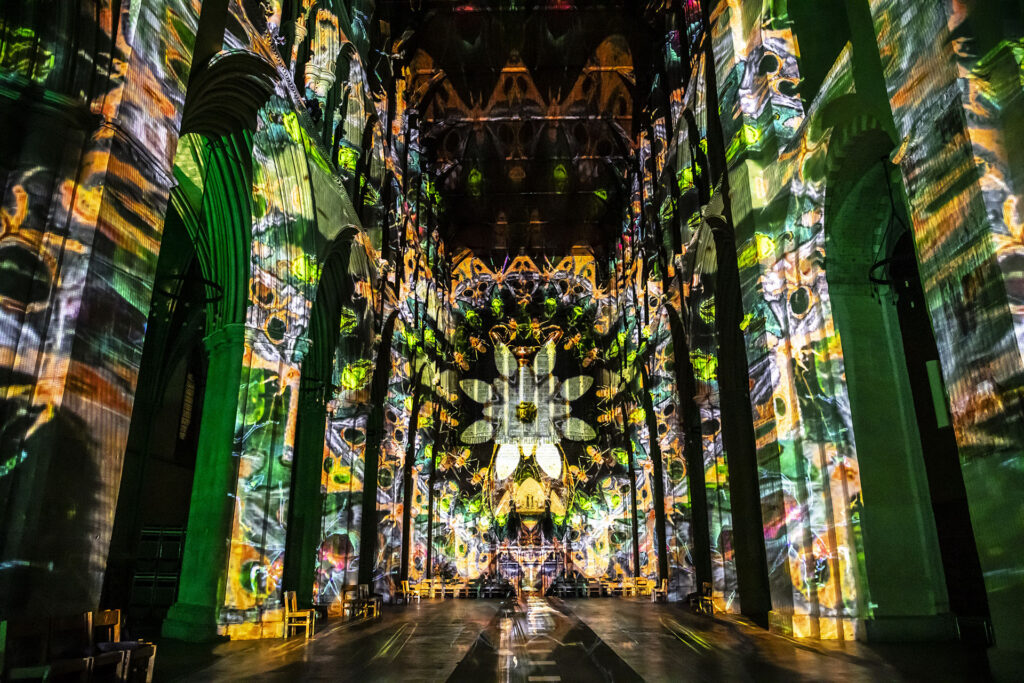 How and why?
Sound and light art will be projected onto the internal architectural features of Exeter Cathedral to transform and envelop the inside space. Visitors can walk through the Cathedral, view the individual light and sound installations, and become immersed in the soundscapes and light artworks that are all around them on this explorative journey through sacred space.  
The artwork, Life, is designed to enable people to explore and contemplate their own personal journeys and reflect upon the life on today's planet that occurs within a single 24-hour period. The viewer is taken from sunrise to sunset, journeying through the beauty of planet earth, witnessing the sun, the oceans and the clouds. The outside world is reflected inside the majestic sacred space of Exeter Cathedral, providing moments of awe and wonder. 
Musical pieces composed by David Harper provide the sound experience, which includes recorded anthropological soundtracks from collections of the Pitt Rivers Museum. The visual imagery is created by artist Peter Walker, who has interpreted collections from the Natural History Museum Oxford and the William Morris Museum, to depict nature and artistically highlight Exeter Cathedral's own architectural design features and bring the outside world inside. 
Make an evening of it
From 22-26 March, visitors to Life can also enjoy a bar and street food to suit all tastes – all at Exeter Cathedral.
Barnova, Bun and the Cathedral Café will all be at the cloisters next to the Cathedral to serve a range of food and drinks from 6:30-8:00pm.
The award-winning Barnova will be serving locally-sourced alcoholic and soft beverages including beer, cider, gin and much more.
Bun is an independent, family run business local to the Devon area. They provide delicious vegetarian and vegan food using locally sourced, organic products where possible and offer gluten free options too. These burgers are not to be missed!
In need of a hot drink and a sweet fix? Our Café has got you covered! They will be serving ethically sourced, locally produced hot and cold drinks and light snacks.
---
Tickets
Although tickets can be purchased on the door subject to availability, we recommend advance booking. You can reserve a timeslot every 15 minutes, from 6:45pm each day, but once inside, you can explore the installation at your own pace! This event is both pushchair and wheelchair friendly.
Adult tickets – £7.50
Children (Ages 4-16) – £5.00
Children aged 3 and under are free and do not require a ticket.