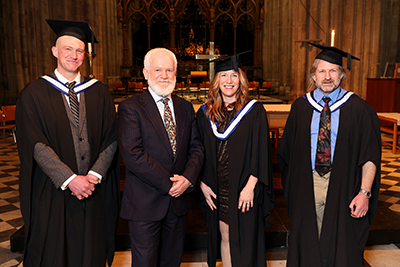 Exeter Cathedral's stonemasons have recently achieved huge success and have made incredible contributions to the stone and conservation industry.

Stonemason, Anna Steinmetzer, recently completed the Cathedrals' Workshop Fellowship Foundation Degree in Applied Historic Building Conservation and Repair, graduating with a Distinction. Anna attended the graduation ceremony at Worcester Cathedral on 2 March and received her award during a special Evensong service. Anna says:
"The CWF course was a great opportunity to visit other cathedrals across the country and see the work of their in-house teams. We studied a diverse range of subjects both practical and theoretical and I have gained a great deal of knowledge and confidence from completing the course."
Anna and the 'class of 2021' had a particularly challenging experience on their craft-based programme. Just five months into the two-year course, delivery was suspended during the first COVID-19 lockdown in 2020, when cathedrals were closed and students and tutors were furloughed for up to six months. Thanks to Covid Emergency funding received from Historic England and the Hamish Ogston Foundation, the course was adapted for delivery online and continued remotely for almost a year. However, the practical nature of many of the course modules, requiring visits to cathedrals and other historic buildings, led to further delays and the cohort finally completed their studies, six months behind schedule, in December 2021.
Exeter Cathedral stonemason, Oliver Chamberlain was Highly commended in the Duke of Gloucester Awards 2021 for his contribution to stonemasonry and attended an awards ceremony last year in London. The awards ceremony is held every two years and judged by industry experts.
Cristian Nicchita successfully completed his three-year Advanced Apprentice Stonemason period of training in Exeter Cathedral's works department and has also gained his NVQ level 3 in Stonemasonry from Weymouth College and he will now become an Improver Stonemason. He will be presented with a special certificate to marking his achievement.
On completing the course, Cristian commented:
"I am very happy to have completed my course and grateful for the support the Cathedral and my colleagues have given me."
Chris Sampson, Exeter Cathedral's Clerk of Works, is delighted with the achievements of the stonemasons:
"Since restarting our works team with the proper resources needed, we recruited the nucleus of our current stonemason team some eight years ago to attend to the ever-increasing demands of a large decaying building, such as the Cathedral, and the skills it requires to keep it in good order. We have continuously invested in their development and have now expanded to our maximum capacity of six masons/conservators.
"The Cathedral team continues to become more and more skilled year on year and are now recognised throughout the stone and conservation industry – as well as by other Cathedral workshops – as being extremely capable."