A new experience of Planet Earth, at Exeter Cathedral.
See artist Luke Jerram's famous installation, Gaia. With surround sound composition by BAFTA award-winning composer, Dan Jones.
1 – 27 February 2023
Following Luke Jerram's hugely successful Museum of the Moon installation at Exeter Cathedral in February 2022 we are delighted to be hosting the artist's next artwork, Gaia, throughout February 2023.
Measuring seven metres in diameter and suspended inside the nave of Exeter Cathedral, Gaia features high-resolution NASA imagery of Earth's surface* and specially-composed surround sound by BAFTA award-winning composer, Dan Jones.
It creates a sense of the 'Overview Effect,' which was first described by author Frank White in 1987. Common features of this experience for astronauts are a feeling of awe for the planet, a profound understanding of the interconnection of all life, and a renewed sense of responsibility for taking care of the environment.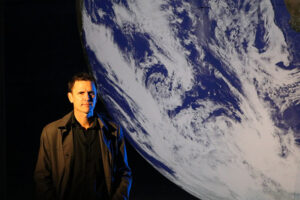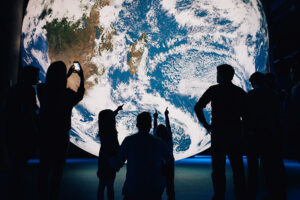 Gaia has been created in partnership with the Natural Environment Research Council (NERC), Bluedot and the UK Association for Science and Discovery Centres.
Tickets: 
Adults: £5
Under 18s accompanied by an adult: Free
*The imagery for the artwork has been compiled from Visible Earth series, NASA.
Photos: Martin Stubbings/Exeter Cathedral; NERC; W5 Belfast