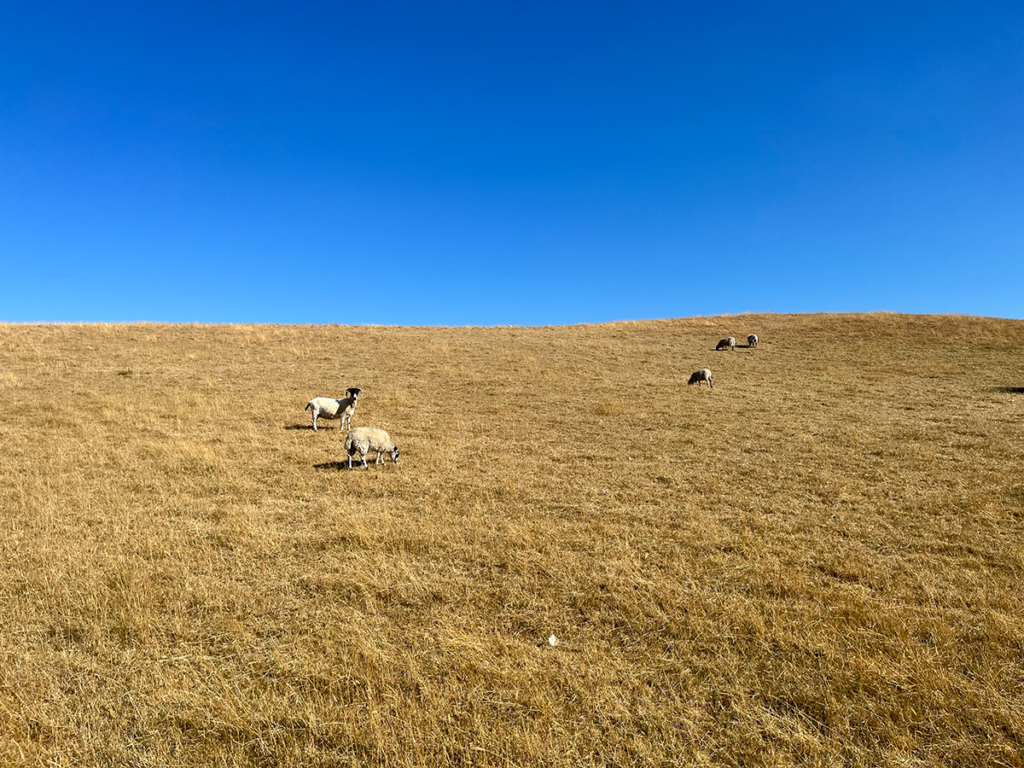 By Canon James Mustard
This summer I have been putting my Devon and Cornwall Railcard (everyone should get one!) to good use, using our railway stations as either the starting or finishing point for many cycle rides. A favourite route is to alight at Okehampton station (recently reopened) and cycle across Dartmoor to Newton Abbot via Moretonhampstead (33 miles / 3 hours 5 mins, should you be interested). Notable this year has been the extraordinary drought conditions covering much of the county. Sheep standing in fields resembling the Sahara, not the South Hams, was a startling, recurrent sight.

This week, I met with representatives from the Devon Young Farmers Association to begin planning for their annual Harvest Thanksgiving. It's one of my favourite services of the year: they organise themselves impeccably, and draw people from across the county to help lead this service and decorate the Cathedral with a riot of local produce. At the end of our meeting, I asked how this season is going, and whether the hot weather has had an impact for good or ill on the county's farmers. The response was stark and sobering:

First, the drought has led to crops stagnating in their growth. Maize that was knee-high at the start of July has grown no further and is ready for harvest now, rather than in late September. Arable crops are struggling. Notably, livestock has suffered terribly in the heat. Sheep and Cattle have struggled to find shade and farmers have struggled to provide them with adequate drinking water. Green pasture has dried up and animals are now consuming hay and silage that was due to keep them fed over the winter. There will be a winter feed crisis.

Secondly, the war in Ukraine has led to a great shortage of fertiliser. Farmers that had bought fertiliser early were able to use it this spring, meaning that crops which are now under great stress had at least had a good start before July. Those who had not been able to purchase fertiliser in advance now face extreme costs, lack of availability and ruined crops. The soaring price of diesel means that many of our famers cannot afford to fuel their tractors, perhaps using one tractor only to do the work of two or three machines. The lack of efficiency and fatigue this causes will have very detrimental effects upon produce and wellbeing. It is likely, too, that supermarkets will put farmers under further cost-pressures in order to avoid passing on the real cost of produce to consumers.

So, though will give thanks with our farmers for the harvest, this is likely to be a year of extreme hardship for our farming community; they will need our prayers.

Aside from praying, what else can we do? For a start, we could do more to get to know our farmers, talk with them and understand the pressures they are facing. British farmers, I am told, feel a lack of connection with neighbours and consumers. We might be tempted to blame supermarkets, but consumers seem to lack interest in the producers of their food. We could, where possible, try buying directly from farmers, or at least buying more locally. For example, there are many dairies in Devon that can deliver to or supply their local residents. Try an Internet search for "Devon Dairies" to learn more. Also, try buying more from farm shops. You may find that the prices are higher than the cheapest of supermarket ranges. However, they are often lower than a supermarket's "premium" or organic prices. And farm shops will be selling goods that have been transported over shorter distances, helping to keep traffic and pollution from our roads. But all farmers will appreciate your understanding and support, however you can express it, over these extremely challenging months.

Climate change means that the experience of farmers this summer is likely to be more common: as producers, they will have to adapt their farming practices. Will we, as consumers, be willing to adapt our purchasing practices, too?