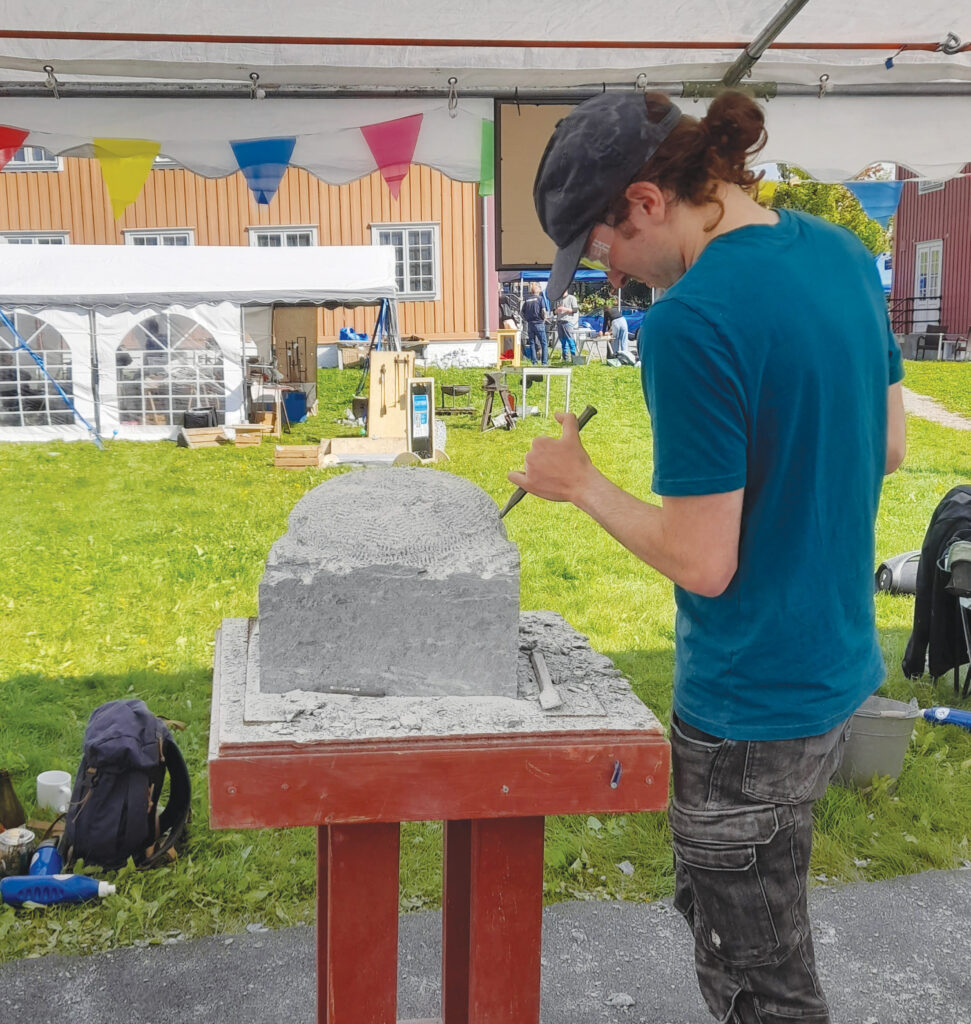 Success For Exeter Cathedral Stonemasons
Stonemasons at Exeter Cathedral are at a graduation ceremony at Canterbury Cathedral today [19 September], having achieved top grades in a specialist and conservation qualification. Oliver Hudson and Joe Milne passed their Cathedrals' Workshop Fellowship Foundation Degree in Applied Historic Building Conservation and Repair, with flying colours. Oliver passed the qualification with Merit while Joe was awarded a Distinction.
Reflecting on the achievements, Francis Cranbrook, Executive Director of the Cathedrals' Workshop Fellowship said:
"These are an excellent set of results. Both the Academic Link Tutor from the University of Gloucester and the External Examiner were extremely complimentary towards both the student cohort and the tutor team and everyone involved should be justly proud."
Accredited by the University of Gloucester, the unique two-year foundation degree programme provides students with the opportunity to develop their skills, knowledge and understanding of the historic buildings they work in. The course aims to preserve traditional craft skills for the conservation, maintenance and repair of cathedrals and historic buildings across the country.
Exeter Cathedral, one of 12 partner cathedrals in the Cathedrals' Workshop Fellowship, employs six specialist masons who work to provide essential maintenance and conservation at the historic building, ensuring that it continues to serve the community for generations to come.
Last month, two of Exeter Cathedral's stonemasons also participated in the prestigious Steinhoggerfestivalen, a multiday carving festival held in Oslo, Norway. Joe Milne and Anna Steinmetzer were among the 16 entrants who took part in this year's festival which showcases traditional skills of stone carvers from across the world.
Using hand tools, participants had two and a half days to carve their blocks of Klebberstein – a local Norwegian soap stone – before the items went to auction. Stonemasons from Exeter Cathedral carved a crab and a bird.
Exeter Cathedral stonemason, Anna Steinmetzer, was excited to take part in the event:
"The festival is such a fantastic opportunity to meet carvers from around the world and further develop our carving techniques. It was amazing to see members of the public getting involved and having a go at working the stone for themselves."
Exeter's team of stonemasons will also be demonstrating their skills at the Exeter Cathedral Autumn Fair, which takes place in the cathedral's nave on 3 and 4 October.