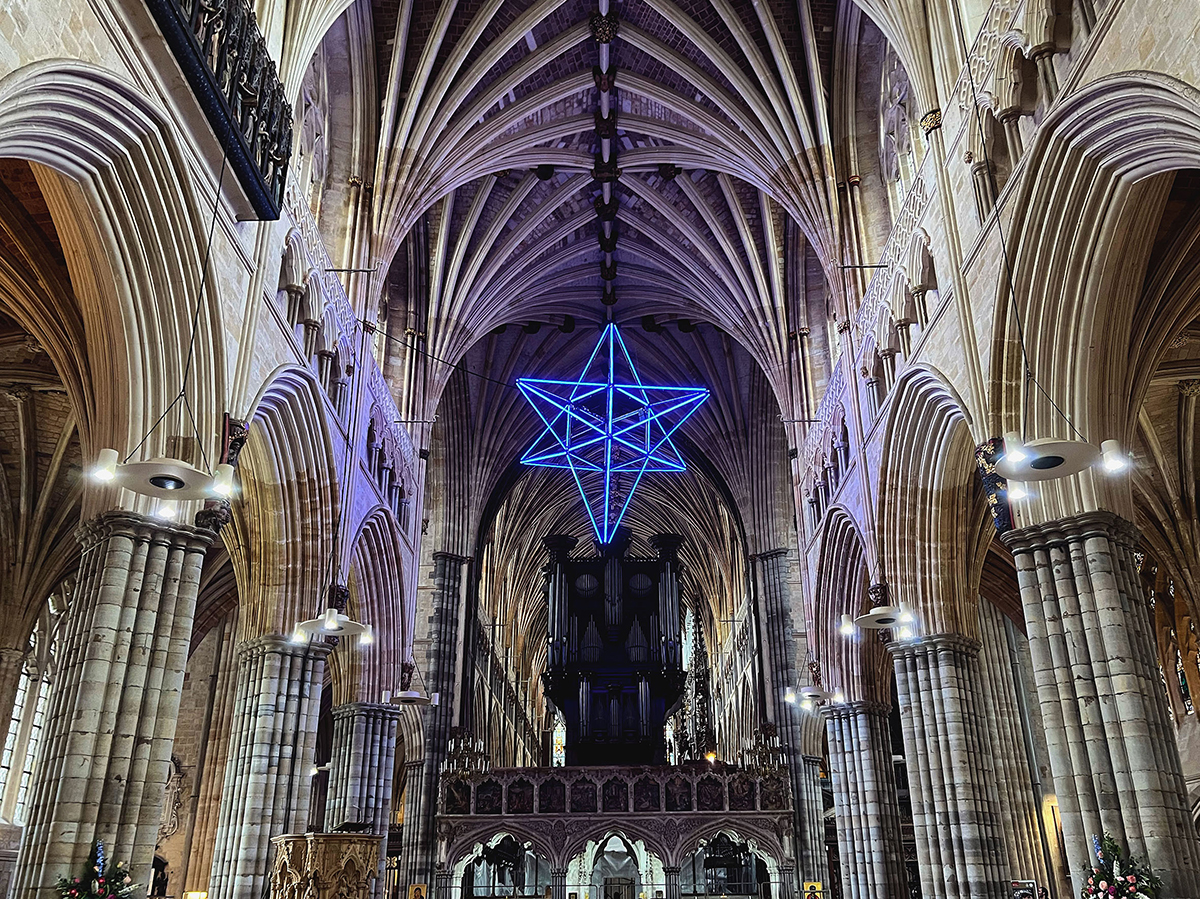 Sculptor's Touring Star Shines in Exeter Cathedral
Exeter Cathedral has become the latest venue to host sculptor Peter Walker's 'Light of Hope Star.' The five-metre star-shaped steel structure with changing neon lights, has been suspended from the Cathedral's famous stone vault ceiling and will remain on display until January next year.
The sculpture was originally created during the coronavirus pandemic as the final artwork of a mass participation project involving seven cathedrals from across the UK, including Exeter. For Peter Walker, the Light of Hope Star represents ongoing hope in the face of adversity and is, he explains, "intended as a contemporary symbol of divine guidance, protection and oneness."
The star sculpture is one of several Peter Walker art installations hosted at Exeter Cathedral in recent years, including sound and light shows, Space, Life and Renaissance, as well as Leaves of Hope, an installation of hundreds of metal leaves arranged on the floor of the cathedral's Quire area.
Organisers say there are plans for more of the artist's work to be shown at Exeter Cathedral next year. The cathedral's Chief Operating Officer, Catherine Escott, says art such as the Light of Hope Star plays an important role in ensuring cathedrals remain relevant for new generations:
"Exeter Cathedral is continually seeking innovative ways to excite and engage new audiences. Peter Walker's creations have attracted hundreds of thousands of new visitors over the last few years. His sculptures and sound and light shows offer new channels through which visitors can reflect, and the architectural setting of the cathedral provides a unique canvas for this stunning art."
The Light of Hope Star is expected to prove a popular added attraction for visitors to some of the cathedral's biggest events this year, including its Autumn Fair in October and the Exeter Cathedral Christmas Market, which runs from 17 November to 17 December. The cathedral has also planned educational activities to run alongside the Star, as James Cotter, Learning Officer at Exeter Cathedral, explains:
"Peter Walker's Star is a fantastic inspiration for our younger visitors. We have planned a range of light and hope themed activities for all ages to enjoy whilst the sculpture is on display in Exeter Cathedral, starting with paper candle craft sessions later this month, and 'shadow box' workshops in the October half-term holiday."
For the artist, engaging young people through art has always been an important part of the project:
"The Light of Hope was created as a mass participation engagement project for the whole community, with children and young people at its core. We have already worked with over 140 schools and thousands of school children across the UK, and it has been wonderful to watch the creation of their own Light of Hope artworks."