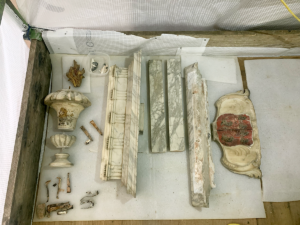 The Exeter Cathedral stonemasons have recently been carrying out work on some of the wall-monuments. They are held in place with iron fixings but with time, the fixings rust and swell which makes the monuments unstable. To prevent any monuments falling off the walls, regular inspections are carried out. If decay is found, the Stonemasons dismantle the monument, remove the rusted iron and replace it with strong modern non ferrous fixings.
High on the wall in the south aisle of the quire is a marble wall-monument to Dorothy Bennet, who died in 1736. When it was inspected recently our masons found that its iron fixings had become badly corroded. We therefore erected a scaffold beside the monument and dismantled it.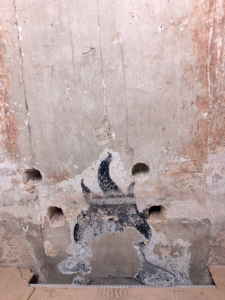 When they took the monument down, they exposed the Cathedral wall behind it, which has been concealed since 1736. On it is part of wall-painting with a flaming urn rising above a curving border. This does not appear to be part of a medieval painting and is datable to the late 16th or 17th century. This is an exciting find, as little evidence for 17th-century wall-paintings has previously been found at the Cathedral. The find is, however, similar to painted texts and panels surviving in various parish churches in Devon and elsewhere, as for example at Satterleigh, Parracombe and West Putford.
Remnants of red and gold polychrome (paint) were also discovered on the 14th century carved corbel portraits (carved faces) located next to the monument. The painting that was uncovered and the remnants of polychrome suggest that the interior of the Cathedral was once richly coloured.