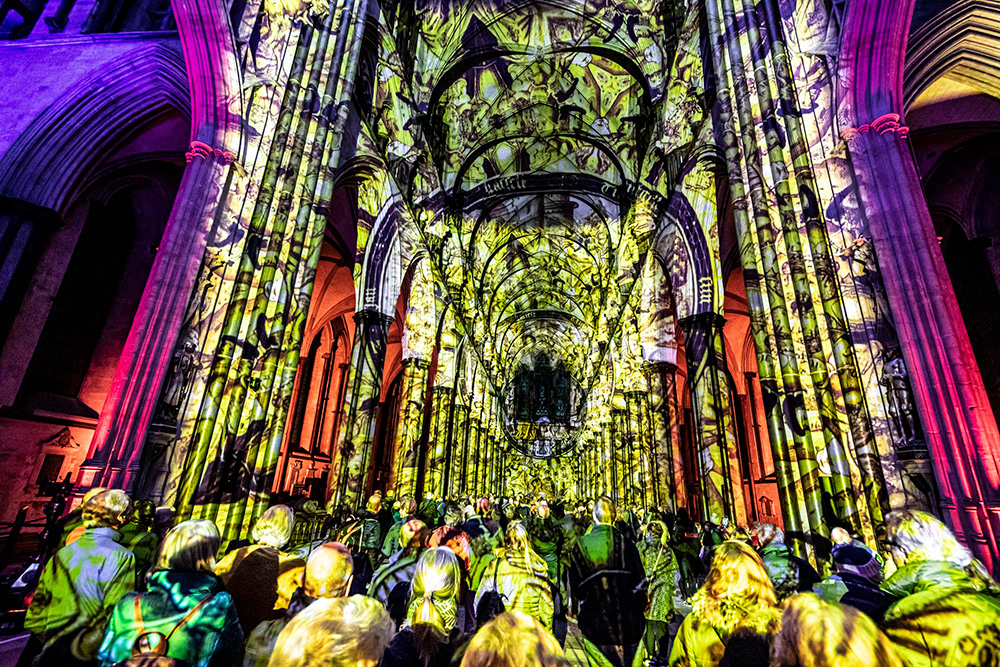 Sound and light artists, Luxmuralis, are to return to Exeter Cathedral this month with a new show.
In previous years, the artists have drawn audiences of up to 10,000 people to the cathedral, with spectacular light projections and soundscapes, including Space in 2020 and Life in March last year.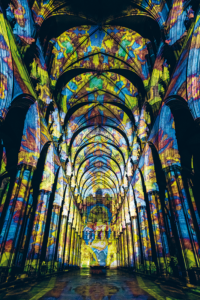 Their new art show, taking place at Exeter Cathedral from 21-25 March, draws its inspiration from the Renaissance, the 14th to 17th century period that saw many of Europe's most significant artistic, cultural, political and economic developments.
Artistic Director of Luxmuralis, Peter Walker, says he is looking forward to bringing the show to the historic building:
"We've seen from our previous installations at Exeter Cathedral that the architecture works in perfect harmony with the light art. 
"The Renaissance sound and light show will project famous art from Europe's greatest period of creativity, throughout the interior of one of Europe's great cathedrals. We can't wait to bring the art and architecture together, and watch this amazing space transform."
Luxmuralis is an artistic collaboration between artist and sculptor, Peter Walker, and composer, David Harper. The pair specialise in creating sound and light shows, which involve projecting animated light and imagery onto the architectural surfaces of buildings, with an accompanying soundscape. As Walker explains:
"Our work is about taking visitors on both a physical and an emotional journey – in this case, through the Renaissance period – as they hear the soundscapes and walk through the light projections."
Walker is particularly known for his work in cathedrals, including Leaves of Hope, an installation of 5,000 steel leaves created as a reflection on the coronavirus pandemic, and Peacedoves, a massive artwork of 15,000 suspended sculptures containing messages of peace.
For Exeter Cathedral, the Renaissance sound and light show comes after a succession of recent art attractions, including Luke Jerram's giant Earth sculpture, Gaia, and Threads Through Creation, an exhibition of 12 enormous, embroidered silk panels by artist Jacqui Parkinson. As the Dean of Exeter, The Very Revd Jonathan Greener explains, the cathedral's aim is to attract new visitors and deliver the Christian message in new ways: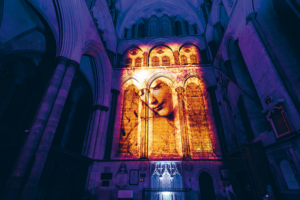 "People can come here as first-time visitors, and leave as pilgrims. The artworks we host often carry a message of hope and wonder, which also sits at the heart of the Christian faith – the artists simply communicate it in a new way, to a new audience.
"Exeter Cathedral's world-class gothic architecture will provide a beautiful canvas for Luxmuralis' Renaissance, and we are very excited to share it all with the people of Devon and visitors from further afield."
Luxmuralis' Renaissance is at Exeter Cathedral from 6:30pm-9pm on 21-25 March. 
Images: Luxmuralis' Renaissance at Salisbury Cathedral.