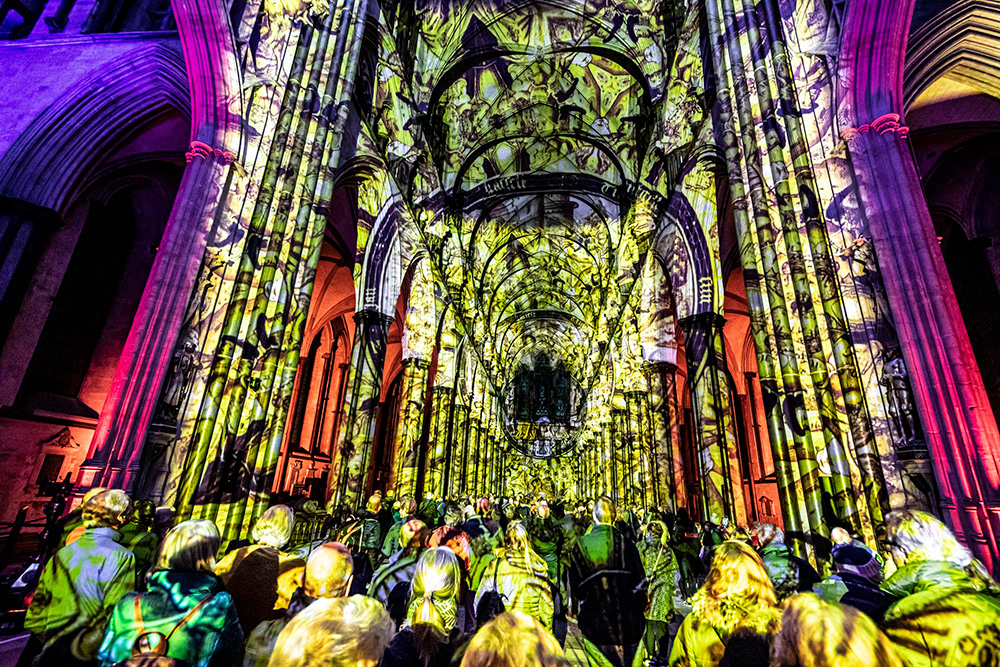 Take a sound and light journey through the Renaissance, at Exeter Cathedral
Explore the Renaissance world through the eyes of its artists, with a spectacular son-et-lumiere experience at Exeter Cathedral.
21-25 March 2023
Renaissance is a fully curated sound and light show created by celebrated artistic collaboration, Luxmuralis. It invites visitors to become immersed in the greatest paintings and artworks of the 14th-17th centuries, to explore through light art and bespoke compositions, the cultural, artistic, political and economic growth that changed Europe and influenced the world we live in today.
Luxmuralis' installation will project sound and light art onto the architectural features of Exeter Cathedral, transforming and enveloping the space. Visitors will walk through and view individual installations throughout the Cathedral, highlighting the architecture of each space in an explorative journey through the artworks. 
Please book your timeslot in advance, using the button below. 

About Luxmuralis:
Artist Peter Walker and Composer David Harper are an artistic collaboration called Luxmuralis. Through son-et-lumiere installation and sound art pieces, they transform and reinterpret the sense of place and space, creatively helping visitors to take a physical and emotional journey as they identify with the subject and message of the artwork.
Examples of the many reactions and responses from previous art show visitors:
"Absolutely fantastic, so thought provoking simply beautiful!"
"Just visited the fantastic displays. Truly stunning, thank you."
"Just been to see this – it was fantastic and very moving."
"I have been to a good number of Luxmuralis events now and they never fail to move me. Using the lofty and beautiful architecture of a cathedral to tell human stories in light and sound in a place steeped in worship, it feels like a modern form of worship; a new way to connect with and nourish the spiritual self, whether that be in concert with one's religious beliefs, but also not requiring any in particular. It is beautiful, it is moving, it is thought-provoking, it is grounding, it is community-building, it is phenomenal art."
Photos: Renaissance at Salisbury Cathedral