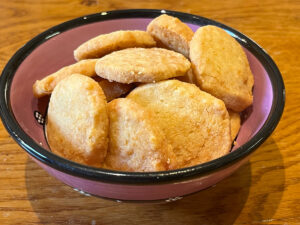 By The Very Rev'd Jonathan Greener
On the morning of Bishop Robert's farewell, Pamela provided Parmesan Biscuits (about 600 in total) to accompany the bubbles. People have been asking for the recipe, so here she tells how she makes them…
Ingredients
250g salted butter – at room temperature, so soft
250g plain flour – sifted
250g Parmesan cheese or Grana Padano – finely grated
As you can see, it's three thirds, so you can simply scale up or down as you feel fit. I think this quantity makes between 60 and 80 biscuits.
Method
Take the butter and flour and mix as if you were creaming butter and sugar (I use my Kenwood Chef). Then add the cheese and mix again until a dough is produced.
Lay a sheet of cling film on a board or table, and spoon three or four blobs of dough in a line. Using the cling film, roll the dough into a thin sausage, about the diameter of a £2 coin.
Chill in the fridge for 20 minutes. Once the dough is firm, slice into discs about the thickness of the same £2 coin.  
Spread the biscuits out on baking parchment on a baking tray (giving expansion room around each biscuit) and bake in the oven for 15-20 minutes until golden. We always set our fan oven at about 170 degrees.
Remove and leave to cool on a wire cooling tray. 
If you make multiple batches, you can readily re-use the baking parchment.
Spare sausages in their cling film can be wrapped in foil and frozen. Defrost before cooking.
Cooked biscuits keep very well in an airtight container.
Delicious. Enjoy! As many did at +Robert's farewell. I think now I'll be in touch with our Italian friends in Parma to forewarn them there may be a sudden rush on Parmesan cheese here in Devon.