Internationally important artefacts and documents in Exeter Cathedral's historic collections, some dating back 1,000 years, will be seen in a new light thanks to the work of recently appointed Heritage Engagement Manager, Jonathan Scott.
The new role, which will oversee the Cathedral's library, archive and education activities, has been supported by funding from the National Lottery Heritage Fund and The Pilgrim Trust. Jonathan will be focusing on new and innovative ways for people to experience and enjoy the treasures held within Exeter Cathedral, many of which are too precious to handle or so fragile that they must be kept in carefully controlled conditions.
Together, Jonathan and his team will use their experience and creativity to protect and preserve these important treasures, whilst also sharing them with the people of Devon and beyond.
"Helping to look after the Cathedral's history is a great honour and I feel very lucky to have this opportunity," says Jonathan. "The collections, and particularly the Library and Archive, have been really well cared for, which makes moving onto the next phase of our National Lottery Heritage Fund application much easier and will help the collections and learning team to tell the stories of the people and the fabric of this amazing building.
"I have experienced the Cathedral as a place of fun, fascination and solace throughout my life, and I'm passionate about helping others to experience it in a similar way. The Cathedral is, at once, the seat of the Bishop of Exeter, a working church, and a tourist attraction. We want to support all these roles and encourage people of all ages and interests to visit."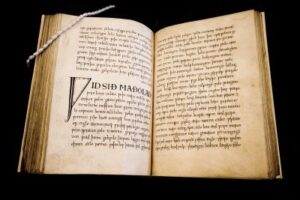 The Cathedral's collection contains artefacts spanning the 10th to 21st centuries. There's something for everyone, from medieval manuscripts and early printed books, to silver and textiles. Highlights include The Exeter Book, the oldest book of English literature in the world; records detailing the work of stonemasons over the last 700 years (thankfully no longer written on vellum or animal skin); a letter handwritten by Henry Purcell, one of England's greatest composers; early medical texts still used by medics from Exeter University; and a catalogue of hand drawn cartoons compiled by the Cathedral's head virger in the 1940s and 50s.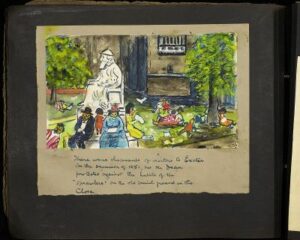 As The Very Revd Jonathan Greener, the Dean of Exeter, concludes, the new Heritage Engagement Manager is expected to unlock an exciting area of hidden potential for Exeter Cathedral:
"Everyone here is really excited to better understand how we can share the stories held in the Cathedral's collections.
"Thanks to the generous support of the National Lottery Heritage Fund and The Pilgrim Trust, Jonathan's work will bring a sense of awe and wonder to a much wider audience, helping to inspire a new generation of historians."