A seven-metre representation of the moon by celebrated artist Luke Jerram is to go on display at Exeter Cathedral from Thursday 3 February.
The internally-lit sculpture, which will be suspended from the Cathedral's famous nave ceiling, features high-resolution NASA imagery of the lunar surface. At an approximate scale of 1:500,000, each centimetre of the artwork represents 5km of the actual moon's surface. The installation is to be accompanied by a 'sound composition' created by BAFTA and Ivor Novello award-winning composer, Dan Jones.
The Very Revd Jonathan Greener, Dean of Exeter, hopes that the broad appeal of the installation will attract new visitors to the cathedral:
"We've been working hard to let the people of Devon know that Exeter Cathedral is their cathedral. We pray that Luke Jerram's stunning moon will encourage new people to step inside this wonderful building, as well as our much-loved regular visitors.
"This is a work of art that, combined with the awe-inspiring architecture of the cathedral, will offer a unique experience that can be enjoyed by everyone."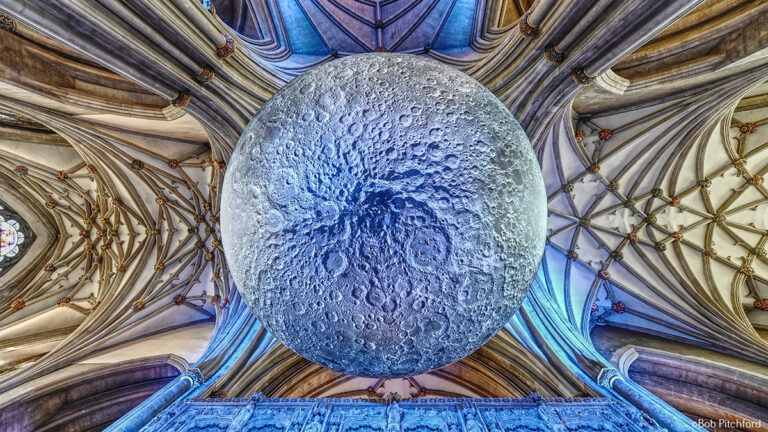 Jerram's creation, titled Museum of the Moon, has already attracted attention and praise from around the world, having toured the USA, Canada, India, China, Australia, United Arab Emirates and across Europe, in settings ranging from swimming pools, to train stations and outdoor city centre spaces.
For Jerram, each location brings a new perspective to the installation:
"Depending on where the artwork is presented, the meaning and interpretation of Museum of the Moon, will shift. The interpretation of the Moon will be completely different if it is presented in a warehouse, science museum, or arts centre. So we're excited to see how it looks within the medieval architecture of Exeter Cathedral."

Organisers at the cathedral have also planned a programme of moon-themed special events, as Catherine Escott, Exeter Cathedral's Chief Operating Officer, explains:
"This is the first time we've displayed a sculpture of this scale, so we wanted to make the most of it with a series of special events – all taking place under the Moon.
"There's going to be a silent disco, displays from the cathedral's historic archive collection and some special educational activities. We're even working on a special moon-themed menu for our Ten-Fifty café.
"There will be something for everyone to celebrate the landing of Museum of the Moon in Exeter."
Tickets to see Luke Jerram's Museum of the Moon cost £5 per person, including entry to the Cathedral.