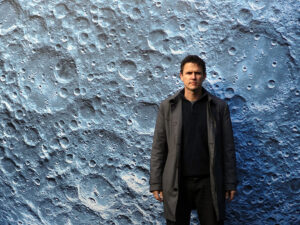 Artist Luke Jerram's touring artwork, 'Museum of the Moon' is landing at Exeter Cathedral on 3 February and staying until 27 February.
Measuring seven metres in diameter, the replica of the moon features high resolution NASA imagery of the lunar surface. At an approximate scale of 1:500,000, each centimetre of the internally lit spherical sculpture represents 5km of the moon's surface.
Over its lifetime, Museum of the Moon will be presented in a number of different ways both indoors and outdoors, so altering the experience and interpretation of the artwork. As it travels from place to place, it will gather new musical compositions and an ongoing collection of personal responses, stories and mythologies, as well as highlighting the latest moon science.
The installation is a fusion of lunar imagery, moonlight and surround sound composition created by BAFTA and Ivor Novello award winning composer Dan Jones.
Luke Jerram's multidisciplinary practice involves the creation of sculptures, installations and live arts projects. Living in the UK but working internationally for 19 years, Jerram has created a number of extraordinary art projects which have excited and inspired people around the globe. Jerram has a set of different narratives that make up his practice which are developing in parallel with one another. He is known worldwide for his large scale public artworks.
Find out more at: http://my-moon.org/
---
Tickets
Visit The Moon as part of your admission to the cathedral by booking a timed entry slot:
Adult admission – £5
Child admission (within a family group) – Free
Once inside, visitors can explore the installation and the cathedral at their own pace.
The event is both pushchair and wheelchair friendly.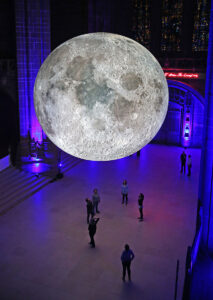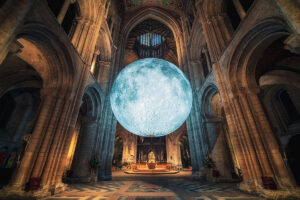 Museum of the Moon has been co-commissioned by a number of creative organisations brought together by Luke Jerram and Norfolk & Norwich Festival. These include: Greenwich+Docklands International Festival, Brighton Festival, Without Walls, Cork Midsummer Festival, We The Curious, Lakes Alive, Provincial Domain Dommelhof, Les Tombées de la Nuit, Rennes  and Kimmel Center for the Performing Arts. The artwork has been created in partnership with the UK Space Agency, University of Bristol and The Association for Science and Discovery Centres.