Special memorial service for Prince Philip to be live-streamed
from Exeter Cathedral
Exeter Cathedral has confirmed plans for a live broadcast of its Duke of Edinburgh Memorial Service on Thursday at 4:30pm.
The special service, which will be live streamed to the Cathedral's Facebook page, is expected to be attended by official representatives of the Royal Family, armed forces and civic leaders, including the Lord Lieutenant of Devon, Lord Mayor of Exeter, High Sheriff of Devon, Commander of Lympstone's Commando Training Centre, Captain of Dartmouth's Britannia Royal Naval College, Chaplain to Her Majesty the Queen, and council leaders.
Also attending will be two pupils from St Peter's School, Exeter, who are currently participating in the Duke of Edinburgh's Award Scheme.
Led by the Bishop of Exeter, The Right Revd Robert Atwell, and the Dean of Exeter, The Very Revd Jonathan Greener, the service is the first major civic occasion to be held at the Cathedral since lockdown, and will include music from the Choir of Exeter Cathedral.
Taking place just two days before the funeral, The Very Revd Jonathan Greener hopes that Thursday's service will provide a helpful focal point for remembering the Duke of Edinburgh:
"Many people in Devon feel a particular affinity with Prince Philip – not least because of his burgeoning Naval career at Dartmouth, where he first met Princess Elizabeth."
"So it is important that we can have this special service as a shared time to remember the Duke of Edinburgh, reflect on his passing, and give thanks for an extraordinary life that has influenced countless others around the world."
Although unable to invite everyone to the memorial service due to Covid safety regulations, Exeter Cathedral has extended its open hours for this week, and set aside a safe, Covid-compliant space for anyone wishing to visit, remember and reflect on the life of Prince Philip. Last Saturday, it also joined churches across the country in tolling its bell 99 times – once for every year of the Duke's life.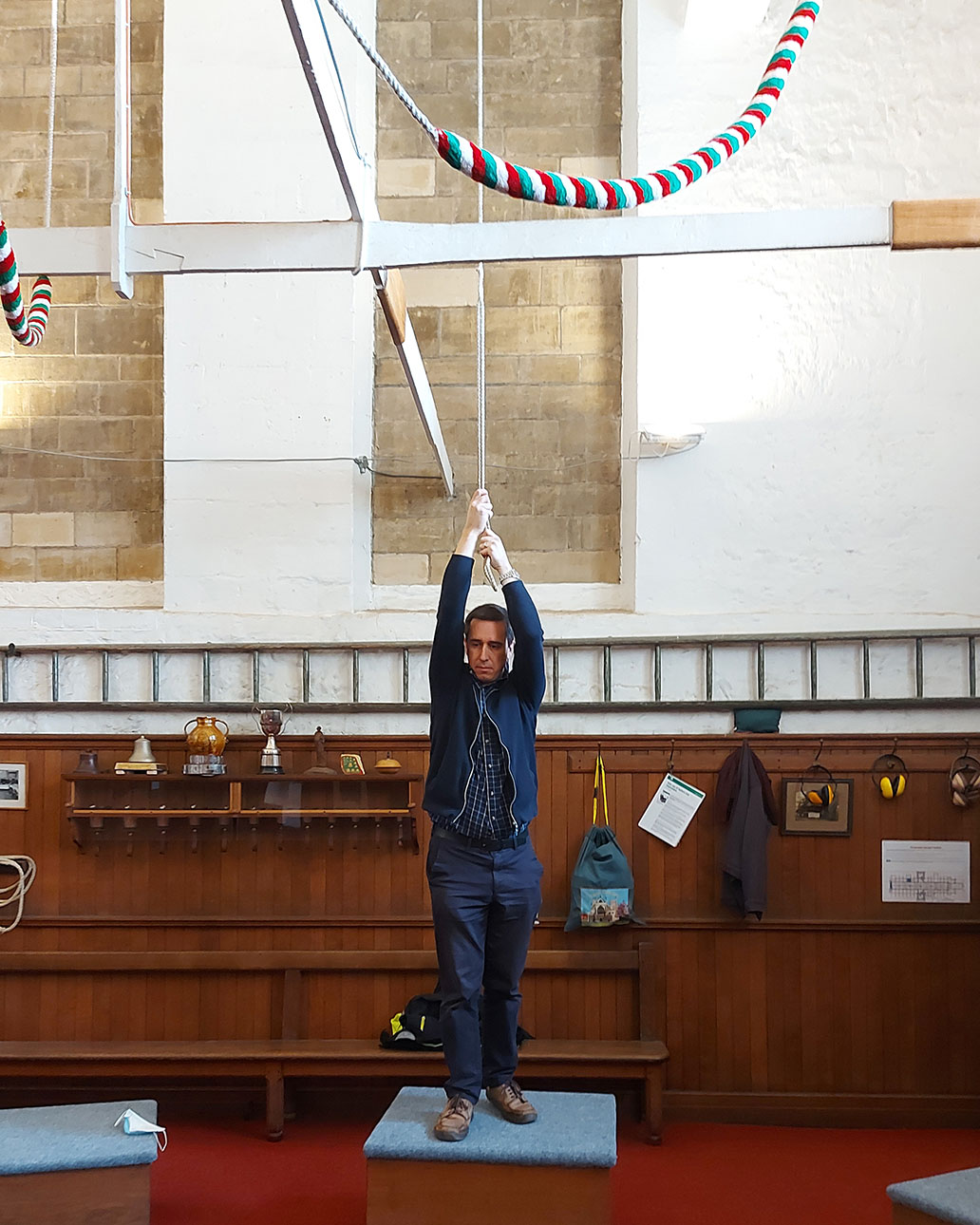 Photo: Exeter Cathedral Society of Ringers' Matthew Hilling, along with fellow bellringers David Hird and Oliver Bates, tolled the Cathedral's half-muffled, two ton, 11th bell 99 times on Saturday, marking each year of the life of Prince Philip. (Photo: Exeter Cathedral Society of Ringers)
The special memorial service will be broadcast live on Exeter Cathedral's Facebook page, starting 4:30pm on Thursday. Extended open times for personal prayer and reflection are 11am-5pm, ending on Saturday 17 April.