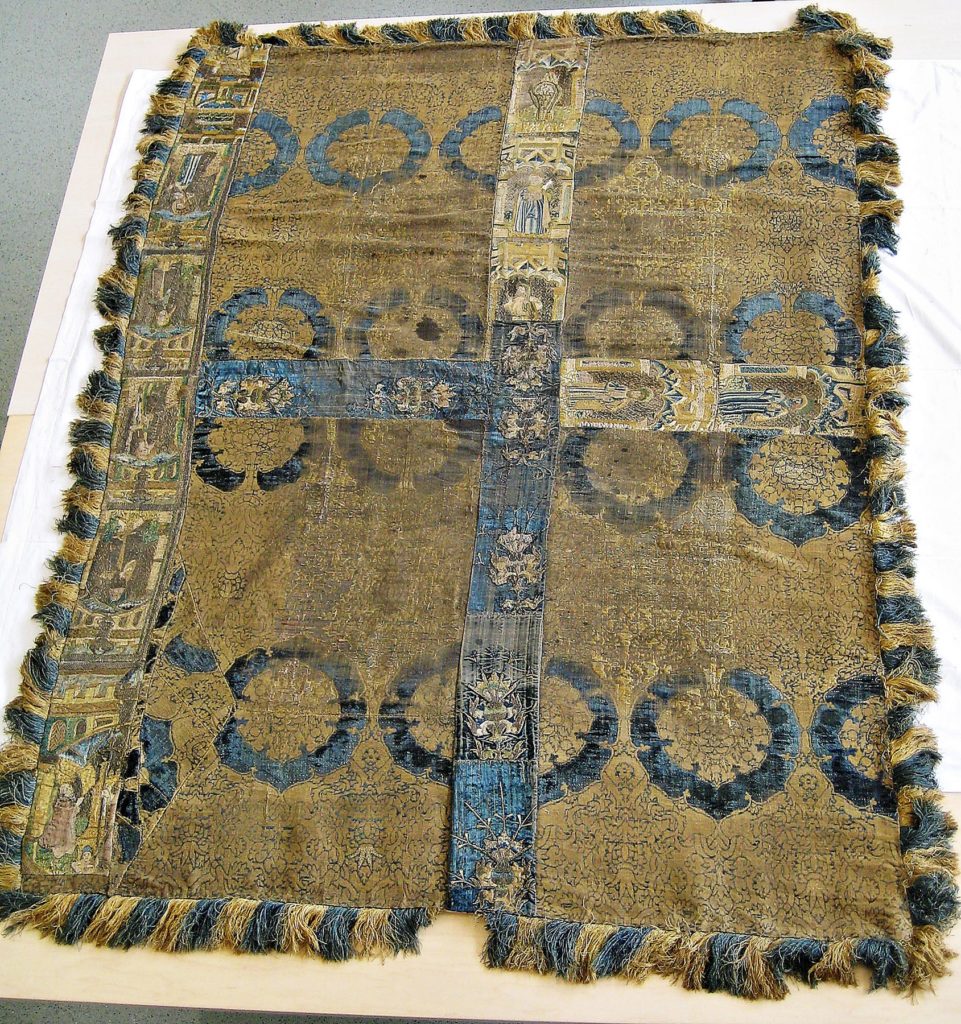 A piece of medieval recycling will be on display during a special service to mark the 650th anniversary of the death of Bishop Grandisson, the man who completed Exeter Cathedral.
A pall is a coffin covering and the fabric, which is kept in the Cathedral archives and rarely on display, dates back from the 14th century, during Bishop Grandisson's time.  Though the pall dates from Bishop Grandisson's era, there is no evidence it was actually used on his coffin, says Honorary Associate Research Fellow (Exeter University) and Canon Librarian at Exeter Cathedral, Ann Barwood, BEM.
Bishop John de Grandisson, was Bishop of Exeter from 1327-1369.  His modern day heir, Rt Revd Robert Atwell, will preside and preach at a sung Requiem Mass in honour of Bishop Grandisson on Tuesday 16th July at 17:30.   The Requiem Mass service launches a year of events marking the life and architectural, musical, educational and cultural legacies of Exeter's longest serving Bishop
The St. Petrock Pall, which dates from the 14th century, which was during the period Bishop Grandisson was in Exeter, will be on display during the Requiem Mass. It is made up of pieces (medieval recycling) taken from at least four different garments with several panels of ' Opus Anglicanum embroidery' which is fine needlework of Medieval England, used  for ecclesiastical or secular clothing, hangings or other textiles, often using gold or silver threads on rich velvet or linen grounds.
Along with the Pall one of Bishop Grandisson's manuscripts will be on show together with his ring found during the restoration of his Chapel in the 1950's.
The Revd Canon James Mustard, Canon Precentor at Exeter Cathedral said "Bishop Grandisson's great achievement was his completion of the Cathedral building as we know it. But, he was also a great scholar, educationalist, internationalist and patron of the arts. The legacy of his vision for all the churches of Devon to be places of learning, as well as worship, is all around us and we look forward to celebrating his life and legacy.  We are thrilled that the Choir of Christ Church Cranbrook, Michigan USA will join with the University of Exeter Chapel Choir to sing Faure's Requiem for the service marking the anniversary of his death."
Ann Barwood said "This is going to be an exciting year and it is an honour and privilege for the Library to be an integral part of the Cathedrals year-long celebration of Bishop Grandisson's life".
All are welcome to attend the Requiem Mass on 16 July.