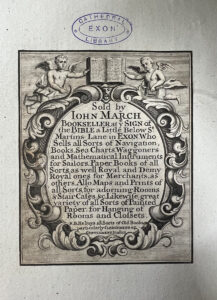 By Emma Laws, Cathedral Librarian
There comes a time in the life of every rare book librarian when you have to think about re-cataloguing books. I won't bore you with the details of continually changing cataloguing rules and, frankly, if we re-catalogued 25,000 books every time the rules changed we would never get anywhere. But it is true that libraries are still playing catch-up from when simple handwritten card indexes were sent off in bulk to be retro-converted into online records; now we want to record more details about the books – not just the author, title and date but the names of former owners, booksellers and binders, and notes about interesting physical features, such as a fore-edge painting or an intriguing Cat's Paw binding (that's for another time).
There are many extant copies of A Practical Exposition of the Church Catechism, printed in 1708. The title page tells us pretty much all we know about the author, Matthew Hole: he was a Fellow of Exeter College, Oxford, and then an Anglican priest in Somerset. (He was born around 1639 or 1640 and died in 1730.) The imprint at the bottom of the title page tells us that our edition was printed for Henry Hammond, a bookseller in Bath. (There's a memorial to Henry Hammond in Bath Abbey stating that he was married to Hannah and that he died in 1724 at the age of 55.) This sort of information from the title-page is likely to be recorded in most library catalogues.
The story of Cathedral Library's copy doesn't end there. Although it's not mentioned in our old catalogue record, our book contains the wonderfully wordy wood-engraved bookplate (pasted inside the front cover) of John March, a bookseller in Exeter. There's a list of books printed for John March between 1711 and 1725 on Ian Maxted's online Exeter Working Papers in Book History but our book is different: it wasn't printed for John March but, evidently, he acquired it later and likely sold it in his shop. 
John March had premises in the High Street, 'at ye sign of the Bible a little below St Martin's Lane in Exon'. He was more than a seller of books – he sold navigational charts and mathematical instruments for sailors, books of all shapes and sizes, and maps and prints that people could hang around the home and up the staircase. He even sold decorative wallpaper. The clue to how he came to have our book is in the last sentence: 'N.B. He buys all sorts of old books, particularly clergymen's or gentlemen's studies'.
By 1725, another bookseller, Aaron Tozer, had moved into the premises at the 'sign of the Bible a little below St Martin's Lane'. We don't know who John March sold his copy of A Practical Exposition of the Church Catechism to, but it turned up over a century later in the library of Edward Charles Harington, a residential canon at Exeter Cathedral from 1856. Harington bequeathed his library to the Cathedral on his death in 1881.
Now all I have to do is record the bookplate in our catalogue record – and look out for any others.