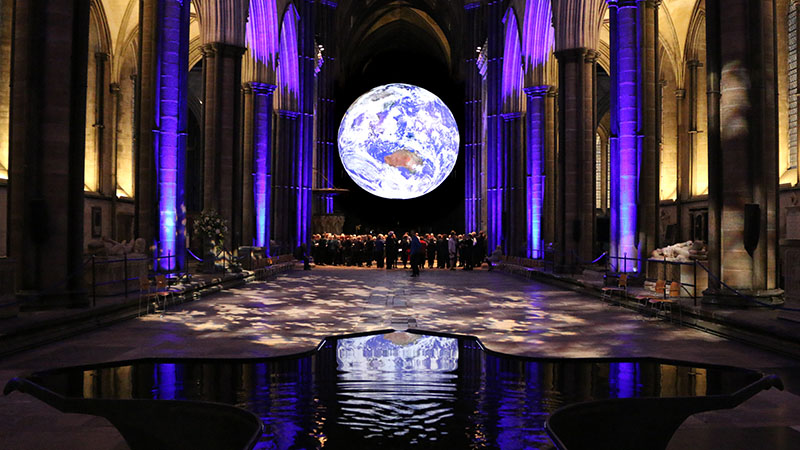 A seven-metre representation of Planet Earth by internationally acclaimed artist, Luke Jerram, will go on display at Exeter Cathedral next month.
The giant, internally-lit globe, which Jerram has named Gaia (the personification of Earth in Greek mythology), will be suspended from the cathedral's famous nave ceiling throughout February. Printed with accurate, high-resolution NASA imagery of Earth's surface, and accompanied with a specially-created surround sound composition by BAFTA award-winning composer, Dan Jones, the installation is designed to communicate a sense of the fragility of our planet. As Jerram explains:
"I used precise imagery from NASA's Visible Earth series to make the artwork as realistic as possible. For most of us, this will be the most intimate, personal and close encounter we will ever have with the whole of our planet.
"I hope visitors to Gaia get to see Earth as if from space; an incredibly beautiful and precious place. An ecosystem we urgently need to look after – our only home. Halfway through Earth's sixth mass extinction, we urgently need to wake up and change our behaviour."
Jerram hopes his creation will give visitors to Exeter Cathedral a sense of the 'Overview Effect.' The phenomenon, said to be experienced by astronauts when viewing Earth from space, includes a feeling of awe for the planet, a profound understanding of the interconnection of life, and a renewed sense of responsibility for the environment.
Gaia is the sister sculpture to Jerram's previous work, Museum of the Moon, which attracted more than 54,000 visitors when it went on display at Exeter Cathedral last year, and has now been seen by over 3 million people in more than 25 countries.
Catherine Escott, Chief Operating Officer at Exeter Cathedral, hopes to repeat Museum of the Moon's success in Exeter:
"Museum of the Moon was incredibly well-received in Exeter last year, so we are thrilled to be hosting Gaia in 2023. At Exeter Cathedral, we are always looking for new ways to inspire people to step inside and experience this incredible building – and the huge medieval nave here provides a perfect setting for Luke Jerram's work."
As part of its drive to engage new audiences, the cathedral has appointed local immersive theatre company, Four of Swords, to co-create an event centred around Gaia. Supported with a grant from The National Lottery Heritage Fund, the event invites participation and collaboration with young people from local community groups.
Other themed activities planned for February include an 'Under the Earth' silent disco and displays from the cathedral's historic library and archive collections.
Luke Jerram's Gaia is on display at Exeter Cathedral from 1-27 February. Tickets cost £5 per person, including entry to the cathedral (with free entry for under 18s).