Alexander Finlayson-Brown has been appointed Organ Scholar at Exeter Cathedral for the 2022-23 academic year.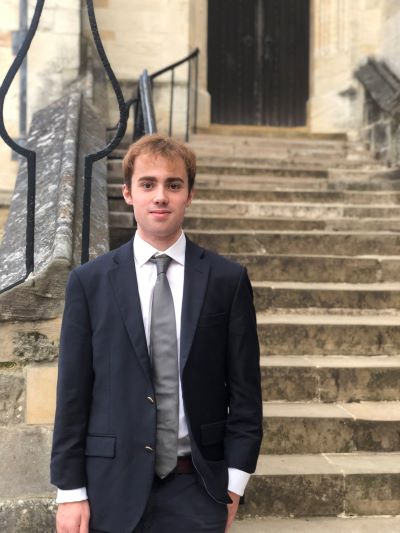 He will join the Cathedral's musical team fresh from completing his A' Levels at Eton College and will have the opportunity to play, conduct and sing, as well as assist in the organ loft, at services held in Exeter Cathedral each week. He will also take part in broadcasts, concerts, recordings and tours.
The Cathedral's music department is led by The Revd Canon James Mustard (Precentor), Timothy Noon (Director of Music) and James Anderson-Besant (Assistant Director of Music).
"The organ scholarship is a wonderful opportunity for young musicians to gain first-hand experience of the daily life of a busy Cathedral musician," says Timothy Noon. "The weekly timetable is pretty packed with services and rehearsals but we're a close-knit group and, although it's hard work, it's great fun too. We're looking forward to welcoming Alex to the team next year."
Alex takes Russian, Latin and Greek at school and balances his studies with a busy music schedule: he plays the organ and piano, accompanies the choir, and also performs solo works.
He arrived at Eton as a music scholar from King's College, Cambridge in 2017 (where he was a chorister). Alex, who has a particular interest in 20th century French organ music, hopes to return to King's College as an organ scholar in 2023 to read Classics, and ultimately he dreams of becoming a director of music.
Alex adds: "I am absolutely delighted to be taking up the organ scholar position at Exeter Cathedral next year and can't wait until I start. I really look forward to working with the Choir, Mr Noon, Mr Anderson-Besant, Canon Mustard, and getting to know everyone in the Cathedral community."