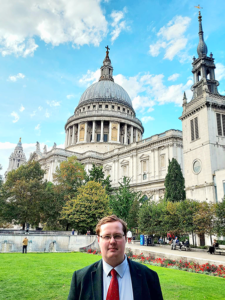 Exeter Cathedral is delighted to announce the appointment of Michael Stephens-Jones as Assistant Director of Music, from September.
Michael is currently Organ Scholar at St Paul's Cathedral and has previously held similar positions at both Guildford Cathedral and Tewkesbury Abbey. Prior to this, he completed his studies at the University of Cambridge, graduating with a starred first in Music, and also held the organ scholarship at Selwyn College. During his final year of studying, Michael received the Fellowship of the Royal College of Organists and was awarded the Limpus prize for his performance. Subsequently, he was awarded the Silver Medal of the Musicians Company, and participates in their Young Artist Scheme.
On being appointed to the role at Exeter Cathedral, Michael said: 
"I am thrilled to have been given this opportunity to join the really excellent team of musicians at Exeter. Visiting, I was struck by the great beauty and history of the cathedral, and heartened by the warm welcome I received. Although I will greatly miss my wonderful colleagues at St Paul's Cathedral, I'm looking forward to starting this exciting new chapter in Devon."
Exeter Cathedral's Director of Music, Timothy Noon, shares Michaels enthusiasm: 
"The interview panel was unanimous in concluding that Michael will be a great fit for Exeter, and vice versa. His musicianship, experience, and warm personality shone through in the audition process, and we are greatly looking forward to welcoming him to the team in September."
Michael succeeds James Anderson-Besant who will be taking up his new position as Director of Music at Truro Cathedral in June later this year. 
Also joining Exeter Cathedral in September is Giles Longstaff, Organ Scholar at Worcester College, who has been appointed as Organ Scholar for the academic year 2023-24.