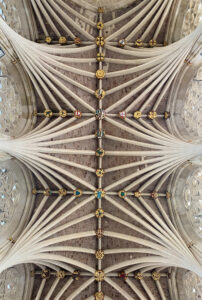 A Week of Work Experience at Exeter Cathedral
By Grace

I chose to do my work experience at the Cathedral due to its fascinating history and to learn how its employees are bringing it forward into the modern day while preserving its grandeur. I was especially looking forward to being able to learn more about not only what it's like in a work place but also the abundant history of the Cathedral.

Another interest I have is the preservation of said history, so was keen to find out about that in the days spent in the Library and Archives.

Over the course of my work experience week at the cathedral I have spent each day learning about different departments and their roles in caring for the history of this grand building.
Some of my favourite days working at the Cathedral have to be my time spent in the Library and Archives, a fascinating experience where I spent two days looking at a wide range of historical books and documents, from Henry VIII's Will and Testament to a small children's Bible with worn, folded page corners and funky printing mistakes. From Shakespeare to Mr Hart's scrapbook, the Library and Archives offered a wide assortment of interesting documents and gave me real insight into the working world of an Archivist and Librarian and leaving me with a keen idea of possible future careers that I would love and enjoy.
Although the Archives and Library were fantastic, I also spent various days with education, youth engagement, and learning about the Cathedral's Cloisters Project. These all equally were a great look into the behind the scenes of the Cathedral and what it would be like to work with such an important historic building. I spent a morning learning about the Catherdral's interior through an audio tour, experiencing the dramatic and grand interior while learning all about its long and tumultuous life. It was a morning well spent.

Overall, spending my work experience week with Exeter Cathedral was an exciting and enjoyable look at the working world.