Cathedral – A Special Place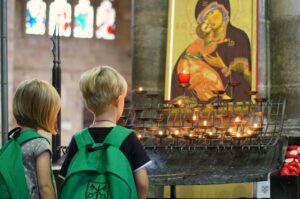 This is a guided tour around the Cathedral that explores the building as a place of worship. Using artefacts and costumes, pupils will discover why the Cathedral is a special place, and gain a deeper understanding of the Christian faith. Our guides will point out recognisable Christian symbols, their meaning and explain why they are used.
Explore the atmospheric space that has been standing for almost 1000 years and find out about the special furniture used in churches.
Find out about the special events and celebrations throughout the Church year and how religion to the people from the past has evolved to modern day worship.
Light a group candle and reflect upon the visit at the end of the tour as people have centuries before you
Duration: 90 minutes
Links: History, RE
Suitable for: KS1, KS2, KS3
Duration: Flexible but typically 60 minutes
Cost: £2.50 per student
Pilgrimage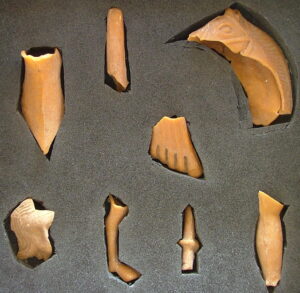 What evidence does the Cathedral have that Pilgrims once stopped here on their holy quest? We will tell you of the discoveries that came about during the Second World War and how a small wax lady was discovered and the significance behind her. Students will learn more about the type of medieval pilgrim who would have visited Exeter and understand the importance of pilgrimage – why it is taken, by whom and what the journey entailed. 
Pupils can have the opportunity to join an activity where they are suitably robed and then given a pilgrim character to portray – perhaps a knight, a king, a musician, a peasant etc. They then join a procession around the Cathedral leading to Bishop Lacy's tomb, whose importance will be revealed.
A chance to reflect upon life as a journey and how many religions endorse pilgrimage for religious enlightenment
Duration: 90 minutes
Links: History, RE, PSHE
Suitable for: KS1, KS2, KS3 (Popular for Year 3 and 4)
Duration: Flexible but typically 60 minutes tour, 90 minutes as an activity.
Cost: £2.50 per student