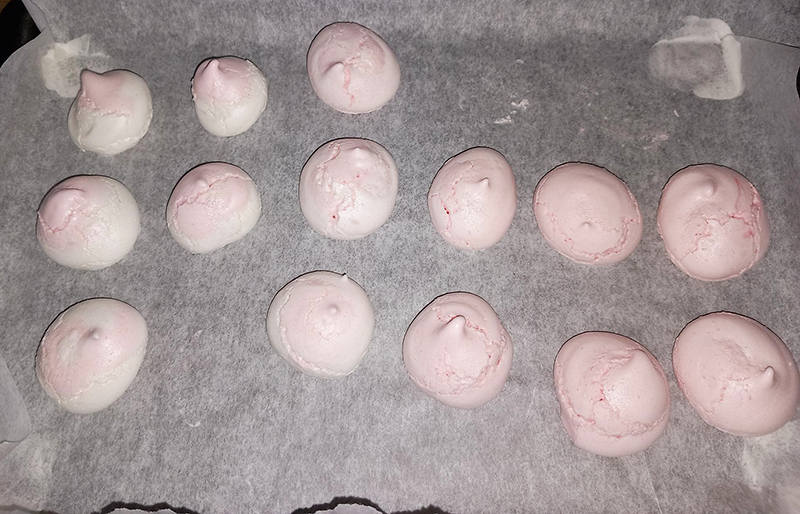 Vegan Meringues
 By André de Mendonça
A low-cost recipe using ingredients that are often thrown away.
Ingredients and utensils
100g of juice from a 400gm tin of chickpeas
100g caster sugar
1 electric whisk
Greaseproof Baking parchment 
Recipe:
For the uninitiated, aquafaba is the liquid left after cooking legumes and in this case – chickpeas. Whilst I normally tend to cook my own I'm assuming you take the easy route and open a 400g tin from the store cupboard.
I'll do a chickpea recipe next time but for now just drain the brown sludge from the tin into a large clean bowl… you want the juice only (around 100g) and no chickpea pieces. 
Set a timer and start whisking and whisk at the highest speed for 5 minutes by the clock. After 2 minutes you'll get a thickening consistency but after 5 your brown sludge has been transformed into pillowy, soft-peak snowdrifts.
Now start adding the sugar, two spoons at a time and whisking thoroughly for at least a minute at the highest speed setting to incorporate each batch of sugar. After 5 mins all your sugar should be dissolved into the meringue and you need to beat for an added 2 minutes still at the highest speed setting to the stiff peak stage. Happily you can't overbeat aquafaba!
Spoon or pipe your meringues onto a baking sheet lined with nonstick baking parchment or a very very lightly oiled silicon mat. I've spooned one batch and mixed in a drop of red food colouring into the remainder which I piped. The food colouring contains E129 so is not advised if you don't agree with aspirin or have sensitive digestive tracts.
Bake at 90 C or 200 F for an hour and a half. Test by breaking a meringue open – it should be dry inside ( or the meringue will melt into sugary string in your mouth )and if not, cook for another 15 mins to half an hour (all ovens are different) then turn off the oven and allow the meringues to cool inside to room temperature. Voilà! Vegan meringues! Good for Eton Mess, Îles flottantes, Pavlova, nests or dip into melted chocolate, then into chopped nuts for something special.
Enjoy!