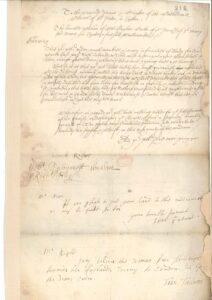 Next week we are pleased to be welcoming the new cohort of fourth year medical students from the University of Exeter Medical School. More than 100 individuals and organisations in Exeter and Truro host small groups of students every year as they explore Medical Humanities as part of their training. The students who come to the Cathedral Library & Archives will be using the collections to reflect on the subject of 'What Can History Tell Us?' The Library is well known for its large collection of historic medical and scientific texts, but we will also be looking at what the Archives can tell us about attitudes and practices in Exeter. 
One particularly moving case study is a petition that was sent to the Dean & Chapter in the 1660s. It was written on behalf of Christopher Cocke, a father of three from the parish of St Mary Major in Exeter, requesting financial aid towards a journey to London to receive royal healing for the 'King's Evil'. The 'King's Evil', or scrofula, is the bacterial infection cervical tuberculous lymphadenitis, which results in severe swelling of lymph nodes in the neck. In medieval England and France it was believed that a touch from royalty – or the receipt of a special coin touched by them – could heal the condition. The practice began in the 11th century under the reigns of Edward the Confessor and Philip I. Subsequent monarchs were said to have inherited the 'royal touch', which was taken as evidence in support of the claim that their right to rule was God-given. In England the practice lasted until the reign of Queen Anne in 1714, and in France until Charles X in 1825.
Christopher Cocke, in poor health for several years, was seriously afflicted by the condition, which had resulted in blindness and prevented him from working: 
"Under much weakness & many infirmities of body for six years last past hath laboured with his wife to maintain themselves & their charge of children (whereof there are 3 young ones yet living). But so it is that your petitioner hath lately been most grievously afflicted with the disease commonly called the King's Evil, which hath broken out in diverse places of his body but especially in his eyes which hath deprived him of his sight & wholly disabled him from labour for himself or family, & notwithstanding the expending that little they had is nothing benefitted by all expedients used for his cure & is advised by Doctor Waterhouse & Doctor Ward that he is remedy-less without his majesty's touch. Wherefore in this regard your petitioner hath nothing either for the sustaining of his family or defraying the charges of such a journey humbly prays your worship to commiserate for his condition & to contribute towards his supply & release in this extremity of his condition."
The Dean and Chapter approved the request, but sadly the outcome of Cocke's treatment is not documented.