Hello everyone, Stapledon here!
What a busy few weeks it has been! Since I last wrote to you, so much has changed.
The big story is that the Cathedral is now open for people who want to come here to pray. This has meant a lot of work for my human friends. I've even been roped in too, helping to measure the floor so that we can put special markings down to keep people safe.
It has been so lovely to see my old friends, and make some new ones, since we opened last Monday. What a day that was! There was even a TV camera to film the doors opening! I'm quite camera shy, so stayed as far away from it all as possible. Each day since we've had lots of visitors coming in for a quiet moment. They say a prayer, and sometimes light a candle too.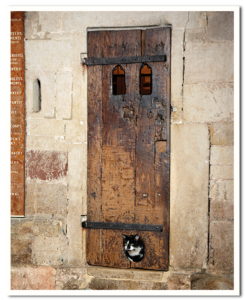 We've had TV cameras here this week, but I'm quite camera shy, so stayed as far away as possible!
One of the most interesting things about re-opening the building has been how the feeling of it has changed, now that people have returned. During lockdown the building was so quiet, cool and calm – sometimes it felt too quiet. Now people are coming back, it feels as if the building has woken up from a long sleep. There is a different feeling about the place now. There's excitement and energy. Someone once said that Exeter Cathedral is a building that smiles at you, and it has certainly been smiling this week as it welcomes people back.
Another nice thing about this week has been the reactions of people as they come back through the door. Each person has, in their own way, shown us how special the building is to them. It has been brilliant to watch. And it reminds me why I get up every morning, poke my head out of the cat flap in the old door, and go about my work.
I do hope that I will see you soon. The warmest of welcomes awaits you here at your Cathedral.
Stapledon