It's the season of giving, sharing and spending quality time with loved ones. So, treat your dinner party guests to a seasonal tipple with these two recipes. They have been crafted by Head Mixologist Oli at Salcombe Gin.
Salcombe Gin is described as part science, part magic by friends and co-founders Angus Lugsdin and Howard Davies.
Their multi award-winning 'Start Point' recipe was first crafted in 2016. It contains a mix of grapefruits, lemons and limes, exotic botanicals and Dartmoor water.
Salcombe Gin School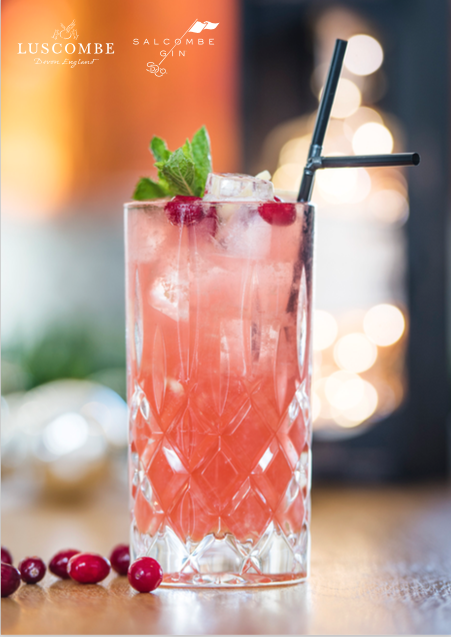 For serious gin fans, the team have created the Salcombe Gin School. Teaching people to become mixologists and gin experts, the school provides a personalised distilling experience.
You can buy gift vouchers for the gin enthusiasts in your life at Salcombe Gin's stall at the Exeter Cathedral Christmas Market, between 15 November and 16 December.
Festive cocktail recipes
Now we have your taste buds going, why not soak in the festive spirits with a cocktail or two? Try a spiced Christmas GINgle to kick start the festive season or indulge in a refreshing St Nicholas on Christmas Eve.
Christmas GINgle
 To create a fruity and spicy Christmas GINgle, you will need the following ingredients:
Makes 1 cocktail
1 part (50ml) Salcombe Gin 'Start Point'
1.5 parts (75ml) Luscombe Cranberry Crush
2 parts (100ml) Luscombe Passionate Ginger Beer
5ml fresh lime juice
3 thin slices of fresh ginger
10 fresh or frozen cranberries
A sprig of fresh mint
Ice
Here is how you create it:
Add Salcombe Gin, fresh lime juice, 5 cranberries and 2 slices of fresh ginger to your cocktail shaker
Add ice and shake vigorously
Fill a large glass with ice
Double strain the mixture over the ice into the glass using a Hawthorne strainer and fine sieve (just use a sieve if you don't have a Hawthorne strainer)
Add Luscombe Cranberry Crush followed by Luscombe Passionate Ginger Beer and stir
Garnish with 5 cranberries, a sprig of fresh mint and the remaining fresh ginger sliced into thin julienne matchsticks
After a Christmas GINgle to get into the festive spirit, it's time to indulge in a refreshing St Nicholas by the log fire. A perfect drink to help wrap the last few gifts on Christmas Eve.
St Nicholas
Here are the ingredients you will need to make your perfect St Nicholas:
Makes 1 cocktail
1 Salcombe Gin 'Start Point'
1 Christmas pudding
15 ml fresh lemon juice
7.5ml vanilla sugar syrup
7.5ml pumpkin spice syrup
Foaming bitters
Cinnamon stick
Here is how you craft it:
Break apart the Christmas pudding into an airtight container and mix in a bottle of Salcombe Gin. Leave to soak for 48 hours
Strain using a fine sieve and coffee filter paper to remove any small particles
Pour 50ml of the Christmas pudding gin into your cocktail shaker with the fresh lemon juice, vanilla sugar syrup and pumpkin spice syrup
Fill your shaker with ice and shake vigorously until cold
Strain the mixture and discard the ice. Pour half the mixture back into the shaker
Add the foaming bitters and shake again
To finish, strain over ice and garnish with a thin cinnamon stick
And finally, sip and enjoy.
Be sure not to let the Christmas pudding go to waste. Why not add a spoonful to a scoop of vanilla ice cream to complete an evening of seasonal indulgence? It's a season for celebrating after all. Cheers!