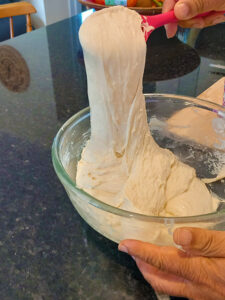 By André de Mendonça
No need to knead! Some of you will know how nice it is to make your own bread and others will be put off by the need to knead. Focaccia, though, is very simple.
Ingredients:
500g plain flour
400ml tepid water
8g dried active yeast
1 teaspoon of sugar
2 flat teaspoons of salt
Sprig of rosemary
2 cloves of garlic
60ml extra virgin olive oil
Focaccia is a high hydration bread so whereas for ordinary bread you need around 60% water with this this you want around 75%- 80% hydration. The result is a wet dough that will stick to absolutely everything but don't fret!
Begin by activating the yeast in the tepid (not hot!) water and sugar. Leave aside for 10 minutes to froth up.
Meanwhile, crush the garlic with the blade of a knife and bruise the rosemary by rubbing it vigorously between your hands (delicious fragrance already!). Poach the garlic and rosemary in the olive oil on low heat for 5 minutes, remember you don't want to brown anything! Remove from the heat and transfer to a mug or jug to cool, discarding the aromatics.
Your yeast should be frothy by now so add the flour to a deep bowl and mix in the salt. Make a well and add all the water and half the infused olive oil and mix thoroughly with a silicone spatula or spoon (or with your hands if you don't mind getting a little messy). You should have no dry flour at all in the bowl. Cover with cling film or, for the eco-conscious among us, a plate, and put it in the fridge to rise for 24 hours. If you can't wait that long then 8 hours will do but the longer you leave it the better the flavour!
Remove from the fridge. Olive-oil a shallow baking pan and lightly sprinkle with salt. Plop the dough in the pan and spread and stretch the dough with your hands which you should wet or oil to prevent sticking. Don't worry if the dough doesn't reach the edges! You can let it rest for 20 mins and try again, but it's not too important. Cover with a damp tea towel and allow to rise at room temp for 20mins. (Nose-bubbly dough is a good thing by the way!)
Heat your oven to 200°c.
Wet or oil your hands and use your fingers to dimple the surface of the dough. Douse with the remaining infused olive oil, sprinkle with salt (you can add any toppings on here) and bake immediately for around 20mins until golden on top.
Remove from the oven and cool on a rack if you have one. Eat warm or cold; fantastic! A glass of Chianti Classico goes well with it too.
You can get more creative with different topping variations if you like! A few favourites are; halved cherry tomatoes, sundries tomatoes, olive-oiled onions, small sprigs of rosemary, cheese, olives.