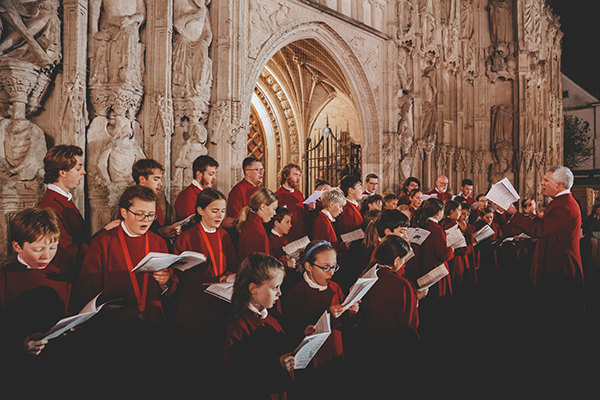 By Canon James Mustard, Canon Precentor
Cathedral Choirs, by their nature, are constantly changing. Choristers grow up, voices change, new schools beckon, adult Choral Scholars complete their studies, Organ Scholars complete their gap years, and more established adult singers, the Lay Vicars, may move-on or retire. The challenge before our Director of Music, Timothy Noon, and his colleagues, is managing that change to achieve constant, high standards. Unquestionably, the annual Chorister Trials, the process by which children are auditioned and offered a place in the choir, is a key moment in setting up the choir for future success.
Exeter Cathedral has been extremely fortunate over recent years to have exceptionally high numbers of children coming forward to be choristers. This year, we are auditioning over thirty children for nine places. By no means all cathedrals are in such a fortunate position. That is down to a number of factors: our choir and music has a strong reputation, we have a relatively large population within reach, good transport connections by road and rail, and no other cathedrals for at least 70 miles in any direction. Vitally, we have a close relationship with Exeter Cathedral School, which offers excellent support and a strong education for the choristers; the equality between our boy and girl choristers, who sing on alternate weekends, means that "normal" family life is possible every other weekend.
A surprise to many parents and carers of children going forward for a choristership is that we do not seek "fully-formed" young musicians. That would be unfair and unreasonable. Instead, our directors of music are looking for musical potential. It's the priority for a child's potential that makes this such an important, and in many cases, life-changing process.
With limited places on offer, the majority of those applying this year will not sadly, be offered a choristership. But we are in the very fortunate position of being able to point those children to our children's choir, the Devon County Junior Choir. That choir, which meets on Saturdays in Exeter Cathedral School, under the direction of our Singing Development Lead, Andrew Downton, has its own programme of concerts and activities, most recently, being the backing group for the 70s prog rock artist Jethro Tull alongside our youth choir, Schola Exe, also directed by Andrew Downton.
So, next time you are in the Cathedral, remember that the choir you hear from one year to the next is never the same. It's constantly changing. Indeed, to misquote the Italian author Giuseppe Tomasi di Lampedusa, everything changes so everything can remain the same.