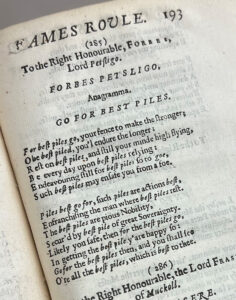 By Emma Laws, Cathedral Librarian
Until recently, this obscure little book of poetry probably hadn't been looked at in years, perhaps even centuries. However, last week it was the focus of an email enquiry – and now we think everyone should know about Mary Fage.
Mary Fage was a 17th century English poet and the author of Fames roule, a book of poems, published in 1637, about the rich and famous in the court of Charles I. The poems are ordered by rank, beginning with the King (his Queen, Henrietta Maria, and daughters get a mention too) and then moving through various dukes, marquises, earls, viscounts, bishops, barons, privy counsellors and judges. There are some 400 poems here and though we would not perhaps single out any one in particular they are, as a whole, a fascinating example of 17th century word-play. The poems follow a similar pattern: first comes the name of the nobleman, then an anagram of his name followed by a short poem. Each poem is an acrostic: the first letter of every line (read downwards) spells the name of the nobleman. 
Mary Fage, whose name is anagrammatised in the book as A FAYR GEM, was evidently well aware that her poetry may not be taken seriously:
'Tush say they, what! A Woman this worke frame?
Her wit will not attaine an Anagramme…'
 
Keen to dispel any idea that the poems are not of her own making – 'fram'd by mine industry' – she demonstrates her knowledge of the genre with some preliminary remarks on 'Certaine rules for the true discovery of perfect anagrammes'. Less convincing is a commendation of Mary Fage 'and her voluminous worke of anagrammes', printed within the book, from a 'Thomas Heywood' (possibly the English playwright and actor who died in 1641) who pokes fun at any man who fears that a 'weak woman' can oust the great masters of poetry or dip 'her pen so deepe, that you are all out stript'. 
What we know for certain about Mary Fage is only what she tells us on the title-page: she was the 'wife of Robert Fage the younger, Gentleman'. But who was she really? Why did she write this extraordinary book of poems? And why did she openly declare such loyal support for an unpopular monarch who by 1637 had dissolved Parliament and was ruling as an absolute monarch amidst murmurings of execution? (Charles I was eventually beheaded in 1649.) Perhaps we will never know but, as another commendation within the book states, the name of Mary Fage 'must needs be famous' – and we have done our part.