Meet the New Cathedral Chapter
Our new Constitution and Statutes prescribe the creation of a new Chapter, with a majority of Non-Executive Members. We are grateful to the Cathedral Nominations Committee who have worked really hard on our behalf to recruit the new Chapter members, and following their recommendations, we are delighted to announce our new Cathedral Chapter. Alongside their strong Christian commitment, the Non-Executives will bring a considerable range of professional expertise and experience, and a particular passion for the Cathedral to engage with the whole of the diocese and county.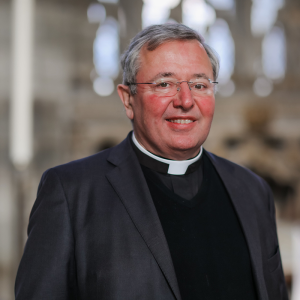 Jonathan Greener
Dean, Chair of Chapter

After a career in industry, Jonathan was ordained in 1991, became Archdeacon of Pontefract in 2003, and then Dean of Wakefield from 2007, until he moved to become the 71st Dean of Exeter in 2017. He is a Governor of Exeter Cathedral School and a member of the Ted Wragg Multi-Academy Trust. He and Pamela live on the Cathedral Green.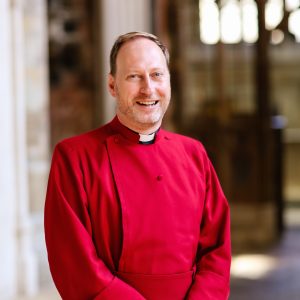 James Mustard
Canon Precentor

James has been Canon Precentor since March 2018. He was a music undergraduate here in Exeter, and a Choral Scholar at the Cathedral. Following a career as a freelance musician, he was ordained in 2005, and has served in the Dioceses of Norwich, London and St Albans. As Precentor, James has a particular responsibility for our worship and music. He is a Governor of Exeter Cathedral School.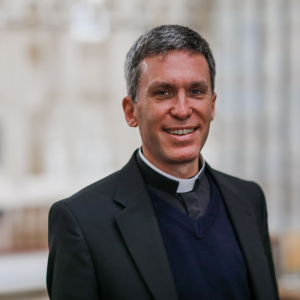 Dr Chris Palmer
Canon Treasurer

Chris was born in London and brought up in London and the Midlands. He met his wife, Olivia, whilst they were still at school in Nottingham. Chris read Theology in Oxford, and continued as a graduate student, eventually completing a doctorate on St Paul's Understanding of Church Unity. After 20 years in parish ministry, largely in the Diocese of Southwark, Chris came to Exeter in 2018 as Canon Chancellor. Last year, he became Canon Treasurer, and is taking a major lead on our Development Project, overseeing the building works and helping to guide Chapter policy. Chris enjoys playing the piano and, occasionally, the organ, and is a keen runner.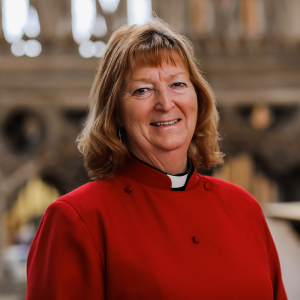 Cate Edmonds
Canon Steward

Ordained in Winchester in 1994, in 2001 Cate returned to her home city to take up the post of Chaplain at the now Plymouth Marjon University. In 2006, Cate moved from Plymouth to East Devon, becoming the Diocesan Chaplaincy in Education Adviser and Assistant Priest in the Otter Vale Mission Community, the post she retired from in 2017. Whilst in post, she was Rural Dean of Ottery Deanery, and was made a Prebendary in 2016.

As Canon Steward, Cate works to develop relationships between the Cathedral and the wider Diocese. She is responsible for the links with the parishes of which the Chapter is Patron, and she has a particular responsibility for the Cathedral's work with schools and its Cloister Club. Cate and Paul live in Lyme Regis, from where she commutes several times each week.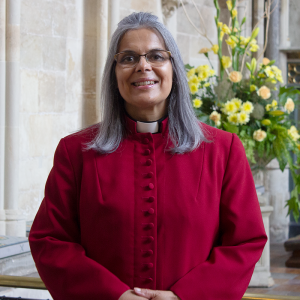 Deborah Parsons
Canon Chancellor

Deborah was installed as Canon Chancellor in July 2022. She studied English and Sports Studies at Froebel College, London. Following graduation, she taught English at Epsom College for 20 years, where she pioneered co-education at 13+ and served on the Senior Leadership Team. Since 2011, she has been a Team Vicar in Totnes, where she continues half-time, and where she still lives with her husband David. Deborah has been Diocesan Interfaith Adviser since 2019.

As Canon Chancellor, Deborah has a particular responsibility for pastoral care at the Cathedral, and also for Christian nurture. She is working hard to develop our Sunday evening worship in new ways.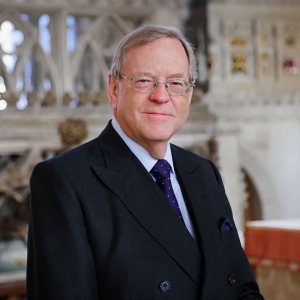 Barnabas Hurst-Bannister
Senior Non-Executive Member

Barnabas had a long career in insurance from 1975 onwards. He has been a member of the Council of Lloyd's and is an Associate of the Chartered Insurance Institute, and past president of the Insurance Institute of London. The son of a parish priest, Barnabas was educated at Salisbury Cathedral School, Lancing and Oxford University. He was previously a Governor of Blundell's School. For the past six years he has been Chair of the Cathedral Council, working with Chapter to respond to and emerge from the Bishop's Visitation Report of 2016. He lives in East Worlington in North Devon.
Jenny Ellis CB
Jenny is a retired Civil Servant and former Chief Executive of the Supreme Court of the United Kingdom. She is a lay member of the Solicitors' Tribunal and has a number of voluntary and trustee appointments, including as a member of the Independent Monitoring Board at HMP Exeter, Chair of Trustees at Topsham Museum and Vice-Chair of the Posbury St Francis Trust. She is a Governor of Exeter Cathedral School.

Jenny has been a member of the Cathedral Chapter for the past six years, and chairs our HR Committee. She was born and brought up in Cornwall and chairs the Friends of her 'home' parish church in North Cornwall. She and her late husband returned to the West Country on her retirement and Jenny now lives in Topsham.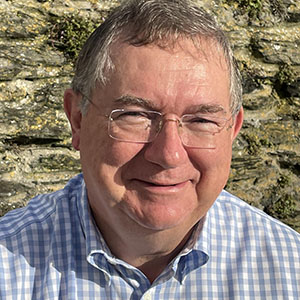 Giles Frampton
Giles is a Chartered Accountant, recently retired from practice as a Licensed Insolvency Practitioner and expert witness. He has chaired the Exeter Diocesan Board of Finance since 2016, has been a member of the Cathedral Chapter since 2021 and chairs the Cathedral Finance Committee. He lives in Christow where his wife Ruth is Rector of the Teign Valley & Haldon Hill Mission Community.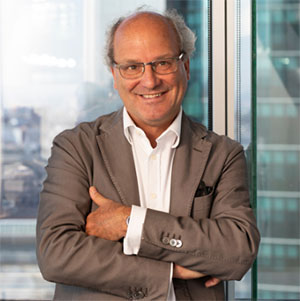 Ian King
Ian grew up in Exeter and currently serves as churchwarden at St Michael and All Angels, Heavitree. He has had a successful career in banking in this country and in Europe, and served until last year as Managing Director of MiraltaBank, Spain. He currently runs his own consultancy business. Ian and his wife Bridget live in Stoke Canon on the outskirts of the city, where he plays flamenco guitar and flugelhorn in a marching band.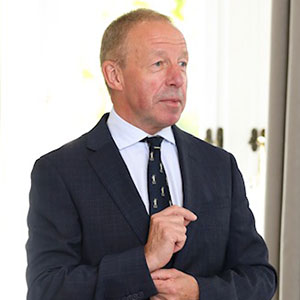 John Lee OBE DL
John has lived and worked at Shobrooke, near Crediton all his life, where he is also churchwarden of St Swithun's Church. He is one of His Majesty's Deputy Lieutenants, a former High Sheriff of Devon, and has been a member of the Cathedral Council. He chairs a number of company boards and charities including Devon-based Westpoint Exhibition Centre, and Mole Avon Trading.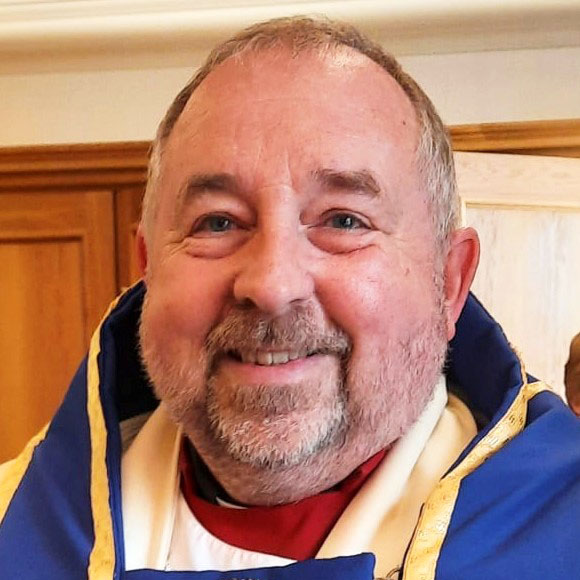 The Ven Nick Shutt
Nick has been a prebendary of the Cathedral since 2011. Earlier this year he retired after serving five years as Archdeacon of Plymouth. Previously a solicitor, Nick holds a Master's degree in Canon Law and has been a member of the Diocesan Safeguarding Board. He lives in the village of Walkhampton, on the western side of Dartmoor.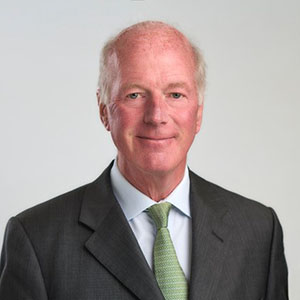 Mark Yallop
Mark Yallop lives in Stoke Gabriel where he is a member of the Parochial Church Council. A former UK Chief Executive of UBS and Group Chief Operating Officer of Deutsche Bank AG, he stepped down earlier this year after serving seven years as Chair of the Financial Markets Standards Board. He has previously served six years as a member of the Bank of England's Prudential Regulatory Committee and is now an angel investor in fintech and start-up businesses in the South West. Alongside wide-ranging financial expertise, Mark also brings considerable fundraising experience to the new Chapter.
Our Chief Operating Officer, Catherine Escott, and Chief Finance Officer, Michelle Clark, also attend Chapter meetings, with Tina Robbens serving as Chapter Clerk.