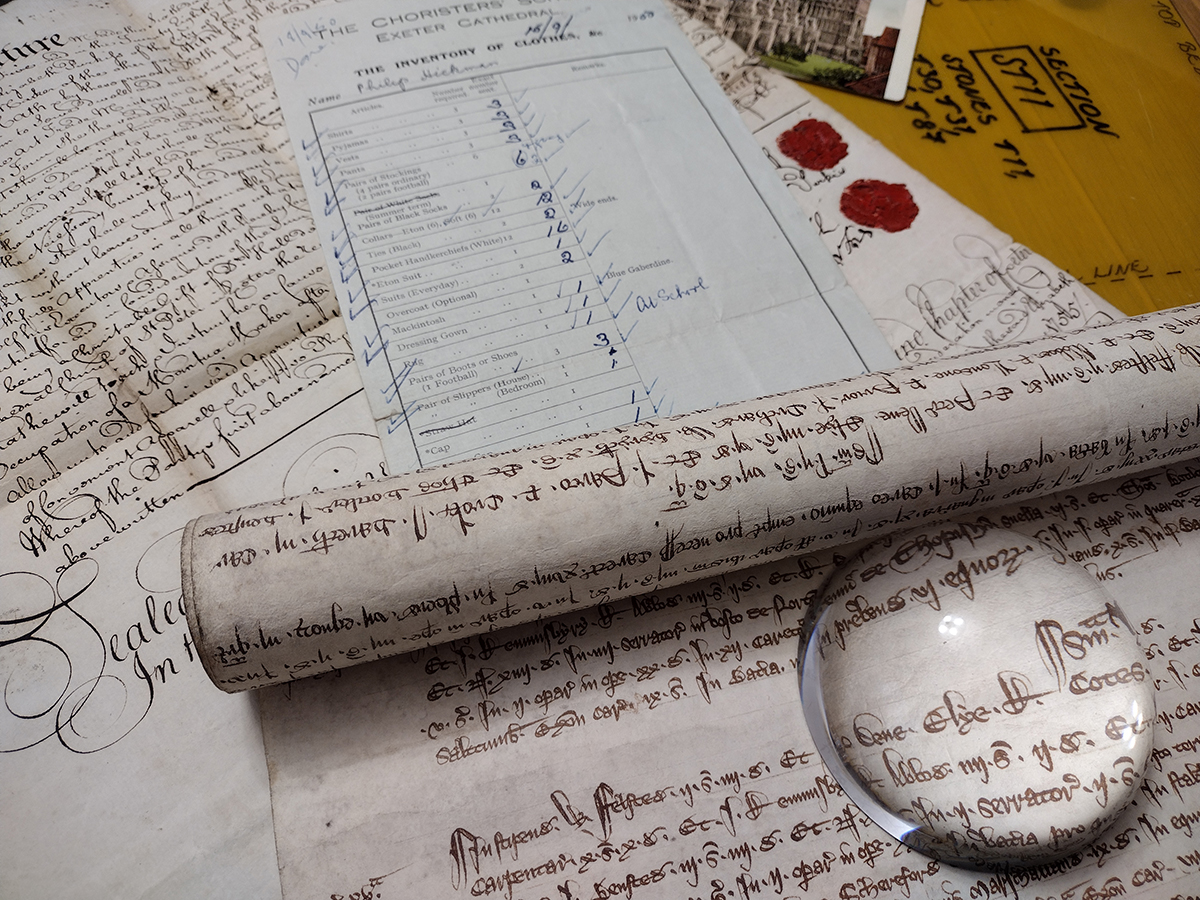 By Ellie Jones, Cathedral Archivist
This week, instead of focusing on one document we're looking at the whole archive! The 10th of each month is 'Explore Your Archive Day', part of the Archives and Records Association's Explore Your Archive campaign to "encourage everyone to visit, use, celebrate and be inspired by archives in the UK & Ireland" – and that's something that we love to do.
The Cathedral Archives preserves and makes accessible the records of the Dean and Chapter of Exeter Cathedral. But what are they? They are the records, selected for permanent preservation, that have been created by generations of Deans, Chapter members, staff, volunteers and others by and about the administration of Exeter Cathedral and its former estates across Devon and Cornwall. They have been created on paper and parchment, on cassette tapes, vinyl records, and in digital formats. There are formal records like minutes, register books, accounts and leases, but also more ephemeral sources such as postcards, scrapbooks and concert programmes. There are archives of the bell ringers, tapisers, flower arrangers, and the Friends of Exeter Cathedral who are so important in day to day life at the Cathedral. All the records focus on the Cathedral in some way, but many people are surprised to learn just how wide-reaching the collections are, with a global reach and covering a period of 1000 years.
One of the main purposes – and great joys – of working in the Archives is helping people with their research, and there is never any lack of variety. This week, for example, we have welcomed visits from a whole range of people of all ages, from Exeter, Devon, the Midlands, and as far away as the USA. These people were students and academics, family historians, parish clerks, archaeologists, artists, novelists, journalists, broadcasters, and people who "just like history". Amongst other subjects, they were investigating: the archaeology of the Cathedral's chapels; Exeter in the Civil War; scribal handwriting in the 14th century; 18th century apprentices; charitable giving in the 17th century; medieval illuminations; the East India Company; and the origins of humour. Sometimes people approach us with a specific question in mind – sometimes very specific – whilst others just know they are interested in history and want to see something old; they are all welcome.
If you have any questions about the Archives, or the history of the Cathedral, join us (if you can) at our In Focus day in the Cathedral on Tuesday 14 November, or send us an email or give us a ring on 01392 421423 – we'd love to hear from you.
Find out more about Explore Your Archives on their website.