Thursday 18 November (from 5pm) – Saturday 18 December
Take a wander through the labyrinth of lanes that wind their way across the Cathedral Green and you'll find a whole host of Christmas chalets stocked with treats for your family and friends, your home, and maybe even yourself!
There's street food from across the world, presents for food and drink lovers, textiles, pottery, hand-crafted gifts, home furnishings, clothes and a wide choice of light refreshments.
You name it, we're pretty sure you'll find it at the Exeter Cathedral Christmas Market! It's the perfect place to start (or wrap up) your Christmas shopping.
Browse our gift guide below to help plan your visit.
Alternatively, you can see a complete list of our wonderful Christmas Market traders here.
---
Gift Guide
Foodie delights
For the foodies out there, we've got a fantastic line up of street cuisine from across the globe. You'll find snacks and meals to suit all tastes, whether burgers are your thing, something a bit spicier tickles your taste buds, or if you just want to grab a quick bite.
Amble between the chalets and you can take a culinary tour of Europe: simple Spanish food from Alimentos (we hear their paella is a real treat!); authentic Greek street food from The Big Greek Feed; outrageously good chicken burgers with house-made sauces and pickles from Eat the Bird; and Flame and Dough's authentic Italian stone baked pizza served from a quirky vintage trailer, always a crowd-pleaser! Head to Les Plaisirs de France for delicious French dishes like tartiflette and garlic mushrooms.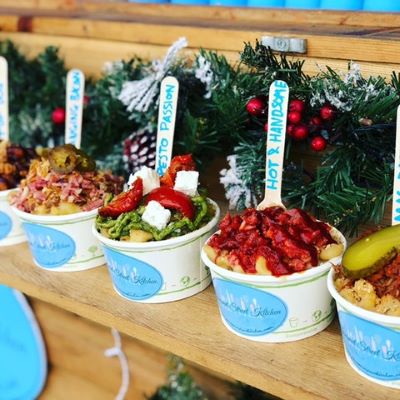 Everyone loves mac and cheese but Gourmet Street Kitchen (pictured left) take it to the next level with their gourmet twist on a traditional favourite: well worth a visit! Simply Duck makes scrumptious wraps with Hoisin or sweet chilli sauce; and Street Food South West is hard to beat for flatbread wraps and tagine pots.
We're pleased to welcome Kingsteignton's Surf N Turf Kitchen to the Market for the first time. Their multi award-winning, free-range scotch eggs come in all sorts of flavours, including traditional favourites and seasonal delights. There are vegetarian and vegan options too. Buy to eat there and then, or order a delivery by post (or both, of course!)
If vegetarian or vegan is your thing, Bun is a great place to seek out a deliciously healthy plant-based burger, or a felafel or halloumi wrap.
You'll find Nepali vegan street food at Khana and Nacho Burrito is a top spot for deliciously fresh burritos, nachos and quesadillas (with vegetarian, vegan and gluten free options).
While you're with us, why not pop into Oddfellows Bar, a temporary Cathedral Green outpost of Exeter's gastropub?
Sweet treats
In need of a sugary snack to boost your energy levels and help you finish that Christmas shopping, or fancy a sweet treat as a dessert?
Pancrepes should fit the bill: delicious sweet (and savoury) pancakes, all fresh as can be and cooked to order. Salcombe Dairy Chocolate is also a safe bet for an amazing array of ice creams and sorbets.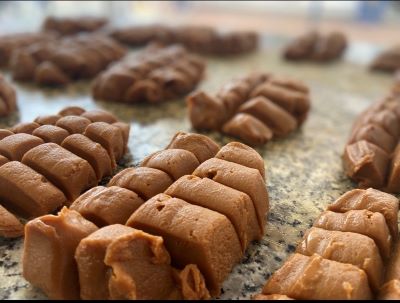 Head to Cake or Death for some of the UK's most loved brownies (if you're too full, you can always hop online and order a delivery!).
If fudge is more your thing, Ed's Fudge Kitchen is a must-visit: all handmade using local ingredients, with flavours including clotted cream and Christmas pudding (pictured left).
Anyone with a sweet tooth will thank you for taking some Langley's Rocky Road home (milk or dark, your choice!), and don't miss Chococo for fresh, hand-made chocolates. Visit Moore's Sweets and Treats for old fashioned pick 'n' mix and candy floss.
Need a tea or coffee break?
For those joining us at coffee or tea time (or just in need of a caffeine hit), there's masses of choice.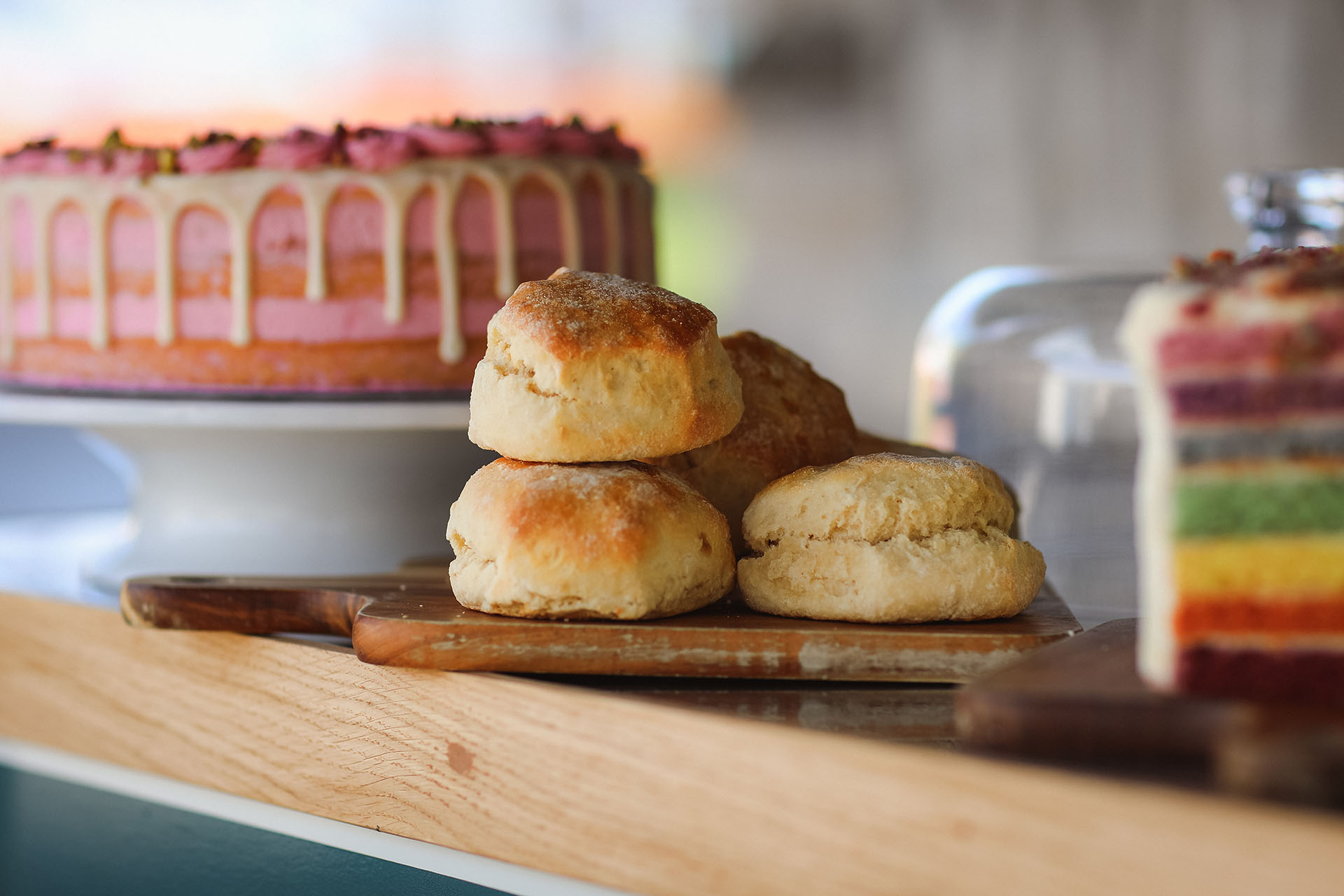 Camper Coffee is good whatever the time, serving delicious locally-roasted coffees (complete with sweet or savoury snacks). And if the mood takes you, there are coffee cocktails on offer too!
There's also the much-loved TenFifty, Exeter Cathedral's very-own café, serving ethically sourced, locally produced hot and cold drinks, light snacks and sweet treats (pictured left).
If luxury, full flavour Devon flapjacks sound like the perfect accompaniment to your cuppa, be sure to plan a trip to Flapjackery's chalet! Award-winning, gluten free flapjacks.
Take Home Treats
Food and drink gifts are always well received, and many of our traders have won awards for their produce. Others stand out from the crowd because their foods are artisan-made and ethically produced by small scale, local producers.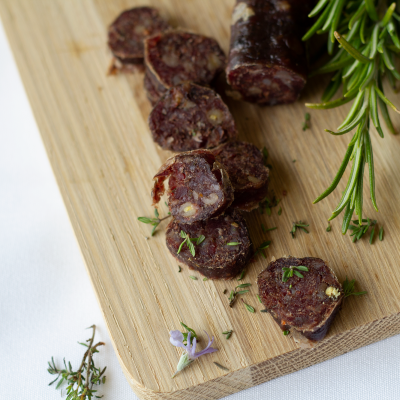 Perfect for a delicious meal over the festive period, why not try locally farmed and naturally reared bison and elk from Bush Farm.
Check out Cornish Charcuterie (pictured left) for delicious pates and rilletes, as well as salami and chorizo – great for a starter, a gift hamper or a wintery picnic. And don't forget Good Game Charcuterie for amazing gifts of salami, chorizo jam, barbecue sauce and more. Meat eaters will love Kenniford Farm's award-winning sausages (buy at the Christmas Market or order on your smart phone for homme or gift deliveries).
For something rather sweeter, Granny Sally's Chocolate Kisses are luxury German chocolates in a dozen different flavours and they make a gorgeous gift.
A Nose for Cheese?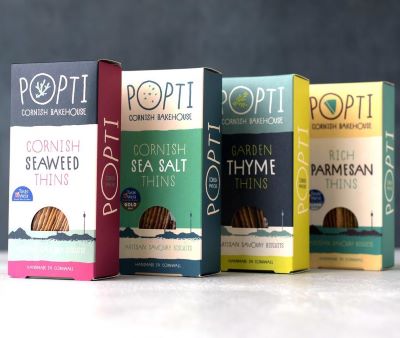 Sniff out the Cornish Cheese Company for soft, sweet and scrumptious blue cheeses. More delicious cheeses (and spectacular cheese cakes) from The Cheese Board, and you can arrange for local products to be delivered nationally too.
The Cherry Tree is a great pit stop for chutneys and preserves, and it's hand-cooked to traditional recipes in the West Country.
This year, we're thrilled to be joined by Norton Barton Artisan Food Village, showcasing some of the best food and drink Cornwall has to offer, including Popti Cornish Bakehouse (left), a must for their speciality range of Popti Savoury Thins. Great with cheese or just on their own!
For the Cooks in your Life 
Need something sharp with which to prepare all that gorgeous artisan food? Knives from Flint and Flame are made from high quality German carbon steel, plus they look sleek and they make light work of slicing and dicing.
Christmas Cheer
We've got masses of tipples at the Exeter Cathedral Christmas Market, guaranteed to bring some extra Christmas cheer. You're sure to find the perfect snifter to accompany any holiday meal, or a bottle that's just right for gifting.
Visit the Devon Rum Company for exotic, aromatic and zesty flavours (all wrapped up in recyclable packaging); Exeter Gin for botanicals enjoyed by the Romans (a liquid celebration of the city's rich cultural heritage); or give Magic Mead's honey wines a try. Local business, Monarch Liqueurs, have delicious spirit-based artisan liqueurs on offer, like Tamar Tipple; and over at O'Donnells Moonshine you'll find handcrafted liqueurs.
The Salcombe Distilling Co offer a range of spirits and non-alcohol spirits, and TORS Vodka has perfected the art of creating smooth, premium vodka and cocktail liqueurs.
Over at The Cornish Distilling Company there's Cornish rum, as well as coffee spirit, Kalka, winner of three gold stars at the Great Taste awards. Ventons Devon Cyder makes a great gift or a terrific tipple!
Sniff out the Crossed Anchors Brewery, run by multi award-winning brewer and publican Olly Bainbridge, for a fine selection of beers and ales, including Christmas beer boxes and mini kegs.
Gifts for Homemakers
We've got all your gifts for house and garden-lovers covered!
Head to Craft Exe for beautiful, handmade fused glass decorations and ornamental pieces, and to Devon Reclaimed for items created from nautical and industrial salvage. Dotty Heaven is the perfect place for handmade wooden gifts and decorations (made in Devon from sustainable materials) and Amica Accessories has a great stock of goodies for the house as well as Fairtrade felt toys (made by craftspeople in Nepal). Seek out Strawsilk for glassware (think candle-holders, vases and bowls) and leg it to Leaf Street and Miss Beaujangles for home gifts galore. Don't forget Exeter's very own Moko for a splendid selection of Fairtrade gifts, fashion, furniture and lots more!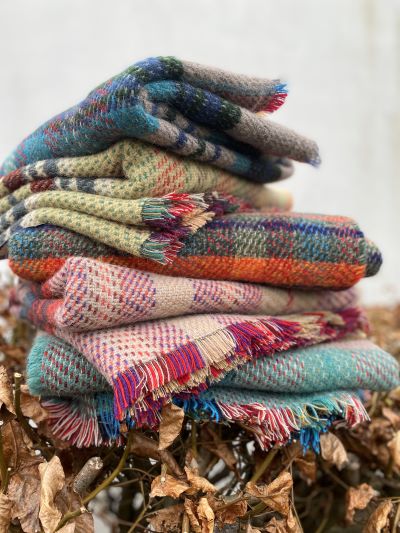 Wrap up warm with Wild Wool's locally made woollen and natural fibre wares; bring the Christmas joy with a tealight house or a porcelain hanging decoration from Alison Miles Pottery; or choose nativity sets and Christmas decorations from family-run business, the Olive Tree.
Set the mood with natural soy wax candles from Soul Scented; and hand poured candles and reed diffusers from the Salcombe Candle Company. If you need some gift inspiration, Moore's Decorations is the chalet for you! You'll find candle bridges, snow globes, Christmas figures, stockings, sacks and lots more besides.
For those with a keen eye on the environment, Adhock Homeware has a range of upcycled, hand-made gifts; and, for the art lovers in your family, why not snap up an oil, acrylic or watercolour painting from David Wilsher?
Don't forget to give your own home those final festive touches. Pollyfields is the perfect solution for festive door wreaths, garlands and sweet-smelling botanic pot pourri, all made in Devon.
Gifts for Gardeners
Seeking ideas for the gardener who has everything?
Rustic metal garden art from Beechwood Trinkets, or ornamental garden sculptures from RE-FUSE (working in partnership with artisan craftspeople in Zimbabwe) could be the answer you're looking for.
If high quality garden tools float your loved one's boat, Eden Garden Equipment is well worth a visit.
And why not give the gardener in your life some of Emma's Soap? It's handmade using ecological and natural oils and comes wrapped in organic Fairtrade cotton.
Gifts for Jewellery Lovers
The Exeter Cathedral Christmas Market has lots of treats for the jewellery lovers amongst your friends and family.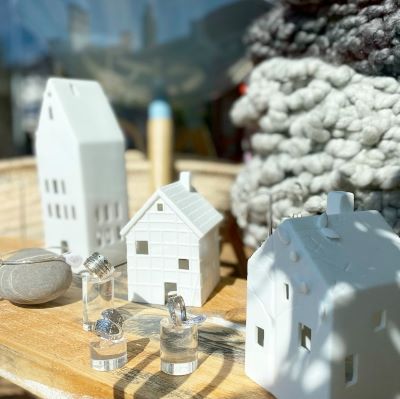 Head to Amber Jewellery for beautiful creations crafted from genuine Baltic amber and sterling silver; to Mantis for contemporary, locally made silver pieces, and to Leaf Street for gorgeous rings and more (pictured left).
Holly creates jewellery and accessories featuring Liberty print fabrics (all handcrafted in Devon).
If vintage costume jewellery is your thing, Glitzy Vintage Jewellery has a fabulous selection spanning the 1800s to the 1970s.
You'll find stunning stones crafted with sterling silver at Monty's Beads (as well as fossils for kids and collectors alike); Naked Calcium Jewellery is a great place for stunning Indian tribal-influenced pieces; and Premier Craft Design has a jewellery range made from pewter and silver, all designed and made in Devon.
Gifts for Fashionistas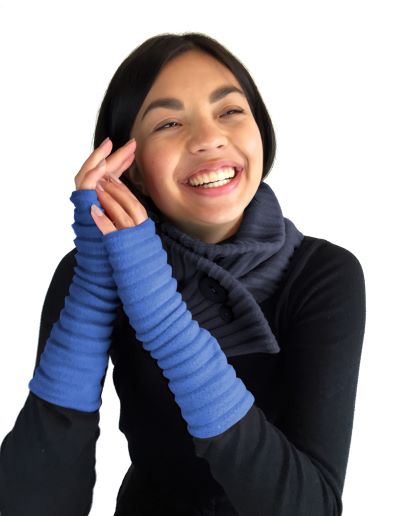 Last but not least, there's a great selection of fashion-forward chalets to visit.
Head to Frocks in Swing Time for gorgeous vintage style, a helpful team armed with hints and tips, and good old-fashioned customer service.
Anna Falcke (pictured left) for eye catching and practical accessories for men, women and children.
Hats Off Oxford is the place for headwear! A family run business started in 1989, you'll find their chalet stocked with premium brands such as Barmah, Tilley, Olney and many more.
You'll find ponchos, jackets and scarves at Me & You Gifts and exquisitely handmade English leather belts at The Belt Makers.
For stylish youngsters, look no further than the Millykatz and Kapbula chalets where there's a terrific selection of children's clothes and accessories.
Elf Express
Exmouth Miniature Railway present the Elf Express!
The Elf Express will be operating on Friday evenings from 5pm, and all day Saturday and Sunday throughout the Exeter Cathedral Christmas Market. No pre-booking is required, just come along and pay on the day.
Find out more about what's happening in Exeter
You can find out more about retail, dining, attractions and events in Exeter at InExeter's Christmas chalet. The perfect place to find inspiration, whether you're a first-time visitor or an Exeter local.
---