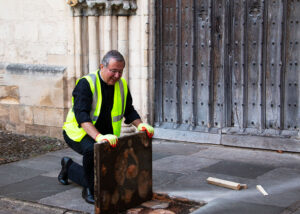 The Dean of Exeter, The Very Revd Jonathan Greener, lifts the first slab at the start of the cloisters archaeology dig
An archaeological dig began in the cloisters of Exeter Cathedral on Thursday 23 July.
The investigation, which is located at a site of significant historical interest, aims to uncover early structures that will guide the design of a proposed new Cloister Gallery, part of a development project which has initial support from The National Lottery Heritage Fund.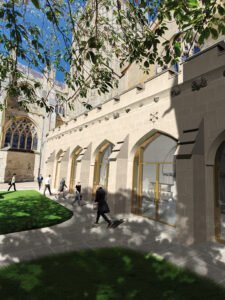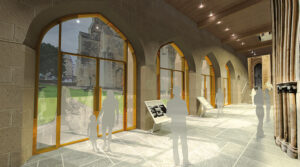 Design concepts showing how the new Cloister Gallery could look
The proposed new development will be designed to provide a covered walk between the Cathedral nave, Café and the Chapter House. It will be the realisation of a plan that was started, but never completed, over 130 years ago by the ecclesiastical architect John Loughborough Pearson, and as the current Dean of Exeter, the Very Revd Jonathan Greener explains, it is to be a return to the common-sense of the cloister's 14th century design:
"There was such a cloister here in medieval times, and it continued until the Cathedral passed into secular hands during the Commonwealth era. So we shall in fact recreate what our forebears knew was essential for proper people-flow through the Cathedral and its associated buildings."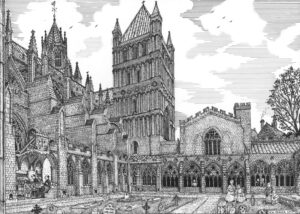 Artist's impression of how the medieval cloister walk may have looked (Artist: R.W. Parker)
The archaeological dig is expected to provide crucial information about the layout of that medieval cloister and the state of preservation of its foundations which, if still serviceable, will be reused for the new building. However, on a site that has always been of major historical importance and undergone many transformations throughout its 900 year history, Cathedral Archaeologist, John Allan expects to unearth other significant discoveries too.
"This part of the site has not previously been excavated and we hope to learn more about the sequence of events here. There were probably two or three different designs of cloister here, spanning from the late Norman period to the late Middle Ages. We may also find evidence about the use of this area before the present Cathedral was built – before AD 1114."
Mr Allan concludes, "Opportunities for substantial excavations rarely arise in cathedrals, so it is an important chance to learn more about this unique place in Exeter."
The dig is funded by initial support and development funding from The National Lottery Heritage Fund, with the final design and construction subject to the release of a full grant, and match funding from the Cathedral's own fundraising appeal. It is also subject to heritage and planning approval.
The archaeological investigation is expected to continue for between two to four weeks. Although for health and safety reasons, the cloisters area will remain closed to the public during this time, information boards about the proposed development and the history of the site will be on display on the cloisters railings.