Exeter Cathedral has received a grant of £566,000 from the Government's latest round of funding to help organisations recover from the impact of the Covid pandemic.
This latest funding is the third grant awarded to Exeter Cathedral as part of the Department for Digital, Culture, Media & Sport's (DCMS) Culture Recovery Fund scheme, following previous grants of £739,000 and £311,000.
Hundreds of arts, heritage and cultural organisations across England will receive a share of £107 million from the additional £300 million announced by the Chancellor at March's budget for the Culture Recovery Fund, bringing the total cash support package made available for culture during the pandemic to close to £2 billion.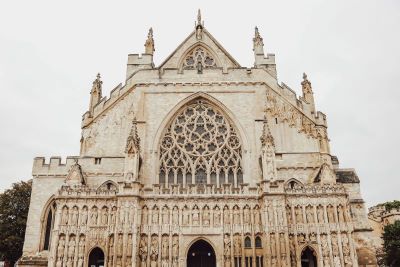 Exeter Cathedral's award will be used to support financial resilience following a significant loss of income due to the Covid pandemic.
As the Very Revd Jonathan Greener, Dean of Exeter, explains, the funding comes as a welcome boost to the Cathedral's future plans: "We are immensely grateful to receive this funding. The past 20 months have been extremely challenging financially for us as a cathedral, and the Culture Recovery Fund has provided a veritable lifeline.
"This grant will enable us to survive 2021 in good shape, and build firm foundations for the coming year. We have lots of exciting plans for next year, and hope that people from all over Devon and farther afield will come to use and enjoy this wonderful building."
The extra funding will enable the Cathedral to continue its programme of community engagement activities, including its current schedule of historic costume character tours, festive family nights and Christmas carols in the Cathedral nave.
---
The Culture Recovery Fund
The Culture Recovery Fund has already got £1.2 billion out the door to around 5,000 organisations and sites across the country and this latest round of funding is giving a lifeline to regional theatres, local muse-ums, independent cinemas and many more throughout the winter.
From this round of funding, over £100 million will be awarded in continuity support grants to over 870 previous Culture Recovery Fund recipients administered by Arts Council England, British Film Institute, National Lottery Heritage Fund and Historic England. Helping organisations survive and allowing them to resume programmes and events, the funding will mean people can have access to and enjoy everything they have to offer.
£6.5 million will be shared by 57 organisations in need of urgent financial support. Grants from this emergency resource support will protect jobs by saving the future of important arts and cultural organisations.
Culture Secretary Nadine Dorries said:
"Culture is for everyone and should therefore be accessible to everyone, no matter who they are and where they're from.
"Through unprecedented government financial support, the Culture Recovery Fund is supporting arts and cultural organisations so they can continue to bring culture to communities the length and breadth of the country, supporting jobs, boosting local economies and inspiring people."
The latest awards will continue to safeguard our most precious heritage and regional museums across the UK.
Ros Kerslake, Chief Executive, National Lottery Heritage Fund, said:
"This latest round of the Culture Recovery Fund for Heritage has provided much-needed further support for Heritage sites, attractions and organisations as they move forward with their exciting plans to engage, entertain and educate us all. The UK's heritage has faced unprecedented times, and investing in the Heritage sector remains vitally important to driving tourism, supporting our wellbeing and making our towns, cities, and rural areas better places to live."
Today's announcement follows the second round of the Heritage Stimulus Fund – part of the Culture Recovery Fund – delivered by Historic England. Supporting 142 locations with a total of £35 million, historic sites will benefit from an injection of cash for vital repairs and major restoration work.
Duncan Wilson, Chief Executive, Historic England said:
"The Culture Recovery Fund for Heritage schemes and the Heritage Stimulus Fund administered by Historic England continue to provide essential support for heritage and the arts across the country. The latest recipients indicate the breadth of organisations that are being saved as we emerge from the effects of COVID on our sector."