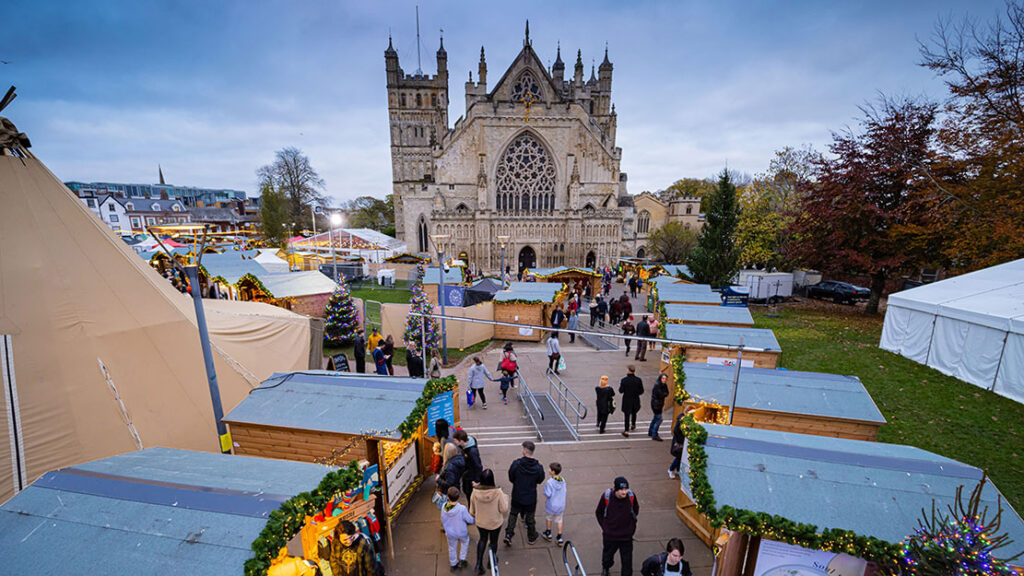 Devon's Biggest Christmas Market
The 2022 Exeter Cathedral Christmas Market will include more than a hundred traders.
Exeter Cathedral Christmas Market has become a major event in Devon's festive calendar, in recent years attracting an estimated 600,000 visitors. Hosted and managed by the cathedral since 2017, it is the county's biggest Christmas market, and it continues to grow. This year, Exeter's historic Cathedral Green will host more than a hundred twinkling festive chalets.
Situated in the heart of Exeter, the market has a strong focus on supporting local traders, and brings together a diverse range of Devon-made gifts, decorations, food and drink – from handcrafted Christmas decorations, to vodka made with Dartmoor spring water.
Jason Ott from Trinity Marine, a Devon-based marine antiques and ship reclamation specialist, says Exeter Cathedral Christmas Market offers a valuable platform for local businesses:
"This year we'll be offering a truly original collection of nautical gifts for discerning Christmas shoppers. All our products are hand sourced and salvaged from the best ships, then restored and crafted in our own workshop near Exeter."
"We sell our collections to buyers around the world, but Exeter Cathedral Christmas Market is a great opportunity to showcase our work to hundreds of thousands of Christmas shoppers here in our home city."
Visitors in need of a break from the Christmas shopping can also enjoy the market's bars and entertainment. Two local bar operators make their Christmas Market debut this year: Dr. Inks Curiosities is an Exeter-based boutique cocktail venue. Founder Patrick Fogarty says he is planning a familiar Dickensian theme for the event:
"We are delighted to be bringing some Victorian festive splendour to Exeter Cathedral Christmas Market this year, featuring punch bowls of drinks, festive high teas and luxurious hot cocktails. The drinks list is inspired by Charles Dickens' A Christmas Carol and Scrooge's encounters with the spirits of Christmas Past, Present and of Christmas Yet to Come.
"We can't wait for our vision to come to life and we are looking forward to welcoming everybody into our tent from November 18."
The market's main bar, The Cathedral Tavern, will be run by Crossed Anchors Brewing, an independent brewer based in the nearby town of Exmouth. Crossed Anchors' owner, the award-winning brewer and publican, Olly Bainbridge, plans to bring something unique to the event:
"As a local, independent brewery, we're incredibly proud to be part of such an iconic Devon event.
"We're going to create a new-look bar at this year's Exeter Cathedral Christmas Market, and bring along a new drinks menu to suit all tastes – including our own craft beers, made entirely in Exmouth. We're even working on a special 'Cathedral Beer,' and will be donating a pound to Exeter Cathedral for every bottle sold."
The market also features live seasonal entertainment, including Exeter Cathedral's own professional musicians, the Exeter Cathedral Choir, and the cathedral itself will be opening its doors to sightseers, free of charge. Founded in 1050AD and boasting the world's longest uninterrupted medieval stone vault ceiling, the cathedral has been rated as one of Europe's finest. The Very Revd Jonathan Greener, Dean of Exeter, concluded:
"Exeter Cathedral Christmas Market is one of the great highlights of our year. It is a privilege to be able to welcome so many visitors from across Devon and beyond.
"I encourage everyone who comes here to step inside and experience the awe-inspiring beauty of this ancient building for themselves, and for a really festive experience, soak up the choral music at one of our many services."
The 2022 Exeter Cathedral Christmas Market opens at 5pm on Friday 18 November, and continues until Sunday 18 December, on Cathedral Green, Exeter. Opening times are 10am-7pm Monday-Wednesday, 10am-9pm Thursday-Saturday, and 11am-5pm on Sundays. Dr. Inks Curiosities is taking online bookings for high teas in its Christmas Market tent, at: www.doctorinks.com/christmas-market-bookings