As the world goes flower-crazy with the start of the RHS Chelsea Flower Show later this month, Exeter is set to get its own exciting touch of floral glamour with the launch of the first ever Exeter Floral Trail on 22nd-24th May.
As part of the Chelsea Fringe Festival, the Exeter Floral Trail will feature beautiful, bespoke floral designs displayed in sites across Exeter city centre. Over 18 venues, including the Cathedral, have signed up to be part of the Exeter Floral Trail, which is being supported by InExeter, Devon County Council, Princesshay and John Lewis, and aims to raise awareness and funds for AgeUK Exeter.
The Exeter Floral Trail is the brainchild of the team at the British Academy of Floral Art floristry school in Dunchideock, Exeter, which is celebrating its 10th anniversary this year. Over the past decade, the Academy has produced a record number of RHS Chelsea Gold medallists and British Master Florists.
Spotting the floral designs will be made easier with a special Exeter Floral Trail guide available from Exeter Tourist Information, Exeter Cathedral and online.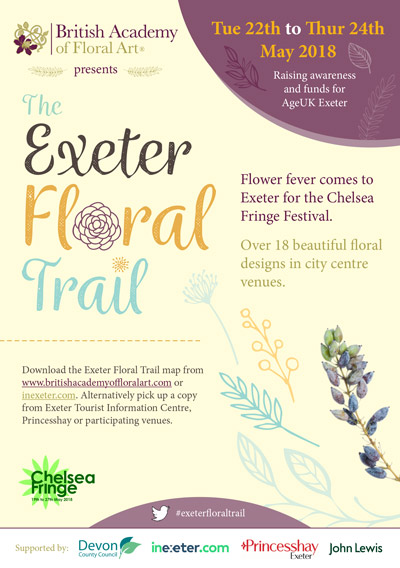 .